Atkinson nets hat trick as Jackets beat Habs
Cam Atkinson had his third-career hat trick and Brandon Saad scored twice to help the Columbus Blue Jackets beat the struggling Montreal Canadiens 5-2 on Monday night to end a three-game losing streak.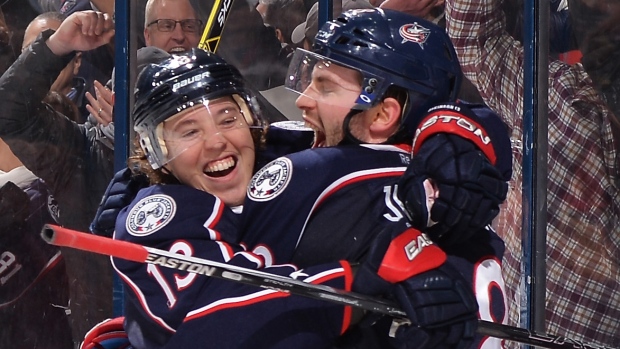 COLUMBUS, Ohio - Cam Atkinson helped deliver a rare feel-good night in Columbus, and maybe brought a puppy — or three— into a young fan's home.
Atkinson had his third-career hat trick and Brandon Saad scored twice to help the Blue Jackets beat the struggling Montreal Canadiens 5-2 on Monday night to end a three-game losing streak.
Atkinson scored three goals after seeing a girl in the stands with a sign claiming her father had promised her a puppy for her birthday — if Atkinson scored. Bobby Ryan came through for a fan with a similar sign Sunday in Ottawa.
"I actually saw the Ottawa game that they had a sign for Bobby Ryan," Atkinson said. "I just hope that little girl tonight names her dog after me."
And as far as the three goals?
"We'll see how generous her dad and mom are feeling," he added with a grin.
Linemates Brandon Dubinsky and Boone Jenner each had three assists, and rookie Joonas Korpisalo turned aside 32 shots.
"We worked hard," Dubinsky said. "We worked to get pucks back. We were opportunistic. We buried some of our chances and that was the difference. They had a really strong push there — especially in the third period — and we weathered the storm."
Columbus played a second straight game without coach John Tortorella after he broke two ribs falling after a collision with a player at practice Friday.
Montreal's P.K. Subban tied it 2-2 midway through the second, but Columbus scored three goals in the third, including a go-ahead score from Saad 9:06 into the period.
"We just had bad execution again," Canadiens coach Michel Therrien said. "We give up three goals that we had the puck. We give them the puck. It's unacceptable."
Subban and Brendan Gallagher each had a goal and an assist and Mike Condon made 20 saves for Montreal, which hasn't won consecutive games since late November.
Montreal is 7-17-2 since last season's Vezina Trophy winner Carey Price suffered a lower-body injury on Nov. 25. They were 17-4-2 when Price went down, and the goalie is expected to miss another three weeks.
Montreal faces Columbus again Tuesday night at home.
"Those moments where we lose the puck or we lose our heads, it's costing us games right now," said Subban, who was feeling sick. "The good thing is we don't have much time to think about it. We turn around and play the same team on our ice in our barn."
Saad made it 3-2 by driving in a loose puck that caromed to him off Jeff Petry's skate.
Max Pacioretty nearly got the goal right back by bullying his way to the net, but Korpisalo turned the close-range shot aside.
"It wasn't always pretty," Blue Jackets associate coach Craig Hartsburg said. "We weren't perfect. I thought tonight we stayed with it. We didn't crack. We made Montreal make some mistakes, which we capitalized on."
Saad scored his 18th into an empty net at 18:48, and Atkinson finished a tic-tac-toe passing combination with Dubinsky and Jenner at 19:35 to score his 16th. The fans littered the ice with hats.
"It was nice that Hartsy threw our line out there and just got an odd man rush," Atkinson said. "I knew right then and there. I was kind of smiling the whole way just because I knew at some point someone was going to try and get me the puck."
Gallagher benefited from two fortuitous deflections on a 5-on-3 power play to give Montreal a 1-0 lead at 10:39 of the first period. His pass banked off Gregory Campbell's stick and Jack Johnson's glove before going in.
Four minutes later, more ping-pong puck action proved lucky, this time for Columbus. The puck eventually came to Dubinsky and he made a short touch pass to Atkinson, who scored on a one-timer from the low slot.
Atkinson made it 2-1 at 2:52 of the second period, circling out of the left corner and netting a backhander inside the near post.
Subban drew Montreal even on what initially looked like an innocent play. Pulling his stick back a stride inside the centre red line, Subban rifled a high shot that made its way past a surprised Korpisalo at 8:36.
"That should never happen," Korpisalo said. "It's on me. You've just got to bounce back from that. I was like OK, that's it. I can't let in any more goals and I'm going to help the team win."
NOTES: The Blue Jackets snapped a four-game losing streak to the Canadiens. ... Pacioretty remained one of only two players (along with Vancouver LW Daniel Sedin) in the league with at least one shot on goal in every game. He had the game's first one just 52 seconds in on a semi-breakaway. ... Saad is Columbus' lone All-Star Game representative and leads the club in goals. ... LW Daniel Carr was injured in the second period and did not return. ... Markov's assist on Subban's goal was his 406th to tie him with Guy Lapointe for 10th career in franchise history.