'Suck it up and find a way to win games'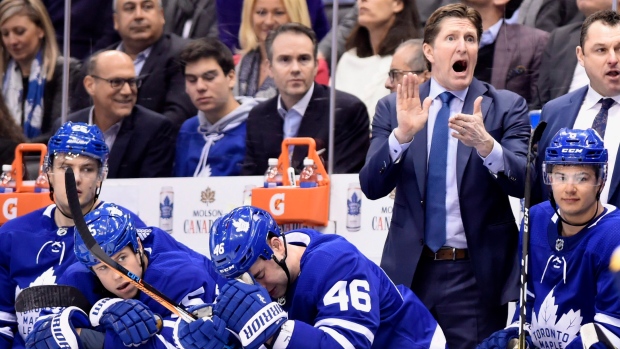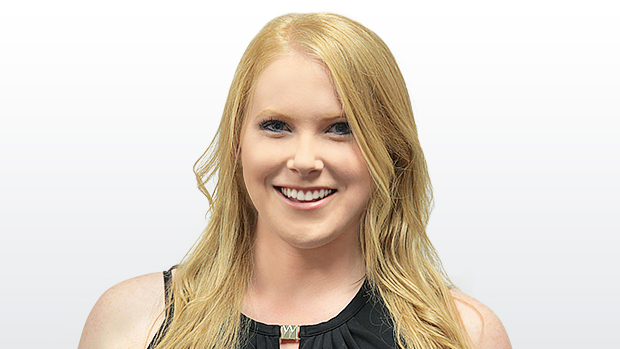 TORONTO – So much for starting to write a new chapter of their 2017-18 NHL season.
The story that played out for the Toronto Maple Leafs Tuesday night was shockingly familiar: too many turnovers (12 in the first period alone), poor defensive zone play and frequent miscommunications – all leading to a 2-1 overtime loss to the St. Louis Blues at Air Canada Centre.
Feeling rejuvenated from their mandatory five-day bye week against the equally rested Blues, the Leafs battled through a tight game to hold a 1-0 lead with less than a minute to go in regulation.
And then, just as they had in games leading up to the break, key mistakes piled up, and Toronto (25-17-4) let another one slip away for their third straight loss.
"You want to win this, you want to walk out of here feeling good," said head coach Mike Babcock. "But it's simple, life is about lessons. Suck it up and find a way to win games."
That hasn't been an easy assignment for the Leafs of late. Against the Columbus Blue Jackets on Jan. 8, Toronto blew a 2-0 lead with less than five minutes left in regulation to lose 3-2 in overtime. Against Ottawa on Jan. 10, a bad pinch by the Leafs led to the Senators' game-winning goal with less than five minutes to go in regulation.
So when Connor Brown's short-handed strike midway through the third period on Tuesday finally broke the stalemate, giving Frederik Andersen the goal support he deserved in what had been a one-man show between the pipes, the Leafs had victory in their sights.
With just over a minute to go, the Leafs' first regulation win since Dec. 28 looked locked in.
Toronto had dominated the Blues in the faceoff dot all night, winning 33 of 52 draws by the game's waning minutes, but even that advantage failed them when it mattered most. It was Paul Stastny who won a key offensive zone faceoff while St. Louis (27-17-3) had the extra attacker with their net empty, to set up the game-tying score with 57 seconds to go.
Andersen had been nearly flawless all night, and Carter Hutton was just as strong in net for St. Louis in a 30-save performance. But the rebound Andersen gave up on the initial shot went right to Alex Steen, who was free to knock it back in for the equalizer.
"One of their forwards came across, instead of just holding on their side, and then they ended up having an outnumbered situation on that side," explained Babcock. "All you have to do is be patient and hold and stay underneath … just settle down and play. We've done it lots and done it well, so we know how to do it, we just have to execute."
Execution has been the Leafs' big problem of late, and it wasn't evident on the Blues' overtime winner, either. On that score, Toronto served up a 2-on-1 chance that started with a bad read from Mitch Marner along the boards.
"I was just trying to take away a reverse to [Vladimir] Tarasenko," Marner said, "Slowed up, kind of read it wrong and they got an odd-man rush and it didn't go in our favour."
"In OT, you can't be on the wrong side of the puck," added Babcock. "What you learn with good teams you can't cheat – ever. You just keep doing things good, you stay patient and you get your opportunities. But if you cheat for offence, you lose."
Toronto has now lost six of its last eight games, and scored three or fewer goals in all eight contests. Holding leads and finding ways to win late in games were two issues the Leafs had to overcome last season with a freshmen-heavy offence, but to be satisfied with taking lessons rather than points from games like Tuesday's isn't enough anymore.
"I don't know if it's really a learning experience. We had enough of that last year," said Auston Matthews. "We've just got to find a way to win because this game should have definitely been our two points and we let it slip away."
TAKEAWAYS
Fabulous Freddie
If any Leafs player merited two points from Tuesday's game, it was Andersen. The netminder was Toronto's best player (again), and held St. Louis at bay through the Leafs' many giveaways, poor D-zone work and a considerable lack of communication. Marner described the game as having a "playoff feel" and Andersen looked in postseason form as he turned aside 40 shots and gave the Leafs every chance to pull past the Blues. He made several key stops in the second period especially – Travis Dermott turned a puck over right into the high slot in front of Andersen, but the netminder gloved the ensuing shot. Then fourth-liner Chris Thorburn managed to get loose behind the Leafs defence for a breakaway chance, but Andersen was there to deflect the shot high. The rebound on Steen's goal was the biggest blemish on his night, and the goal was aided by the Blues' numbers down low and Ron Hainsey not being able to tie up Steen's stick. But that doesn't diminish how strong Andersen's performance was, and how good he's been since Nov. 1. Andersen has now given up fewer than three goals in 17 of his last 27 starts; in that same span, he's faced 30 or fewer shots in just six of those games as the Leafs gave up 42 shots to the Blues. His .952 save percentage was Andersen's best since Dec. 19 against Carolina.
Concern for Kadri?
A season ago, Nazem Kadri was one of Toronto's most potent offensive weapons, putting together a 30-goal campaign that was perhaps his best ever as a pro. This season has been a different story. Tuesday marked the 18th game of Kadri's current scoring slump, a span during which he's tallied just one goal. That's a single point in what has amounted to more than a third of his season. It's not for lack of trying on Kadri's part to break out of the drought, though. He said on Monday the bye week had re-energized him and he looked it on the ice against St. Louis through 40 minutes. After two periods, Kadri was pacing all Leafs players with three shots on goal and his line had been generating some solid chances. But puck luck continued to elude him and his linemate, as evidenced when he had a terrific 2-on-1 opportunity to exploit with Patrick Marleau. But Kadri's drop pass went sailing high off Marleau's stick to keep the game knotted 0-0. Kadri wasn't as noticeable in the third period when the Blues started pushing back in search of an equalizer, but he did another admirable job keeping the other team's big line (in this instance, Stastny's) from being too much of a factor. He has maintained a positive outlook throughout the slump, but with the Leafs dying to get some goals lately, they need their best players to find a way to get back into form sooner than later. And Kadri is at the top of that list. His line finished on Tuesday with a team-low 37 per cent possession.
Pumped-up penalty kill
While the Leafs' power play has lagged since Christmas (going 3-for-22), Toronto's penalty kill has picked up the slack. Tuesday was the Leafs' third straight game without ceding a power play goal, and they've allowed just one in their last seven outings. The penalty kill is one of many units Brown is utilized on, and it's one of his prime opportunities to have an impact on the game while tethered to the fourth line at even strength. Brown made at least three good moves on his 11th score of the season (his first short-handed goal), assessing the situation quickly, getting past Alex Pietrangelo and stripping a puck at the offensive blueline, and then landing a superb top-shelf strike past Hutton. Babcock admitted Brown probably isn't getting the opportunity he deserves on the fourth line, but the fact he's able to find ways to matter over the course of a game has always been a mark of his versatility and productivity.
Next game
The Leafs head back on the road for a meeting with the Philadelphia Flyers in the City of Brotherly Love on Thursday. ​