Barrie scores twice, Avs hold off Penguins
Defenceman Tyson Barrie scored twice, Semyon Varlamov stopped 30 shots — even getting a little help from the posts along the way — and the Colorado Avalanche beat the Pittsburgh Penguins 4-2 on Monday night.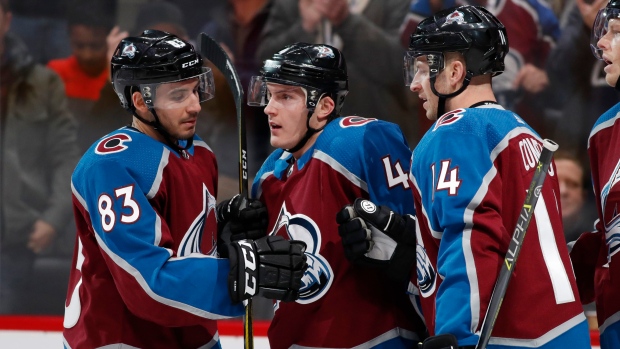 DENVER — Defenceman Tyson Barrie played heavy minutes in the absence of suspended teammate Erik Johnson. Barrie made the most of the extra ice time, too.
Barrie scored twice, Semyon Varlamov stopped 30 shots — even getting a little help from the posts along the way — and the Colorado Avalanche beat the Pittsburgh Penguins 4-2 on Monday night.
With Johnson serving the first of a two-game suspension for boarding Tampa Bay Lightning forward Vladislav Namestnikov on Saturday, Barrie was on the ice for 24 minutes, 31 seconds and took five shots. He scored his first goal since Oct. 13 in the opening period. He followed that up with another in the second for his fifth career two-goal game.
"Obviously, you can't replace E.J. and it will be nice to get him back," Barrie said. "Everybody just has to step up, do the best they can and collectively we can try to pick up the slack."
J.T. Compher also scored and Mikko Rantanen sealed the win with a late empty-netter as the Avalanche knocked off the Penguins for the second time in a week to sweep the season series.
"We're a dangerous team when we're playing on our toes," Avalanche coach Jared Bednar said.
Bednar recently mentioned a word to his team he doesn't usually bring up — playoffs. On the outside looking in at the moment with a 16-15-2 record and 34 points, a good stretch could help a team that mustered just 48 points all last season climb right back into the picture.
"Put a little pressure on ourselves to be good every night," Bednar explained.
Chad Ruhwedel and Evgeni Malkin found the net for the Penguins, who finished a three-game trip with a 1-2 mark. Pittsburgh was a little unfortunate in the second period when Josh Archibald's shot trickled through the pads of Varlamov, clanged off the post, stood on its edge for a moment and fell down on the line for no goal.
"That's an underrated play," Penguins goaltender Matthew Murray said. "It probably doesn't go down as a save, but he clears it out of the way so that's a big play."
Malkin lined in a shot just 1:25 into the third to make it 3-2. Ryan Reaves nearly tied it late in the third, but his wrist shot down low clanged off the post.
Compher took a baseball swing to knock in a puck out of the air to give the Avalanche a 3-1 lead late in the second. Earlier in the period, Colorado capitalized on a cross-check penalty on Ian Cole as Barrie scored from the blue line.
All in all, a forgettable middle period for the Penguins, who were outshot 15-6.
"We got outplayed in the second period badly," Penguins coach Mike Sullivan said. "I thought they were hungrier than we were."
Barrie staked the Avalanche to an early lead in the opening period when he scored his 50th career goal on a wrist shot over the glove of Murray. It lasted all of 5:35 before Ruhwedel's shot hit Varlamov in the right arm, got lost in his jersey for a moment and then rolled in off Varlamov's left skate.
"We had a little bit of a slow start, were a little tentative with the puck and we needed some big saves from Varly, but we had some get-up-and-go on the offensive side of it," Bednar said. "We're growing as a team. We're getting better."
NOTES: Penguins RW Patric Hornqvist was sent back to Pittsburgh to be evaluated for an upper body injury, Sullivan told reporters at morning practice. ... C Dominik Simon was a scratch with an illness. ... Avs F Alexander Kerfoot returned to the lineup after missing three games with a foot injury. He's also wearing shot shields over his skates for added protection. ... The suspension will cost Johnson $64,516. "No excuse from my end — a dangerous play I shouldn't make," Johnson said Monday morning. "It's an expensive mistake."
UP NEXT
Penguins: Host Columbus on Thursday.
Avalanche: Start a two-game trip Thursday in Los Angeles.
___
More NHL hockey: https://apnews.com/tag/NHLhockey