Bet on Gallagher having a rebound season
Underlying numbers point to the Montreal Canadiens winger having a big season, Travis Yost writes.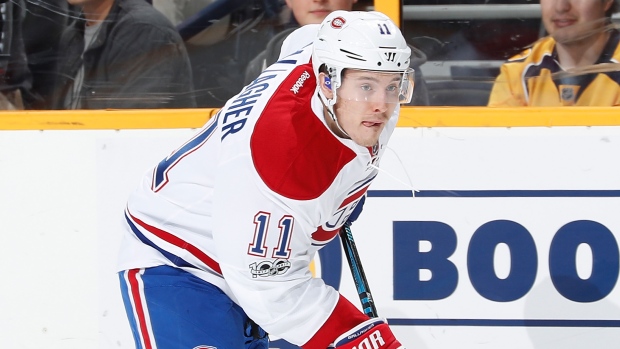 If there's one player I'm willing to bet on to have a big rebound season, it's Montreal Canadiens winger Brendan Gallagher.
Like most Canadiens attackers, 2016-17 was a year to forget about for Gallagher. An offence that dried up for seemingly every attacker on the team also impacted Gallagher. Combine that with a gruesome hand injury suffered mid-year, and you have the recipe for a historically strong scorer to rack up just 10 goals and 29 points in 64 games.
So, what happened with Gallagher? Was last year pure aberration, or a sign of things to come? I'm inclined to argue the former.
It's worth mentioning a couple of obvious points before getting into the supporting data. Most notably: Gallagher was a 25-goal scorer just two seasons ago. Forwards in their prime – particularly top-six forwards in their prime – don't really see their production just arbitrarily fall off of a cliff. To the extent that they do, it's usually because they have seen a substantial drop in linemate quality, a substantial drop in opportunity, or have aged out of their peak performance years.
Gallagher satisfies none of the above exception criteria. Preseason lines indicate he's earmarked again for a top-six role, which means he'll be protected on both the teammate quality and ice-time fronts. And at the age of 25, he's surely protected from the aging curve.
So, the qualitative stuff around Gallagher is encouraging. But how does that explain last year? Moreover, why do I think last year was a fluke, and that positive regression is likely?
The numbers around Gallagher's 2016-17 season are remarkable, and suggest that Gallagher simply didn't catch many breaks. Most scorers in the league have their reputation because they are adept at generating their own shots. Great scorers are not only extremely adept at generating their own shots, but getting into the most dangerous scoring areas. Do this on a consistent basis, and you'll see the points accumulate quickly.
Consider the below radar map, which shows Gallagher's rank against other regular forwards last year across a number of key performance metrics. You'll note that Gallagher compares extremely favourably to the vast majority of forwards around the league. That's true regardless if we are looking at individual versus on-ice numbers, shot metrics, expected goal-scoring metrics, and so on. The only place it's not true is, well, shooting percentage: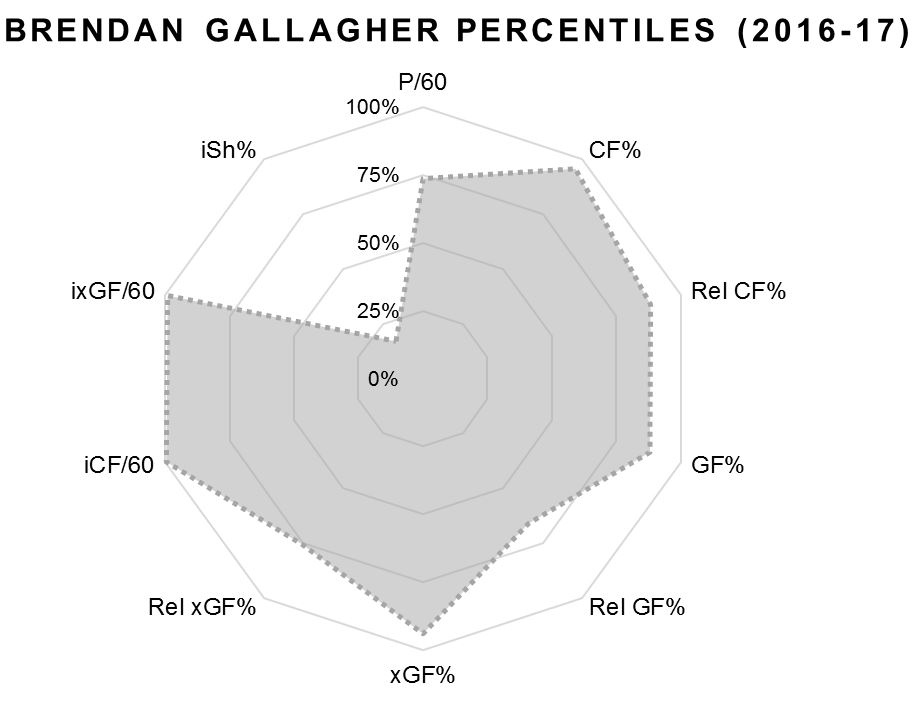 Something to keep in mind here is that if you see Gallagher at the 99th percentile – like he is for individual shot generation (iCF/60) or individual expected goal scoring (ixGF/60) – that quite literally means he outranked 99 per cent of forwards in the league. That's extremely impressive and generally what we see from the most elite talents around the league – guys like Connor McDavid, Sidney Crosby, Auston Matthews, and so on.
The clear takeaway for me is that Gallagher wasn't just individually great – his teammates were demonstrably better when he was on the ice. Montreal saw a huge uptick in their shot rates, expected goal-scoring rates, or actual goal-scoring rates when he was on the ice. That was driven in large part by the fact that Gallagher – an expert shot creator, and a player who has an incredible knack for getting into the home plate scoring area – was dominant most of the year.
Except, again, for his scoring rates. So what gives? Isn't it entirely possible that Gallagher's just a substandard individual shooter, and that we need to account for that when it comes to forecasting his scoring? After all, his 5.6 per cent EVSH% was better than just 17 per cent of forwards in the league. That's pitiful for a top-six forward.
But, it just doesn't seem real. We have no evidence that Gallagher is this type of player. Look at how his EVSH% has trended since entering the league. An inexplicable nosedive, most notably, last season: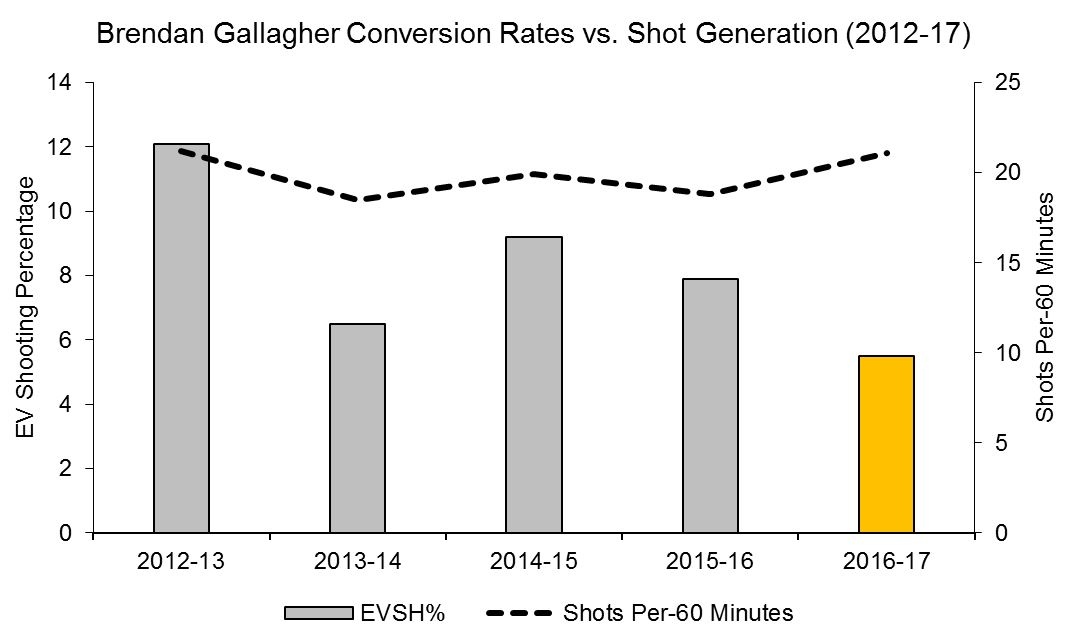 Our best guess for Gallagher as a shooter is somewhere around 8.2 per cent, which is right around league average. And, of course, nearly three full points better than where he was last season. Moreover, Gallagher is an elite shot generator – he always has been. So it won't be for lack of opportunity that Gallagher isn't getting in on the scoring.
It's hard to look at last year and see anything but a statistical blip – something we'll forget about in six months' time. Gallagher is as good as anyone at getting rubber on net, and gets bonus points for being able to do so consistently from mere feet away from the opposing goaltender. In any normal year, that's meant comfortable top-six scoring.
Don't mind last year's totals – a great bet is that they'll bounce back in a big way this season. So whether you are head coach Claude Julien or some random fantasy hockey fan looking for an interesting mid-draft pick, I'll sell you some serious stock in Gallagher. He looks ready for a big 2017-18.
Data via Corsica