Blown leads, 11 OTs and surprises abound in first round
The first week of the NHL post-season has been about as unpredictable as anyone could imagine, even in a sport where upsets are the norm, home-ice advantage is often meaningless and a hot goaltender can overshadow everything else that's happening.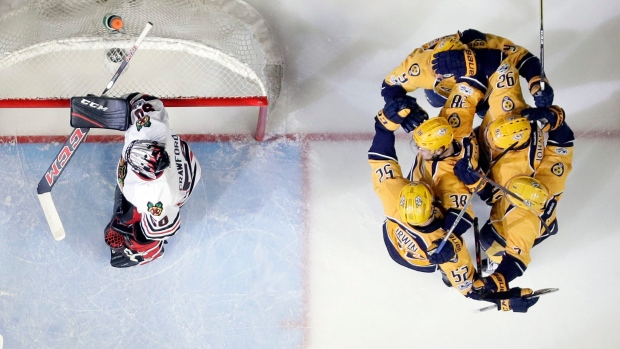 The first week of the NHL post-season has been about as unpredictable as anyone could imagine, even in a sport where upsets are the norm, home-ice advantage is often meaningless and a hot goaltender can overshadow everything else that's happening.
Perennial Stanley Cup favourite Chicago is down three games to none against Nashville and the NHL-leading Washington Capitals trail Toronto 2-1 in their first-round series, but that's only part of the story. Seven of the first 26 games have featured a blown lead of two goals or more, 11 have gone to overtime and winning goals have come from some of the unlikeliest of sources.
"It's harder to go to bed, I can tell you that — you want to watch the end of the games and when they last too long it's a short night," Ottawa Senators coach Guy Boucher said. I've been saying it all year: Just get in those playoffs. Home ice don't mean a thing. It doesn't matter who you play, everybody has a chance against everybody.
Hockey fans had a long night Monday as all four games went to OT for only the third time in NHL history and first time since 1985, including the Blackhawks and Capitals blowing two-goal leads to sow more seeds of doubt and give the Predators and Maple Leafs a jolt of confidence.
"Our guys think they're a good hockey team, and they're playing a good hockey team," Toronto coach Mike Babcock said. "But I think you gain respect for yourself in the process and you start believing that maybe you can do this."
The Blackhawks' core has three Stanley Cups in the past seven years and a lot experience to lean on. Washington only has playoff disappointments in the rearview mirror, and panic is starting to set in about another early exit.
The Capitals were heavy favourites to beat the young Maple Leafs, but it hasn't looked like it as all three games so far have gone to overtime.
"It's a lot closer match than people let on," coach Barry Trotz said after losing Game 3 in Toronto. "It's not David and Goliath."
Defending Cup champion Pittsburgh against Columbus looked like a close matchup on paper, but the Blue Jackets needed a 5-4 victory Tuesday to avoid the sweep. Goaltender Sergei Bobrovsky, the favourite to win the Vezina Trophy, had a 3.61 goals-against average and .891 save percentage through his first three games of the playoffs after finishing first in the regular season (2.06 GAA, .931 save percentage).
Some of the biggest goals around the playoffs so far have come from surprising players, too, from Zack Kassian scoring two game-winning goals for the Edmonton Oilers to put them up 2-1 the San Jose Sharks to Tanner Glass having a game-winner for the New York Rangers.
___
Some things to watch Wednesday night:
Capitals at Maple Leafs, Toronto leads 2-1 (7 p.m. ET, NBCSN)
The Capitals won't have shutdown defenceman Karl Alzner, missing his second consecutive game with an upper-body injury, a significant blow to their depth and penalty killing even though Nate Schmidt brings an offensive spark. But Alex Ovechkin should play more than the 15:08 he did in the Game 3 OT loss.
"That's on me, to get him in the ice time," Trotz said. "It wasn't based on play. I thought Ovi was playing terrific. It's on me to get him a little more ice time, no question."
___
Senators at Bruins, Ottawa leads 2-1 (7:30 p.m. ET, USA)
The series everyone seems to be forgetting about has plenty of late-game drama, including OT game-winners by Dion Phaneuf and Bobby Ryan for Ottawa. Boston's blue line continues to deal with injuries, and the Senators' ability to exploit that could be the difference.
Though centre David Krejci is back, the statuses of Bruins defencemen Torey Krug, Adam McQuaid, Brandon Carlo and Colin Miller are in doubt. Senators defenceman Mark Borowiecki is considered day to day and could play in Game 4.
___
Wild at Blues, St. Louis leads 3-0 (9:30 p.m. ET, NBCSN)
This is one of three possible sweeps along with Anaheim-Calgary and Nashville-Chicago. There were only four sweeps combined in the first round of the past seven playoffs.
The Wild have a 117-79 advantage in shots on goal, leading all NHL playoff teams in shot differential, and have attempted 228 shots to just 142 for the Blues. They've won nearly 60 per cent of the faceoffs, too, with a 133-89 edge.
Not only have the Blues successfully screened goaltender Devan Dubnyk, but the Wild have done little to distract Blues goalie Jake Allen, who has stopped 114 of those 117 shots.
"They see it, they're going to stop it. That's just the reality. That's life in the NHL," said Wild forward Zach Parise, who has two goals and an assist in the series. "So we've got to get to the net. We've got to get rebounds. We've got to get screens."
___
Ducks at Flames, Anaheim leads 3-0 (10 p.m. ET, USA)
Like the Wild and Blackhawks, the Flames are trying to join the elite company of the four teams that have come back to win a series when trailing 3-0. Calgary blew a 4-1 lead to lose Game 3 in overtime Monday, a potential backbreaker against an experienced Anaheim team that still has Ryan Getzlaf and Corey Perry around from the 2007 Cup champions.
Coach Glen Gulutzan said players were down Tuesday morning but called it a perfectly normal feeling. He wouldn't commit to going back to goalie Brian Elliott for Game 4.
___
With files from The Canadian Press.
___
More AP NHL hockey at https://apnews.com/tag/NHLhockey
___
Follow Hockey Writer Stephen Whyno on Twitter at http://www.twitter.com/SWhyno .