Blue Jackets sharp in rout of Islanders
Josh Anderson and Nick Foligno each scored twice, sending the Columbus Blue Jackets to a 7-0 romp over the New York Islanders on Saturday.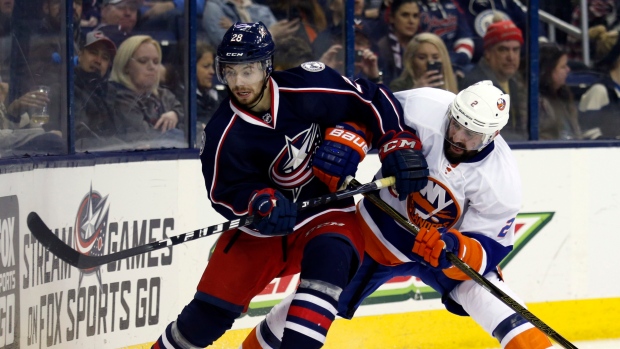 COLUMBUS, Ohio — Unlike some other NHL teams coming off their bye week, there wasn't a spot of rust on the sleek Columbus Blue Jackets.
In their first game following a five-day break, the high-energy Blue Jackets blew out the New York Islanders 7-0 Saturday as backup goalie Joonas Korpisalo earned his first career shutout.
Josh Anderson and Nick Foligno each scored twice, and David Savard had a goal and three assists. Boone Jenner and Jack Johnson also scored to help the Blue Jackets end New York's three-game winning streak.
Columbus has a comfortable hold on the top wild card in the Eastern Conference, while the Islanders are in a tight race for the final playoff berth.
Anderson said the mandatory hiatus did the Blue Jackets good.
"I think we need the break, to be honest with you," he said. "I know it hasn't been working out in other teams' favour, but for us to move away from each other for a little bit, to get some rest, and I thought our energy was really good tonight. It started off with practice yesterday. I thought we were really good, and we just came out tonight and played simple."
Columbus limited the Islanders' time in the offensive zone, and Korpisalo stopped all 24 shots.
"My part was pretty easy today," said the 22-year-old Finn, who's been back and forth between Columbus and AHL affiliate Cleveland this season.
"Korpi made some great saves in that first period to give us a chance to get our legs underneath us," Columbus coach John Tortorella said. "That was a very important part of the game."
Johnson got Columbus started when his shot from the point bounced off the skate of New York's Nick Leddy and through goalie Thomas Greiss' pads 5:19 into the game.
Later in the first, Cam Atkinson's shot from the left circle was stopped by Greiss, but the rebound trickled back out from between his legs, and a charging Jenner tapped it in .
Foligno capped the first-period barrage when he deked the goalie and scored on a backhand.
The Blue Jackets outshot the Islanders 17-9 in the period, and Greiss was benched in favour of Jean-Francois Berube.
It didn't seem to matter. Anderson kept it going 4:31 into the second with a sharp one-timer from the high slot off Jenner's pass. Late in the period, Anderson got another one when he picked the pocket of defender Thomas Hickey in the neutral zone and launched a rocket past Berube from the right circle.
The highlight-reel goals continued in the third period when an airborne pass from Savard found Foligno for a breakaway 6:06 in. Savard flicked in the seventh goal from the right circle with 6 1/2 minutes left.
Greiss stopped 14 of 17 shots in the first period, and Berube stopped 24 of 28 the rest of the way.
Islanders centre John Tavares said there was plenty of blame to go around.
"Clearly we were pretty off today," he said. "What was disappointing the most was that we didn't even give ourselves a chance with the way we competed. It wasn't even mistakes or poor execution. We made it so easy for them to play against. It's tough to explain now."
NOTES: Columbus was without forward Matt Calvert and centre Lukas Sedlak. Both have oblique strains. Markus Hannikainen was recalled from Cleveland of the American Hockey League. ... New York forward Cal Clutterbuck was out with an injury for the 15th time in 20 games. D Adam Pelech also was scratched. ... Columbus completed a 4-3 homestand, its longest of the season. ... Savard got his 100th career point with an assist on Johnson's first-period goal. ... New York is 2-1-0 during a stretch of nine straight road games.
UP NEXT
Islanders: At the Dallas Stars on Thursday night.
Blue Jackets: At the New York Rangers on Sunday.
___
Follow Mitch Stacy at http://twitter.com/mitchstacy