Blue Jays to return to Montreal in April
The Toronto Blue Jays will return to Montreal next year to play a pair of pre-season games against the Boston Red Sox. The games are scheduled for April 1 and 2 at Olympic Stadium.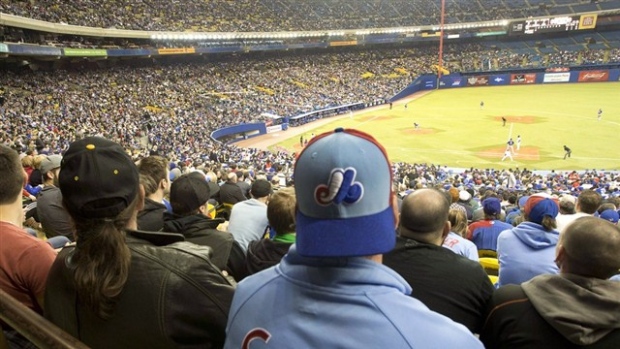 MONTREAL - The Toronto Blue Jays are headed back to Olympic Stadium in April.
The American League East division leaders confirmed Friday that they will play a pair of pre-season games against the Boston Red Sox on April 1 and April 2 at the Big O.
It will be the third straight year the Blue Jays have ended their pre-season with games in Montreal. In 2014, 96,350 fans jammed the domed stadium for a two-game set with the New York Mets. Last April, 96,545 spectators attended games against Toronto native Joey Votto and the Cincinnati Reds.
"It's become a bit of a tradition," Blue Jays president Paul Beeston said on a conference call.
The Red Sox have some connections to Montreal. When star pitcher Pedro Martinez left the defunct Expos, he went to Boston. Red Sox president of baseball operations Dave Dombrowski is a former Expos' general manager.
"There is a tradition between Montreal and Boston in hockey and between Toronto and Boston in baseball — it seemed like a natural," said Beeston.
Red Sox chief operating officer Sam Kennedy said his club jumped at the chance to play in the series and vowed that David Ortiz and other stars will there.
Much of the success of the pre-season games has come from Montreal fans wanting to show Major League Baseball it is ready to get a team back after the Expos left after the 2004 season.
Beeston and Blue Jays GM Alex Anthopoulos — a Montreal native — are both in favour of bringing big-league ball back to the city, where a team would be a natural rival for Toronto.
Mayor Denis Coderre has talked to MLB about having some regular-season games in Montreal but MLB preferred to keep it to pre-season games for now. His long-term goal remains getting a team back in Montreal on a full-time basis.
"For the future, we're doing all it takes and when the times comes, I can't wait to throw our the first pitch," said Coderre.