Breaking down Carlson's free agent value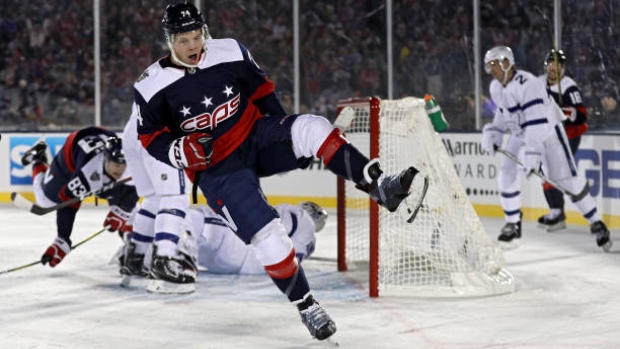 Washington Capitals defenceman John Carlson posted career-best numbers in the regular season and has carried his dominant play into the postseason.
The pending unrestricted free agent scored 15 goals and posted 53 assists in the regular season, both career highs. Through four playoff games, Carlson has one goal and eight points – first among defencemen and fourth overall.
TSN Hockey Insider Bob McKenzie assessed Carlson's market value on Friday morning, and he believes Carlson could become one of league's top 10 highest-paid blueliners.
"Contract year, and he's going to get a six or a seven-year deal at $7 million-plus, is what he's going to get," McKenzie told TSN Radio Edmonton 1260. "That's going to be the market value. And I don't know if he's going to get it from Washington. If he is, they're going to probably have to move a few pieces around or what have you.
"And they do want to try to get him signed. And he wants to stay there. He loves it there and likes the guys and what have you. But he's been taking a hometown discount for… quite aside from having a career offensive year; if you look at his salary – which is right around $4 million [$3.967 million] – he's been one of the better bargains in the National Hockey League for the last three, four, five years. And so I don't think he's overly inclined now to say, 'Oh yeah, I could get $7 million-plus on the open market. I'll be happy with something in the low sixes.' I don't think it's going to cut that way this year.
"So whether that allows him to stay in Washington or allows him to move… his attitude has been a good one. It's been, 'You know what? I don't have any control over any of that. We'll sort that out. All I can do is play and play well,' and that's what his focus has been and it's been good. The results have been there."
Los Angeles Kings defencemen Drew Doughty and Dion Phaneuf are currently tied for league's ninth-highest salary on the blueline at $7 million per year.
The Capitals currently have $16.35 million committed to blueline next season between Matt Niskanen, Brooks Orpik and Dmitry Orlov. Along with Carlson, Jakub Jerabek and Michal Kempny are scheduled to hit unrestricted free agency, while Madison Bowey will be a restricted free agent. Christian Djoos is signed through next season at $650,000.
According to CapFriendly, the Capitals are projected to have $10 million in cap space with five players scheduled to hit unrestricted free agency and five, including Tom Wilson and Philipp Grubauer, scheduled for restricted free agency.