Bruins, Pastrnak working on eight-year term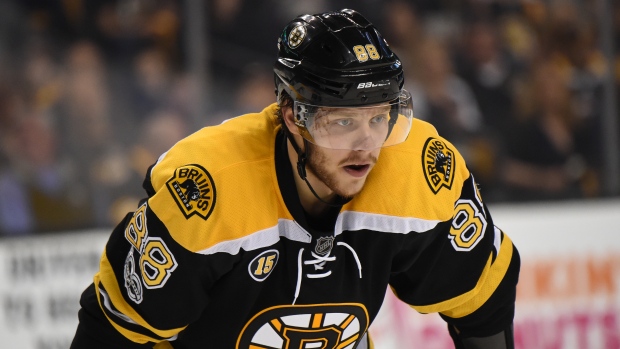 The Boston Bruins are now discussing an eight-year term on a contract for restricted free agent David Pastrnak, according to Pastrnak's agent, J.P. Barry.
Barry told the Boston Herald that there has been "no progress yet" but the two sides are up to the max term of an NHL contract.
Last month, Kevin Paul Dupont of the Boston Globe reported the Bruins had offered Pastrnak a $6 million annual salary on either a six-year or seven-year deal, depending on the winger's preference.
In 75 games last season, the 21-year-old Pastrnak exploded for 34 goals and 36 assists. He trailed only Brad Marchand (39) for the team lead in goals. He added two goals and two assists in six playoff games, while averaging over 21 minutes of ice time per contest.
David Krejci currently owns the highest cap hit on the Bruins at $7.25 million, followed by Patrice Bergeron ($6.875 million), Brad Marchand ($6.125 million) and David Backes ($6 million).
Pastrnak was taken at No. 25 overall in the first round of the 2014 NHL Entry Draft by the Bruins, making his debut later that season. He was one of two players from the 2014 draft to play in 40 or more games in the same season, appearing in a total of 46 games. The other was No. 1 overall pick Aaron Ekblad.
A native of Havirov in the Czech Republic, Pastrnak is coming off a three-year, $2.775 million entry-level deal.
He has 59 goals and 64 assists in 172 career regular season games. He ranked tied for 10th in goals and tied for 18th in points in the NHL last season.
Pastrnak is the lone remaining restricted free agent on the Bruins, who currently have $10.15 million in cap space remaining for the 2017-18 season, according to CapFriendly.