Canadiens need quick rebound after weak losses
It would have been a fine time for an old-fashioned bag skate, but Montreal Canadiens coach Claude Julien didn't have that option even if that was what he wanted.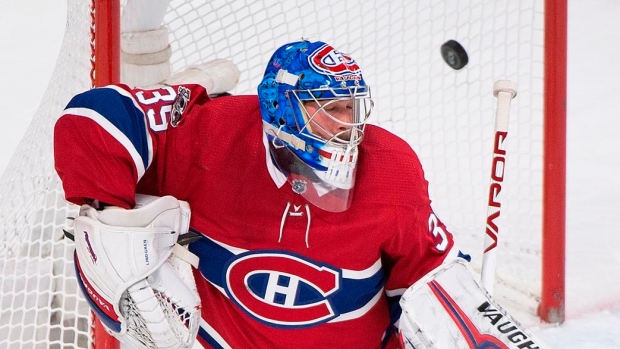 MONTREAL — It would have been a fine time for an old-fashioned bag skate, but Montreal Canadiens coach Claude Julien didn't have that option even if that was what he wanted.
After closing a six-game homestand with what the coach called an "embarrassing" 5-4 loss to lowly Arizona followed by a 6-0 thrashing from the rival Toronto Maple Leafs, the old-school reaction would be to hold a punishing, no-sticks skate to drive home the message that such performances are unacceptable.
But the league's collective bargaining agreement says teams have to designate four days off each month and Sunday had been marked down for a rest, so Julien will have to find other ways to get his struggling team going.
"At the end of the day, we have to find a way to be a better hockey club," Julien said after the latest loss. "The CBA says four days off a month, they got (Sunday) off.
"There was a time where you could react. You can't anymore. They have the day off. I've got to continue to find ways. The punishing skate on Monday would do what for us on Tuesday and Wednesday? That's where we are now in this league. We need to evolve with the game. Maybe, back in the day, there was a time where we could do that. It's a lot harder today than it was back then."
The Canadiens (8-11-2) play in Dallas on Tuesday night and visit their former teammate P.K. Subban and the Predators in Nashville on Wednesday before returning home to face Buffalo on Saturday night.
It was crucial for Montreal to take advantage of the homestand to get back into the Eastern Conference playoff picture. Instead, they went 2-3-1.
After a 2-7-1 start to the season, they had been making up ground, going 4-1-0 in their next five games.
They opened the homestand with three games against teams that had played the night before and got a 3-2 win over Vegas, a 3-0 loss to Minnesota and an overtime win over Buffalo.
Then came an overtime loss to Columbus, the Arizona debacle in which they blew a 2-0 first-period lead to give the Coyotes their first regulation time win of the season, and the Toronto blowout.
They did it without star goalie Carey Price, who has missed eight games with a lower body injury. Backup Al Montoya suffered a concussion in a 5-4 win in Winnipeg on Nov. 4, but then AHL call-up Charlie Lindgren was lights out in posting his first shutout in Chicago. Lindgren went 3-1-1 in five games with only seven goals against before surrendering five in each of the last two outings.
Against Toronto, he was lifted in the third period in favour of newly acquired Antti Niemi, who gave up one goal on four shots — an unstoppable rocket to the top corner by Auston Matthews.
There has been no word on when Price will return, although even the 2015 Vezina Trophy winner was struggling before his injury.
"It's not Charlie's fault, not at all," said centre Phillip Danault. "He can't do it all.
"We have to find a way to score the game's first goal. We were good in the first period. If we had scored a goal, it would have changed the game completely. We got caught. It's unacceptable. Especially here at home."
Lindgren is trying to keep a positive attitude, even if the skaters in front of him have not been making it easy.
Against Toronto, the Canadiens dominated the opening period but couldn't get the puck past Frederik Andersen, who made 33 saves for his second consecutive shutout. Then Ron Hainsey and Nazem Kadri scored 37 seconds apart in the second period and Connor Brown got one 25 seconds into the third to put the game away.
"Mentally I'm doing all right," said Lindgren. "This is an exciting time for me.
"I just want to help these guys out, that's the bottom line. We have to get wins here. It's my job to help them out. I love these guys in the locker room. They're already like family. We'll be better."
They'll need to be. U.S. Thanksgiving is on Thursday and historically, few teams not in playoff position by then make it to the post-season.