Canadiens sign goaltender Al Montoya
The Montreal Canadiens signed goaltender Al Montoya to a one-year contract on Friday as NHL free agency began.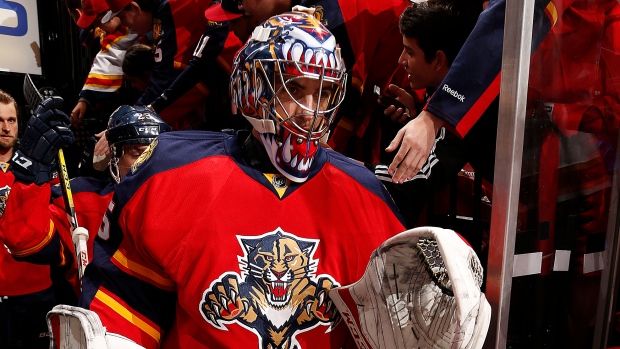 BROSSARD, Que. — Montreal Canadiens general manager Marc Bergevin admits that signing bad-boy forward Alexander Radulov is a risk, but he dreams of the good things that may happen if it pays off.
Radulov, last seen being suspended by the Nashville Predators for late-night partying during the 2012 NHL playoffs, signed a one-year USA$5.75 million contract as a free agent with the Canadiens on Friday. The gifted, six-foot-one Russian is expected to play right wing on one of the team's top lines.
The move came two days after a shock trade that sent the popular P.K. Subban to Nashville for veteran Shea Weber in a swap of elite, right-shooting defencemen. If Subban was criticized by some for not being the ideal teammate, Radulov's past has easily topped that.
"It's a gamble, for sure," said Bergevin. "I met face to face with him and I talked to lot of people — Shea Weber who played with him in Nashville and (CSKA Moscow GM) Sergei Fedorov who had him as his captain. I did the homework but, at the end of the day, it's still a gamble."
Bergevin called Radulov the best player outside the NHL.
"I like his skill level," he said. "You could argue that he was one of the highest skilled players that signed today.
"He's a hard working kid. The compete level has always been there. And the (one-year) term was very important to us too."
A one-year deal makes it a low-risk signing for Montreal. For the 30-year-old Radulov, it's a chance to prove himself anew in the NHL and perhaps get a longer deal next season — in Montreal or elsewhere.
Bergevin is convinced that Radulov's disciplinary troubles stemmed from lack or maturity.
Now that he is older, married and a father, Radulov said on a conference call that he is more focused on hockey.
"What happened in the past is in the past," he said. "I made a mistake and I'm not trying to say it wasn't my mistake.
"Yes, I did it. But time goes by and you look back at what you should or should not have done. The NHL is the best league. I feel good and I really want to come back and play against the best players and try to win a Stanley Cup."
Radulov, who played junior hockey for the Quebec Remparts, returned to Russia after posting 26 goals and 58 points for Nashville in 2007-08. He went back to the Predators near the end of the 2011-12 season, and then played the last four years with CSKA Moscow. He is second in all-time scoring in the KHL.
He had 23 goals in 53 games for CSKA Moscow last season and tied for third in the KHL playoffs with 16 points as his club reached the Gagarin Cup final.
With a trade last week that brought in gritty winger Andrew Shaw from Chicago, the Canadiens feel they have a solid top-six forward group with Radulov, centres Tomas Plekanec and Alex Galchenyuk and wingers Max Pacioretty and Brendan Gallagher.
The Canadiens also signed Al Montoya from the Florida Panthers on a one-year deal at $950,000 to provide veteran insurance in case starter Carey Price suffers another injury and to push second-year goalie Mike Condon for the back-up job.
Montoya is 55-40-18 record in 136 career games since making his NHL debut with the Phoenix Coyotes in 2008-09. He's also suited up for the New York Islanders and the Winnipeg Jets.
They also picked up 27-year-old Zach Redmond from Colorado on a two-year deal worth $612,500 per season as a depth defenceman. The six-foot-two defenceman had two goals and four assists in 37 games last season.
Montreal also signed a new two-year deal with forward Daniel Carr and inked their first-round draft pick Mikhail Sergachev to a three-year entry level contract.
It has been a busy off-season for Bergevin, whose club collapsed and missed the playoff after Price suffered a season-ending knee injury in November. He was involved in talks with other free agents who may have required longer deals, but was happy with the signings he made.
"A lot of teams today gambled on contracts with five or six-year terms and that's fine," said Bergevin. "Today I didn't feel it was the right time for us.
"There were players I was willing to do that with, but it didn't happen. Sometimes players flat out told me 'I will not play in Montreal' and that was the end. So there are players who won't play here but there are other players that will play here."