'Canes on the rise thanks to winning the shot differential battle
Despite missing the playoffs yet again last season, Travis Yost believes better days are on the horizon for the Carolina Hurricanes thanks to their focus on winning the shot differential battle.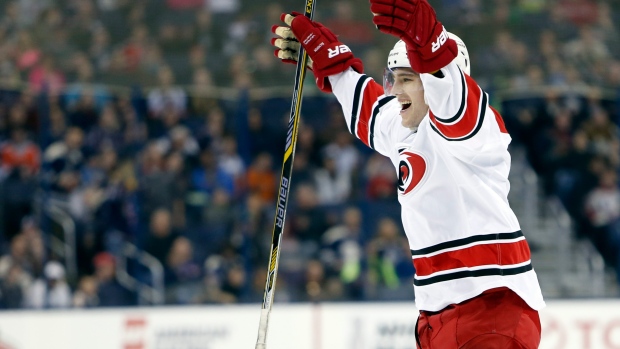 If I told you the Carolina Hurricanes finished one point behind the final playoff team last year, would you believe me?
Despite their 15-point improvement year-over-year in the standings, there was little – if any – attention given to Ron Francis' team last season. In some ways, that was understandable. The Hurricanes were earmarked as a bona fide lottery team from Jump Street, and their most prominent player, Eric Staal, was all but guaranteed to be moved out mid-season.
The even more impressive thing about Carolina's genuinely average season is that they did so in pretty difficult fashion. The Hurricanes weren't blessed with a great deal of individual or team shooting talent, converting on just 6.8% of their 5-on-5 shots (24th in the league). They certainly weren't blessed with stable goaltending, which has become a problem in Cam Ward's later years. In that regard, 'Canes goalies stopped just 91.5% of shots, which was good enough for 29th in the league ahead of lowly Calgary.
So, how does a team remain reasonably competitive all season with so few shots going in offensively and so many shots finding the back of the net defensively?
The answer: winning the shot differential battle.
That's been the name of the game for head coach Bill Peters since taking over a roster fairly devoid of developed individual talent. His emphasis has been on fine-tuning the structural aspects of his team first, likely hoping that the systemic changes would pay dividends as an influx of talent arrived a couple of years down the road.
One of the key tweaks over the past couple of years is really burdening his blue-line with a lot of the heavy lifting in the defensive zone. Watch a Hurricanes game, and you'll see a stable of smooth skating types on the back-end moving with the puck and distributing it up ice in a clean and efficient matter. Noah Hanifin, Ryan Murphy, Jaccob Slavin, Brett Pesce, and Justin Faulk all put in heavy and effective minutes for the Hurricanes last year and all are under the age of 25. Despite still easing into the key part of their developmental curve, they have been one of the primary drivers for Carolina's upswing.
And this group, among other things, relieved a lot of the defensive third pressure that most average or subpar teams generally incur when forced into their zone. And it's paid dividends for how this team looks on shot share: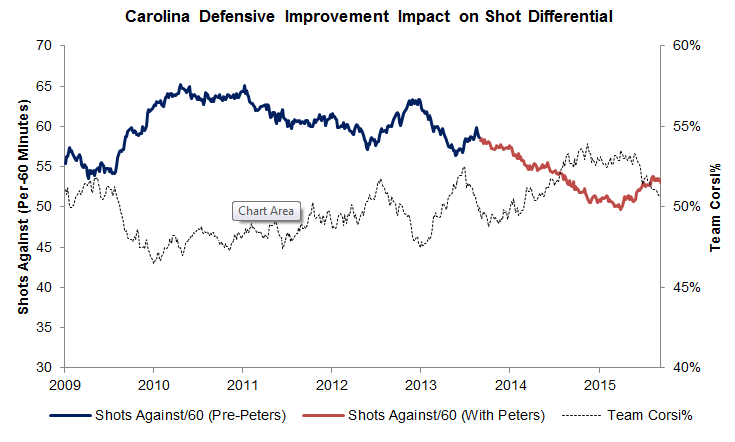 The bold, coloured lines are Carolina's historical shots-against rates at 5-on-5 since 2009. You can see that as soon as Bill Peters took over the group, their shot share dipped substantially. Considering league average is right around 54/55 shots-against per-60 minutes, it's very reasonable to argue that notwithstanding goaltending, Carolina is becoming an above average defensive team.
That impact has inversely correlated with the team starting to win the shot battle, something they really haven't done since six or seven years ago.
So, yes, the signs are very encouraging for this Carolina group – a true 'outsider' from our usual playoff discussions, but one that could certainly become a problem for contenders within the next season or two. The underlying numbers have grown increasingly encouraging to the point where one would be foolish to consider them as an 'also ran'.
That brings us to the most important part of the discussion, though: What next?
The key will be systemic evolution – from a team that can simply win the shot-share, to a team that can win the shot-share and translate that to winning the goal share.
Maybe that means a bit more of an aggressive player acquisition strategy for the forward or goaltending group. I think there's more reason to be patient with the attackers right now considering how young that core is. But, this team does feel one goaltender trade away from solving their puck-stopping issues – an area that I think people should be skeptical with, so long as Cam Ward is getting big minutes and Eddie Lack struggles in back-up work.
Either way, keep an eye on the Hurricanes over the next couple of years. Bill Peters has this team heading in the right direction, and they could become a playoff caliber team in short order.