Canes open to moving Skinner
Keep up to date on the latest trade, draft and free agent speculation and rumours from around the league. Wednesday's roundup includes the Carolina Hurricanes' interest in moving forward Jeff Skinner.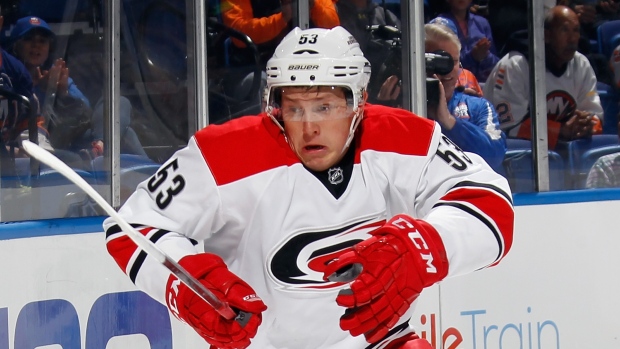 The NHL's off-season is upon us and teams are already looking to re-shape their rosters for a more successful 2015-16 season. Keep up to date on the latest trade/free agent speculation and rumours from around the league.
Skinner Principle
The Carolina Hurricanes may be open to moving forward Jeff Skinner.
TSN Hockey Insider Pierre LeBrun reported Wednesday afternoon that the 23-year-old's name is one that seems to be popping up in trade discussions.
Skinner won the Calder Memorial Trophy as an 18-year-old in 2011 after a 63-point rookie season. However, the Markham, Ont.-native has not reached those heights since.
He posted 18 goals, 13 assists and 31 points in 2014-15. All were career-lows when factoring out the lockout-shortened 2012-13 season.
Eyes on a Ranger
The Edmonton Oilers will undoubtedly have a busy off-season, but could the team's first move come between the pipes?
"The interest level of the Edmonton Oilers on Cam Talbot is really, really high, but I'm not naïve enough to believe that he's the only goalie that Peter Chiarelli and the Oilers are eyeing," TSN Hockey Insider Darren Dreger told TSN 1050's The Drive with Dave Naylor on Tuesday.
Talbot enjoyed a standout 2014-15 season, going 21-9-4 with a .926 save percentage, filling in through much of February and March while Henrik Lundqvist was sidelined. But the Rangers may have to adjust their ask to get a deal done for the 27-year-old.
"The Rangers are still fishing a little bit on Talbot, but I'm still told as of today that it's a lot more likely that he gets traded before Friday than not and I presume Edmonton is high in that mix," Dreger added.
The Oilers largely utilized a tandem of Ben Scrivens and Viktor Fasth in 2014-15, the same season that long-time Oilers netminder Devan Dubnyk broke out with the Minnesota Wild and was named a Vezina Trophy finalist.
Lack of Attention
Last week, Vancouver Canucks general manager Jim Benning said he was looking to trade goaltender Eddie Lack or Jacob Markstrom.
"I want to keep an older experienced goalie and Ryan (Miller) is that guy," Benning said in on TSN Radio 1040. "Then we are going to decide on either Lack or Markstrom. I don't feel comfortable going into the season with two young goalies. Ryan for sure will be back."
Amongst the teams most interested in Lack's services are the Buffalo Sabres.
Hamilton a Target?
Restricted free agent Dougie Hamilton and the Boston Bruins aren't close on a new deal and the salary cap-strapped club could be the target for an offer sheet.
A source with knowledge of the situation has indicated to Joe Haggerty of CSNNE.com that the Bruins are prepared to match any offer sheet up to $7 million per season for the 22-year-old blueliner.
That's also the same ballpark that Hamilton's camp seems to be eying for a big contract with Drew Doughty ($7 million) and Alex Pietrangelo ($6.5 million) as their high end comparable contracts.
"Generally speaking, the possibility [of an offer sheet] exists. You have to be aware of it," said Sweeney last week. "Over time, there have been certain players that bells and whistles go off, so you have to be [aware], and we are — we understand it. We're moving forward with how we want to get this done. So it definitely exists…they're not taking that out of the CBA."
Haggerty suggests a two-year bridge deal for Hamilton in the range of $4.5 to $5 million per season with the Edmonton Oilers and Columbus Blue Jackets among teh teams that could be interested. Any offer under $7.3 million would cost the team a first, second and third round draft pick.
Up For Discussion
Winnipeg Jets general manager Kevin Cheveldayoff is expected to meet with the agent for Alex Burmistrov this week in Florida to discuss the possibility of a return to the NHL.
Burmistrov was drafted eighth overall by the Atlanta Thrashers in 2010 but, after signing a two-year deal which has since expired, left the team for the KHL two years ago after run-ins with then head coach Claude Noel.
"He's still a young player," Cheveldayoff told the Winnipeg Free Press on Tuesday. "We'll see what opportunities present themselves as we continue to have good dialogue."
Claude Noel has since been fired and new head coach Paul Maurice had some conversations with the 23-year-old Burmistrov at last year's World Hockey Championship.
"The situations and circumstances from two years ago are dramatically different than what they are today," said Cheveldayoff. "From Burmi's standpoint he's two years older, two years more mature. From our standpoint, we're two years older, two years more mature as a franchise. Obviously, we're in a situation where Paul Maurice is now the coach, which is different than at that point in time (2013).
Burmistrov scored 23 goals and 58 points in 194 NHL games over three seasons with the Thrashers and Jets.
Heading East?
The Kings leaned heavily on Jonathan Quick this season, meaning backup Martin Jones could be on the move. The organization would prefer moving him east.