Capitals hand Avalanche first loss
Alex Ovechkin and T.J. Oshie cured two of the Washington Capitals' early season woes all by themselves. Oshie scored twice and Ovechkin got his first goal of the season on the power play in a 3-0 victory Tuesday night over the Colorado Avalanche.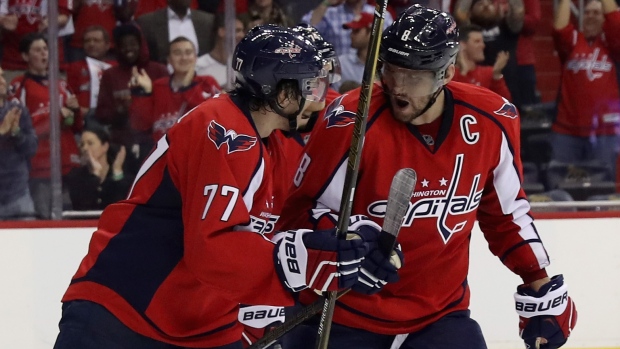 WASHINGTON — All it took was one goal for Alex Ovechkin and the Washington Capitals to get their confidence back, and they didn't let it go.
Ovechkin scored his first goal of the season on the power play and assisted on one of T.J. Oshie's two goals as the Capitals solved some early season woes and beat the tired Colorado Avalanche 3-0 on Tuesday night. The well-rested Capitals skated circles around Colorado, which was playing the second half of a back-to-back and its third game in four days.
A two-game power-play drought and a lack of production from the first line of Ovechkin, Oshie and Evgeny Kuznetsov were points of contention for the defending Presidents' Trophy winners, but those problems went away quickly as the Capitals handed the Avalanche their first loss.
"I think our first couple games we didn't execute the moment what we have," Ovechkin said. "The first goal was, I think, very important for us, mentally. You can see when we have power-play opportunities, we have so many chances to score. We get two and we'll take it."
Washington had the puck for most of the night and shelled goaltender Semyon Varlamov, who came up big by stopping 37 of the 40 shots he faced from his former team. The Avalanche barely tested Capitals backup Philipp Grubauer, who made 18 saves for his first NHL shutout.
Much of the play was happening at the opposite end of the rink from Grubauer, as the Capitals continued to draw penalties by being a step ahead of opponents. Their power play entered 0 for 8, unusual for a unit that has perennially been one of the best in the league, but it scored twice on five opportunities to bringing its percentage up to 15.4.
"We talked about needing a little more execution, a little more finish," coach Barry Trotz said. "They were sharper, and they got rewarded. I thought they could've scored almost every power play we got."
How the power-play goals happened was no surprise. Ovechkin beat Varlamov short side from his spot in the faceoff circle 15:44 into the first period, and Oshie scored from the edge of the crease on a pretty give-and-go with Nicklas Backstrom 11:32 into the second.
Ovechkin has led the league in goals and power-play goals in each of the past four seasons. He also set up Oshie's second goal 13:35 into the third as the first line scored for the first time in Washington's third game.
"It was bound to happen eventually," Oshie said. "We've played well together in the past, and we were missing passes just a little bit and playing somewhat slow hockey. Tonight we were all three going and only had one goal as a line when we were out there together, but I think for the most part we had a good, solid game."
Defenceman Dmitry Orlov fed Ovechkin on the power play and also made the highlight reel by upending Colorado forward Matt Duchene with an open-ice hip check in the first period. Ovechkin called it "a beauty" and Oshie said it was one of the best hits he has ever seen.
"That was a real clean hit — a shoulder to sort of the midsection, the hip, and he just lifted him," Trotz said. "I know Duchy from Team Canada and he can fly. He got caught there and he was up in the air a little bit. It was good to see that he didn't get hurt or anything like that, but that's a classic one."
Duchene was not pleased and didn't want to talk about it because he didn't want to say something that would get him in trouble.
The Avalanche lost for the first time in the young season under new coach Jared Bednar, who replaced Patrick Roy when the Hall of Fame goaltender resigned abruptly in August. They were noticeably fatigued from an overtime victory Monday in Pittsburgh and needed Varlamov to be sharp to stay in the game.
Bednar called the first period that featured a 20-5 Capitals shot advantage "unacceptable," but he and Duchene didn't want to use the back-to-back as an excuse.
"We didn't match their compete and their battle level," Duchene said, crediting Varlamov for a strong performance. "We basically just chased the game all night."
Notes: The Capitals honoured Braden Holtby with a pregame ceremony for winning the Vezina Trophy as the NHL's top goaltender and for tying the single-season wins record. ... LW Brett Connolly made his Washington debut, replacing rookie Zach Sanford in the lineup. ... F Cody McLeod made his season debut for Colorado as Ben Smith was scratched.
UP NEXT
Avalanche: Continue their brutal Eastern Conference road trip Thursday at the Tampa Bay Lightning.
Capitals: Look to stay unbeaten in regulation when they visit the Florida Panthers on Thursday.
___
Follow Stephen Whyno on Twitter at http://www.twitter.com/SWhyno.