Capitals snap Jackets' streak at 16 games
Columbus delivered a clunker in its try for a historic win. The Blue Jackets lost 5-0 to the Washington Capitals on Thursday night, ending their winning streak at 16 games, one shy of the NHL record.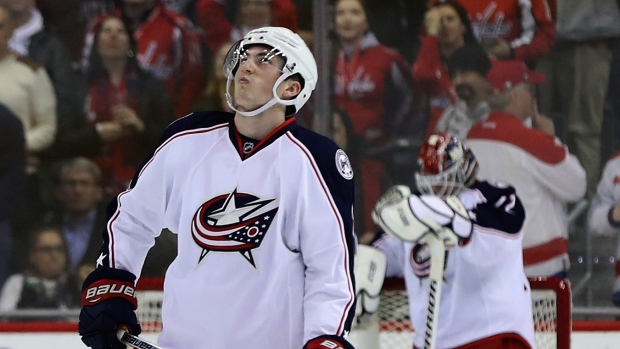 WASHINGTON — John Tortorella broke from his usual routine after the Columbus Blue Jackets' streak-breaking clunker on Thursday night.
He felt he had to.
Tortorella walked into the visiting locker room and told his players he was proud of them, even after the Jackets lost 5-0 to the Washington Capitals, ending a 16-game winning streak. Columbus fell one victory shy of the NHL record set by the 1992-93 Pittsburgh Penguins as everything that carried them on this captivating run fell apart.
Sergei Bobrovsky allowed five goals on 23 shots, the league-leading power play was held off the scoreboard and Columbus lost for the first time since Nov. 26. Tortorella wasn't happy about the game but wasn't upset about the streak coming to an end, either.
"I usually don't go in the room, win or lose," Tortorella said. "All year long, I haven't been in there, but I'd be remiss, like I told them, if I didn't. That is one hell of a run by a hockey team. They should feel really good about it."
They may at some point, but not right after reigning Vezina Trophy winner Braden Holtby stopped all 29 shots, giving Columbus its second shutout defeat of the season. Blue Jackets captain Nick Foligno said it took an effort like Holtby's to upend Columbus.
Bobrovsky, who was rock solid in 14 starts during the streak, was chased and replaced by Curtis McElhinney after allowing goals to Daniel Winnik, John Carlson, Nate Schmidt, Andre Burakovsky and Justin Williams.
The Capitals extended their winning streak to four and moved within five points of the Blue Jackets for the top spot in the ultra-competitive Metropolitan Division. They were eager to curb Columbus' run, with Burakovsky saying earlier Thursday, "It's going to be a really fun moment for us to end it." A fan at the game held a sign that read, "Hey Blue Jackets, streaking is not allowed in here."
"I wanted to stop the streak," said Williams, who scored his 10th goal in his past 23 games. "Who wouldn't want to stop a streak? I'd be lying if I said I wasn't thinking about it, for sure. And we did, pretty good game."
Tortorella conceded that luck was needed during the streak, and his team didn't get the bounces Thursday. Winnik's goal came off a flurry in front, Carlson's went in off his left skate and Schmidt's on his own rebound off Bobrovsky's chest.
Washington's good fortune combined with Holtby's performance to create a blowout reminiscent of when the 1979-80 Philadelphia Flyers ended their 35-game unbeaten streak with a 7-1 loss at the Minnesota North Stars.
Tortorella said before the game he wanted his club to tie the record but added, "It's not the end of the world if we don't."
When the Blue Jackets didn't, players bought into that mantra as they tried to move past the disappointment of the loss.
"We were hearing our win song after every game," winger Scott Hartnell said. "We talked about it after the game. Obviously, that's a disappointing loss to end it, but it had to come to an end."
Tortorella said he'd measure his club more by how it handled the lull when the streak ended. As Foligno pointed out before the game, this was only contest No. 37 for Columbus, and the Blue Jackets have a long way to go to show they're more than just a team with a memorable midseason run.
"We handled ourselves well throughout it," winger Boone Jenner said. "It's not like anything's ending. It's Game 37 right now and we just got a ways to go and what we want to get to."
NOTES: Columbus centre Brandon Dubinsky blamed himself for having one of the worst big-game performances of his career because of a bad turnover that led to Burakovsky's goal. ... Bobrovsky, who had a 1.64 goals-against average and .941 save percentage during the streak, was pulled for just the second time this season. ... Schmidt's goal was his first in 67 games dating to Jan. 7, 2016. ... Williams has 10 goals and eight assists in his past 23 games after starting the season with one and one in his first 15. ... McElhinney stopped all four shots he faced after replacing Bobrovsky in the third period.
UP NEXT
Blue Jackets: Try to start a new streak Saturday at home against the New York Rangers, who are only three points back of them.
Capitals: Visit the Ottawa Senators on Saturday looking to extend their less-talked-about winning streak to five.
___
Follow AP Hockey Writer on Twitter at http://www.twitter.com/SWhyno .