CFLPA: 'No. 1 priority' continues to be working toward new CBA
The CFL Players' Association has informed players on four teams not to report to camp if a new collective bargaining agreement isn't reached by May 18.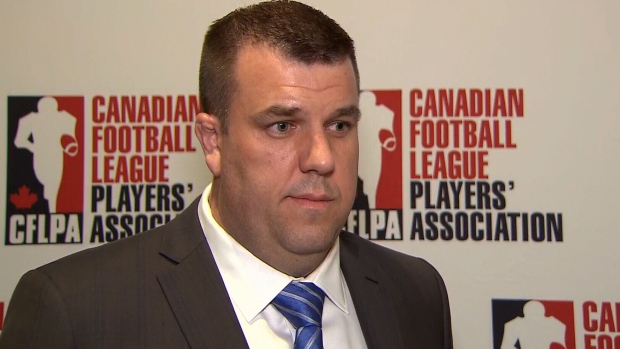 After three days of bargaining in Toronto this week, Canadian Football League Players' Association executive director Brian Ramsay acknowledged more work needs to be done to reach a new collective bargaining agreement with the Canadian Football League.
Nevertheless, Ramsay told TSN Thursday the CFLPA's "number one priority" continues to be working toward a new CBA when the players and league meet again next week (May 12-14) in Toronto.
"We remain ready to negotiate any day and any time," Ramsay told TSN. "If we wanted job action we wouldn't be making those claims; we wouldn't be flying to Toronto Saturday to sit at the table."
The current CBA expires on May 18, with training camps scheduled to open May 19. The preseason schedule starts May 26, when the BC Lions visit the Edmonton Eskimos. The CFL regular season is set to open June 13 with the Hamilton Tiger-Cats hosting the Saskatchewan Roughriders.
Members of the CFL's bargaining team continue to decline to speak to the media. Meanwhile, the CFLPA's media messaging remains focused on building a "partnership" between the union and the league – including improving player health and safety and sharing in the responsibility of building future CFL initiatives – but players won't discuss particular aspects of their talks with the league.
On a CFLPA media conference call Thursday, Ramsay explained that in accordance with labour laws in British Columbia, Saskatchewan, Manitoba and Quebec, members of the BC Lions, Saskatchewan Roughriders, Winnipeg Blue Bombers and Montreal Alouettes will be in a legal strike position on May 19.
Four days later, labour laws in Alberta and Ontario will allow players with the Calgary Stampeders, Edmonton Eskimos, Hamilton Tiger-Cats, Ottawa Redblacks and Toronto Argonauts to also take job action. As long as its members follow current labour laws, the CFLPA has advised players not to attend training camps if there is no new CBA.
In order to satisfy various provincial labour rules, the CFLPA held a strike vote on April 25, and 97.3 per cent of its membership voted in favour of a potential strike. Ramsay told TSN Thursday any preparation for a work stoppage is not impulsive or reflective of the current state of negotiations with the CFL.

"These are all necessary, long-term steps we put in place to create a new structure for our members," Ramsay told TSN.
Along with building a plan for a potential work stoppage, the CFLPA used the months ahead of CBA talks to establish partnerships with Canadian labour unions, to enlist the help of veteran labour negotiator Ken Georgetti and prepare its active players for their roles at the bargaining table.

With nine days remaining before the current CBA ends, Ramsay continued to stress the primary focus for the CFLPA is negotiating with the league.

"There's a sense of urgency. Our goal is to work together to find a solution," Ramsay said on the CFLPA conference call. "We have made progress, but we're not where we need to be to find a settlement."