Clutterbuck blames ice for Tavares injury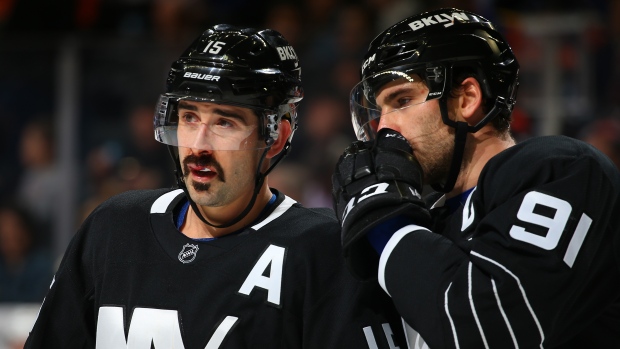 The New York Islanders forward Cal Clutterbuck believes the ice conditions at the Barclays Center played a role in John Tavares' lower-body injury.
Tavares was injured in the third period of Friday's 2-1 win over the New Jersey Devils and ruled week-to-week on Saturday, likely putting him out for the remainder of the regular season.
Clutterbuck said the ice conditions at the Barclays Center, which the Islanders moved into last season, had declined ahead of Friday night's game.
"You see a guy's heel dig in like that, it doesn't happen other places," Clutterbuck told Newsday on Saturday. "It's something that doesn't get addressed... It was a little worse (than it's been). It had been a little better the last few games, but not tonight."
The Islanders have had a rocky relationship with the arena since their move. The team has reportedly considered building a new arena in Queens, while the mayor of Hartford offered the Islanders the city's Civic Center as an interim home for the team starting in the 2018-19 season. The Islanders have an opt-out from their 25-year lease at the Barclays Center after four seasons.
In addition to the ice issues, the capacity of the arena for hockey games is 15,813, making it the league's second-smallest venue behind only the MTS Centre in Winnipeg (15,294). Fans have also complained of obstructed views in the arena.
Tavares, 26, owns 28 goals and 38 assists in 77 games this season. He is set to become an unrestricted free agent after next season.