Countdown to TradeCentre: Blowing it up on Broadway?
The National Hockey League's Trade Deadline is on Monday, Feb. 26, and teams will be making decisions on whether to buy or sell and decide which players can make the biggest difference and hold the greatest value. On Saturday, are the New York Rangers on the verge of a radical overhaul?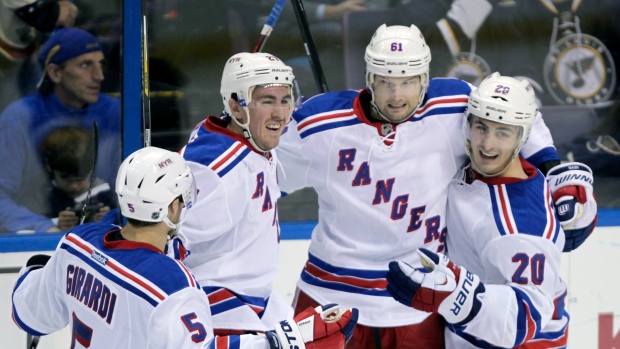 The National Hockey League's Trade Deadline is on Monday, Feb. 26, and teams will be making decisions on whether to buy or sell and decide which players can make the biggest difference and hold the greatest value. Check out the latest trade rumours and speculation from around the NHL beat.
---
Teardown in Manhattan?
At the All-Star break, the New York Rangers sit sixth in the Metropolitan Division, but are only two points behind the Pittsburgh Penguins for the final divisional playoff spot and just a single point behind the New Jersey Devils and Philadelphia Flyers for an Eastern Conference wild-card berth. While the postseason appears well within reach for the Blueshirts, that might not affect the club's thinking when it approaches the February 26 trade deadline.
The New York Post's Larry Brooks reports that the team intends to blow up it with the intentions of building a Stanley Cup contender, even if that means missing the playoffs for the first time in eight seasons. The aim, then, for general manager Jeff Gorton is to use roster players to accrue young, NHL-ready players and picks. Brooks notes that the team does not intend to bottom out, but to retool.
So what does that mean exactly? Well, pending unrestricted free agents are obviously available for interested suitors. Veteran winger Rick Nash, currently No. 15 on TSN's Top 30 Trade Bait board, could rocket up the board in the coming weeks. Nash, 33, is an eight-time 30-goal scorer and would be one of the more attractive offensive options come the deadline. This season, the Brampton, Ont. native has 15 goals and 10 assists in 50 games played. Nash could entice teams looking for secondary scoring and to shore up their top-six. Brooks expects the Rangers to be willing to eat some of Nash's remaining $7.8 million salary, which they can do up to 50 per cent.
Joining Nash out the door could be speedster Michael Grabner. The 30-year-old former Vancouver Canuck, New York Islander and Toronto Maple Leaf leads the Rangers in goals with 21. Though Grabner wouldn't likely fetch the same return as Nash, he's likely to top last year's goals total of 27 and could hit the 30-goal plateau for the second time in his career and first time since 2010-11. Centre David Desharnais and defenceman Nick Holden could also provide modest returns as rentals.
Brooks believes that the Rangers could also listen on players signed past this season, namely captain Ryan McDonagh and the team's leading scorer, Mats Zuccarello. Both men have one year remaining past this one on their current deals, with the former coming in at $5.3 million and the latter at $4.5 million. If dealt, both players - McDonagh especially - could command a heavy return, one that could kick off the Rangers' retool in earnest.
---
How will Vegas play its cards with Neal?
James Neal wasn't expected to be a member of the Vegas Golden Knights for much longer than the expansion draft that saw him leave the Nashville Predators for Sin City, but the 30-year-old Whitby, Ont. native is in Tampa Bay right now as an All-Star selection for the surprising Golden Knights, the owners of the Western Conference's best record. The question remains, though, whether or not the three-time All-Star is long for Nevada and how general manager George McPhee will navigate his first trade deadline with his team performing way above expectations.
Neal's agent, Pat Morris, spoke to the Las Vegas Review-Journal's Ed Graney and said that he doesn't think that his client, a pending UFA, will be moved.
"I don't negotiate in public, but if the trade deadline comes and goes, I will be shocked if James is on another team," Morris told Graney. "No other team has called me and said they are close to acquiring James. I think it's full steam ahead for Vegas, and if we could agree to terms for him to (remain with the Knights) we would welcome that. He loves it there."
In 48 games this season, Neal has 22 goals and 12 assists. That makes Neal only the sixth active player to have recorded 20 or more goals in his first 10 seasons in the NHL. The other five players are Jaromir Jagr, Alex Ovechkin, Thomas Vanek, Jonathan Toews and Patrick Kane. If the Golden Knights were to make Neal available, there wouldn't likely be a shortage of suitors, especially considering the former Plymouth Whaler's postseason exploits. In 80 career playoff games with the Pittsburgh Penguins and Predators, Neal has 25 goals and 19 assists.
How Vegas handles Neal in the coming weeks will be an interesting storyline to watch as the league gears towards the trade deadline.