Countdown to TradeCentre: Bolts to strike on the blueline?
Check out some updated trade rumours and speculation from around the NHL beat including the pressure on the New York Islanders to load up before the deadline and the Lightning's pursuit of a top defenceman.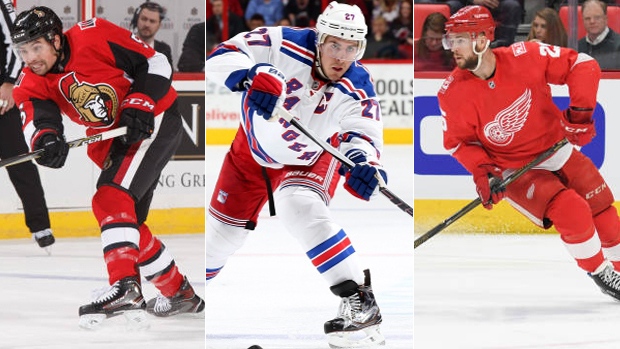 The National Hockey League's Trade Deadline is on Monday, Feb. 26, and teams will be making decisions on whether to buy or sell and decide which players can make the biggest difference and hold the greatest value. Check out the latest trade rumours and speculation from around the NHL beat.
---

Surveying The Market
TSN Hockey Insider Bob McKenzie said Tuesday that the Tampa Bay Lightning have had interest in Ottawa Senators defenceman Cody Ceci dating back to last summer.
McKenzie believes the Lightning are currently surveying the defencemen on the trade block with the intention of adding a blueliner before Feb. 26
"Well, we know they had interest in Cody Ceci from back when they were trying to peddle Jonathan Drouin," McKenzie told TSN Radio Ottawa 1200. "And Cody Ceci was a name that was front and centre in that regard.
"I think the Tampa Bay Lightning are doing their due diligence on any defenceman they perceive to be available. Ryan McDonagh with the New York Rangers - 'Let's go scout the Rangers, let's talk to the Rangers and see what's going on there.' Cody Ceci and the Ottawa Senators - 'Let's find out what the price is, let's do our due diligence and get information.' Mike Green, a pending unrestricted free agent with the Detroit Red Wings - 'Let's look at what it might cost to get Mike Green.'
"'Let's start to put together a matrix here that shows basically every available defenceman, young and old, big tickets, little tickets, rentals, guys with term - and then let's figure out what the cost is and what's the best fit for our hockey team.'
"So I think it's too early to get into the minutiae of who Tampa might end up with other than to say the Tampa Bay Lightning, when this trade deadline is over, I firmly believe they will have a notable addition on the blueline."

---
Weighing The Cost
Bob McKenzie told TSN Radio 1050 Toronto on Wednesday morning he expects the Toronto Maple Leafs to stay the course ahead of the trade deadline.
The Maple Leafs have three key pending free agents at forward in James van Riemsdyk, Tyler Bozak and Leo Komarov, but McKenzie said he can't see the Maple Leafs hurting their chances at a playoff run this season for the return any of the three offer.
And while defence has been a speculated point of need for the Maple Leafs throughout the season, McKenzie believes the acquistion cost for a top-four blueliner will keep the Leafs out of the trade market.
"I just can't imagine the Leafs are going to get a better defenceman than [Travis] Dermott in a trade if you weight the acquistion price," McKenzie said. "If Colorado was going to trade Tyson Barrie, the Leafs would want in on that, but do they want in on Tyson Barrie if it's going to cost them Connor Brown? Or some other really premium asset up front, which I think it would because Tyson Barrie is a top-four defenceman in the National Hockey League.
"He fits with what the Leafs want to do, he makes $5.5 million, it's in that philosphy part of the 'Shanna-plan' (which is) instead of having one defenceman who makes nine, ten or $11 million a year, because they don't have one like that, you get a whole bunch of guys that make four, five or $6 million a year. And instead of having a true No. 1, you have a couple of No. 2s, a couple of No. 3s, a couple of No. 4s and you don't really have a five and a six, or a one.
"It's a balance thing, so would they love to get a defenceman like (Barrie) to bolster the top four, that they've got with Rielly, Hainsey, Gardiner and Zaitsev? Absolutely they would - somebody that could legitimately take Hainsey's place down the road as Hainsey transitions out.
"But Dermott could be that guy, so when you factor in what it would cost to get one of those types of guys... Then you might be better just letting Dermott go through the maturation process and let him be your top four guy and it doesn't cost you anything other than whatever mistakes he makes between now and when he doesn't make mistakes."

---

Feeling The Heat?
TSN Hockey Insider Darren Dreger was asked Tuesday which team may feel pressured to make a splash at the trade deadline to give themselves the best shot at a playoff run.
Dreger pointed to the New York Islanders, who are tied for the final wild card spot in the Eastern Conference.
"Yeah, I mean I keep looking at the New York Islanders and trying to figure out what's happening there," Dreger told TSN Radio 1050 Toronto. "We're fixated on whether or not John Tavares is going to extend with the Islanders, and if he isn't it's perhaps a much bigger story, truthfully. But there's a lot of work that has to get done both on the ice and off the ice.
"I don't know about you guys, but I don't love their goaltending. Every time I've talked to [general manager] Garth [Snow], a former goaltender, about his goaltending in Greiss and Halak, I'm told that, 'No, no, no. Our goaltending is fine.' Yet that storyline doesn't seem to want to go away.
"And he's got some other unsettling contracts he's going to have to deal with. Josh Bailey is right at the top of the list. And I wonder if that's part of why Tavares is just in a wait and see mode still. There are many who believe that he's already decided he's going to wait. Why not now. You might as well have a look at what the market presents and your default option is to go back to the Islanders. But maybe he's tired of watching good players go out. So he maybe wants to see if they can get Bailey signed, and Anders Lee isn't that far behind. And if goaltending is in question, what's Garth going to do there.
"So the Islanders – and I say this because I like the work that Garth Snow does from time to time. He's shown signs of a willingness to be very aggressive and I don't doubt that he'll try and be as aggressive as he can between now and the deadline."
Thomas Greiss and Jaroslav Halak have combined for an .898 save percentage this season - third-worst in the league. The Islanders offence, meanwhile, sits third in the league with an average of 3.30 goals per game.

---

Price Check
Bob McKenzie said on Tuesday's edition of Insider Trading the New York Rangers ask for Rick Nash is similar to the price tag the Buffalo Sabres have put on Evander Kane.
McKenzie lists the current price for the 33-year-old forward at "a first-round pick, a top prospect and another lesser player, or prospect or pick in combination with those."
McKenzie notes that many general managers around the league feel that price is simply too high for a rental player. He believes a more realistic price, and likely what each player will move for, is a first-round pick and either a second-round pick or a prospect.
TSN Hockey Insider Pierre LeBrun added the Rangers are willing to retain a significant portion of Nash's $7.8 million cap hit in order to help facilitate a deal. The Rangers, by rule, can retain up to 50 per cent of Nash's salary.
While all eyes are on Nash ahead of the deadline, the Rangers leading goal scorer can be had for a more affordable price. McKenzie reports the Rangers are expected to be willing to part with Grabner, also a pending free agent, for a first-round pick. He reports that some general managers around the league see adding Grabner, who carries a $1.6 million cap hit, is a more cost-efficient option than Nash.
Grabner, 30, has 21 goals and 26 points in 52 games this season to Nash's 15 goals and 25 points in 53 contests.
McKenzie reported on Tuesday that the Rangers are starting to use the word "rebuild" and no player on their roster is considered untouchable ahead of Feb. 26. The Rangers aren't holding a fire sale, but McKenzie notes they'll listen on any offer that helps their future.

---

Willing To Part With...
Pierre LeBrun reports the Calgary Flames are looking for scoring help ahead of the trade deadline, and with lack of draft picks for this season, they're likely going to have to give up a warm body to get one.
"Well whether (Jaromir) Jagr was there or not I can tell you this: I think the Flames covet a scoring winger if they can pull it off. Here's the problem, they don't have a first or a second-round pick - those picks went in the Travis Hamonic deal last summer – so they have to be a little more creative," LeBrun explained on Insider Trading. "And what I'm being told is that they might listen on a guy like Jon Gillies. He's a 6-foot-6 beast of a goalie who is 24-years-old.
"They're loaded in goal as people know with Tyler Parsons to David Rittich, who by the way they might listen on him as well, but Gillies is the guy that I think Calgary would move in a potential deal that made sense for a scoring winger. Not a rental, but a player that can play past this year."
Gillies has a 13-12-2 record in the AHL this season with a .915 save percentage and a 2.64 goals-against average. He appeared in relief in one game for the Flames this season, allowing three goals on 12 shots in just under two periods of work. Gillies was selected in the third round of the 2012 draft by the Flames.

---