Countdown to TradeCentre: Domi on the block?
Check out some updated trade rumours and speculation from around the NHL beat, including who the Arizona Coyotes have made available, and the costs to acquire the top defencemen on the market.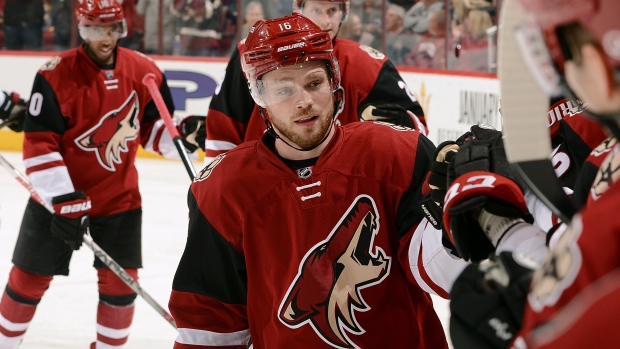 The National Hockey League's Trade Deadline is on Monday, Feb. 26, and teams will be making decisions on whether to buy or sell and decide which players can make the biggest difference and hold the greatest value. Check out the latest trade rumours and speculation from around the NHL beat.
---

On the Block
While the Arizona Coyotes are still believed to view Oliver Ekman-Larsson as untouchable, the team has reportedly put a former first-round pick on the trade block.
According to Larry Brooks of The New York Post, the Coyotes have sent the word out that winger Max Domi is available in trade talks.
Domi, 22, has just three goals and 22 points in 52 games this season with a minus-20 rating. He made a big splash as a rookie in 2015-16, scoring 18 goals and 52 points in 81 games, but has posted a total of just 12 goals over his 111 games since.

---

Where to Start?
Joe Smith of The Tampa Bay Times believes an Erik Karlsson trade is unlikely for the Tampa Bay Lightning, but not impossible.
Smith believes Lightning general manager Steve Yzerman could put together an offer of a top-six forward in Vladislav Namestnikov or Tyler Johnson, a high-end prospect such as Taylor Raddysh, a draft pick, and an NHL defenceman like Jake Dotchin or Slater Koekkoek. Smith cautions, however, that may only be enough to start the conversation with the Ottawa Senators.
One drawback in acquiring Karlsson, Smith writes, is the fact the team will not be able to afford him long-term. Should the Lightning manage to pry the star defenceman from the Senators before the deadline, they'd be able to use him for two playoff runs.
Looking at other possible trade chips in a deal for Karlsson, Smith believes Brayden Point is untouchable and can't see the team giving up rookie Mikhail Sergachev.

---

Familiar Foes
Larry Brooks of The New York Post reports there is mutual interest between the New York Rangers and the Lightning for a deal to move Rangers captain Ryan McDonagh to the Sunshine State.
Brooks notes the Lightning already have two former Rangers on their roster in Ryan Callahan (acquired via trade in 2014) and Dan Girardi (signed last summer), while New York is willing to retain up to half of McDonagh's $4.7 million cap hit through next season.
Brooks points to the Minnesota Wild as a team who could also be interested in the Rangers captain.
Speaking of retaining salary, Brooks reports the Rangers are also willing to keep 50 per cent of Rick Nash's $7.8 million cap hit to get a deal done before the deadline. Nash is set to become an unrestricted free agent in July. Brooks lists the Nashville Predators, Columbus Blue Jackets, Dallas Stars, St. Louis Blues, San Jose Sharks and Pittsburgh Penguins as teams who could pursue a trade for him.

---

Price Too High?
Fluto Shinzawa of The Boston Globe believes Ryan McDonagh is a good example of a left-hand shot that the Bruins would be interested in, but thinks the price is simply too high.
Shinzawa believes the asking price from the Rangers would start with a young NHLer, a prospect and a first-round pick.
McDonagh, 28, has two goals and 26 points in 47 games this season.

---