Couture officially signs eight-year extension with Sharks
The San Jose Sharks officially announce an eight year extension for forward Logan Couture.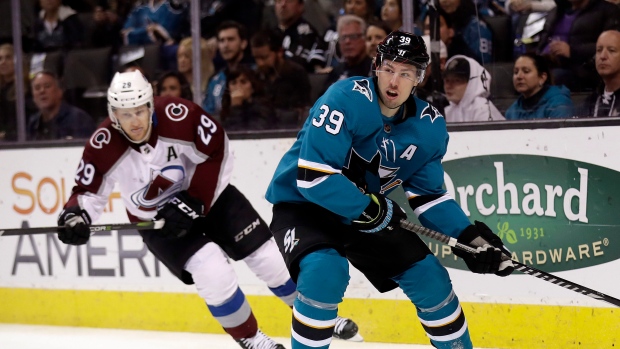 SAN JOSE, Calif. — The San Jose Sharks officially announce an eight year extension for forward Logan Couture.
Couture was a first-round pick by San Jose in 2007 and has said he never wants to leave the franchise. He has developed into one of the Sharks' top forwards since making his debut in 2009 and is coming off a career-high 34-goal season.
Couture was San Jose's most dependable centre last season, often matching up against the opponent's top line and providing plenty of offence of his own from the second line. Couture had 21 assists last year and was a major part of the power play and penalty killing units.
The 29-year-old has 213 goals and 224 assists in 582 career games. He also has been a post-season standout, leading the NHL with 30 points in 2016 when he helped San Jose reach the Stanley Cup Final for the first time in franchise history before losing to Pittsburgh in six games.
Couture has 34 goals and 47 assists in 96 career playoff games, ranking in the top 10 in the NHL in playoff goals and points since making his post-season debut in 2010.
Locking up Couture was the first move made by general manager Doug Wilson this off-season. San Jose still is looking to re-sign centre Joe Thornton and is making a run at New York Islanders centre John Tavares.
Thornton will be 39 next season and coming off his second major knee injury. He tore the ACL and MCL in his right knee on Jan. 23 and never returned to the lineup. He had a similar injury to his left knee the previous season and played four games in the post-season before undergoing off-season surgery.
Thornton still performed at a high level last season after taking some time to get back up to speed. He had 11 goals and 15 assists in his final 28 games before the injury.
The Sharks also met with Tavares this week, hoping to lure the top available free agent to San Jose. Tavares, who turns 28 in September, is one of the top centres in the league and would step into Thornton's old role on the top line.
The No. 1 overall pick by the New York Islanders in 2009 is coming off one of his most productive seasons as a pro. He had 37 goals and 47 assists last season, finishing one off his career best in both marks.
Adding Tavares would provide perhaps the only missing piece to make the Sharks one of the top contenders for the Stanley Cup next season. San Jose lost in six games in the second round to eventual Western Conference champion Vegas and has a stellar defence led by Marc-Edouard Vlasic and Brent Burns, a reliable goaltender in Martin Jones, and forwards like Couture, Evander Kane and captain Joe Pavelski already under contract.
Pavelski also is entering the final year of his contract and is eligible for an extension starting Sunday. Pavelski turns 34 this month.
___
More AP NHL: https://apnews.com/tag/NHLhockey