Couturier capitalizing on opportunity to skate with top line
Philadelphia Flyers centre showing he's much more than a defensive stalwart this season, Travis Yost writes.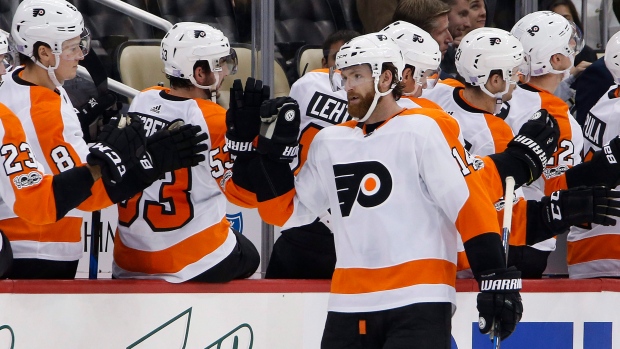 Sometimes, it's just about opportunity. Few NHL players know that better than Philadelphia Flyers forward Sean Couturier.
Years ago, as a blue-chip prospect in the QMJHL, Couturier – despite winning the Jean Beliveau trophy one season as the league's top scorer – developed a reputation as a defensive stalwart. The Flyers have used that expertise since Couturier debuted in 2011-12 in the defensive third to slow down the opposition's best attackers.
Prior to this season, a Couturier shift generally meant two things. One, he was starting that shift in the defensive zone, which meant his priority was more along the lines of flipping the position on the ice than generating and sustaining offensive pressure. Two, he was doing so with mostly checking-line forwards and second-pair defencemen.
To a large degree, it made sense. Couturier has been a wizard down the middle of the ice – a player annually deserving of recognition for the Selke Trophy, but a player who also happens to play in the same league with other defensive masterminds like Patrice Bergeron, Jonathan Toews, and Anze Kopitar.
But Couturier's consistent play couldn't solve Philadelphia's problems. For years they were a cap-strapped, top-heavy team. In more recent seasons – specifically from 2014-16 – the Flyers also had tremendous goal-scoring issues.
To fix the scoring issues, the Flyers had to experiment in their top-six. One idea was to move entrenched centre Claude Giroux out to the wing. The Flyers figured that such a move would ease Giroux's defensive responsibilities and allow him to take more chances at generating an attack.
The move left Philadelphia with a hole down the middle, so Couturier sliding up the lineup made all the sense in the world. It was a gamble for the Flyers, but it also was an incredible opportunity for Couturier – a player who never really had much chance or opportunity in a scoring role – to skate with some of Philadelphia's most competent attackers.
Don't just take my word for that, by the way. A look at Couturier's most common teammates by year is sobering. But, note how everything has changed this season:

Individually, the change has made all of the difference in the world for Couturier. He's essentially a point-per-game player – his 28 points in 29 games has him comfortably top-40 in NHL scoring, surrounded by names like Sidney Crosby, Filip Forsberg, Auston Matthews, Alex Barkov, and Tyler Seguin.
Even the most ardent Couturier fans couldn't have expected this sort of offensive explosion. Before this season, Couturier – again, in a much more defence-first role – averaged about 0.45 points per game. That's less than half of what he's doing this year.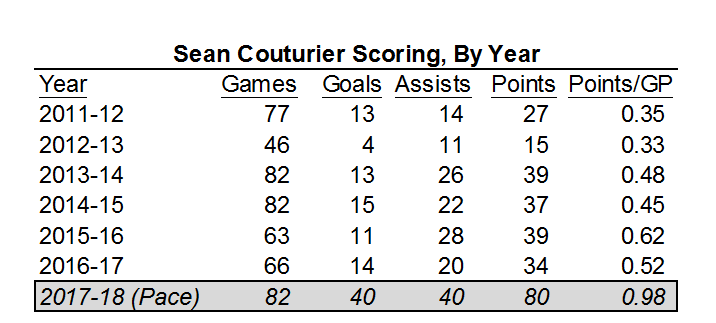 It's quite the jump. But Couturier's individual scoring is just one piece of the story. Remember, the driver of opportunity here was to create a more offensively robust first line, which started with the move of Giroux out to the wing. Head coach Dave Hakstol's goal wasn't to juice Couturier's offence, but rather to create a unit that had more teeth at aggregate in the offensive third.
That, too, is a bet that's paid off. While the Flyers are riddled with issues down the lineup, their top line has been very productive to start the year. They grade out as first or second-line quality by pretty much any key performance metric, and that's true if you are grading them against their peers around the league or their peers on the Flyers roster.
The graph below shows the performance of the Giroux-Couturier-Jakub Voracek line against any other regular combination around the league by 12 different measures. On-ice numbers show the strength of the lineup at generating or suppressing offence. Relative numbers show the strength of the lineup at generating or suppressing offence relative to other Flyers units.
The trio grades out reasonably strong across the board. (Here, a 100 per cent number would indicate this line is the best in the league at something; 0 per cent would indicate this line is the worst in the league at something. Data via Corsica.)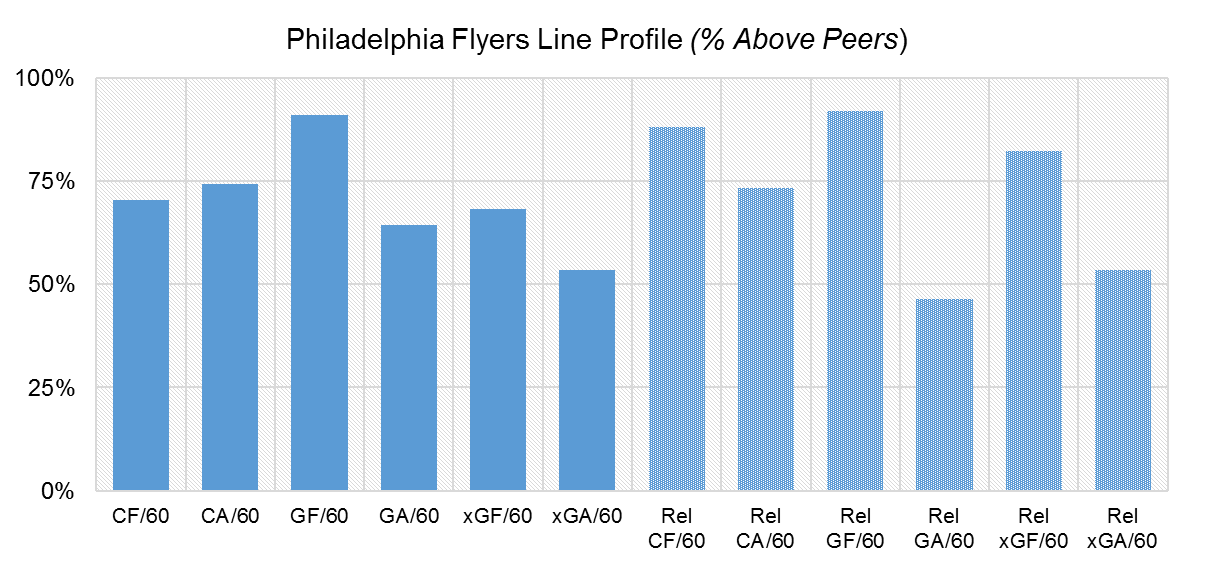 The most interesting number is the goals for the Giroux-Couturier-Voracek line: goals for per-60 minutes. They are scoring more than four goals every 60 minutes, which ranks them as one of the league's most productive attacking units. There are only a handful of lines ahead of them – the Alex Ovechkin-Nicklas Backstrom-Tom Wilson line in Washington, the Jaden Schwartz-Brayden Schenn-Vladimir Tarasenko line in St. Louis being the two most notable.
For Philadelphia, I think you can reasonably look at this lineup change and call it a success. The Flyers have succeeded in creating a more productive first-line unit, and they have done so through increased use of Couturier – a player who, before this season, hasn't had much opportunity to flourish.
Now he's a first-line, nearly point-per-game player making $4.3 million a year. That's a steal.