Craig's List: Patrick remains in the top spot despite injury
The Brandon Wheat Kings' centre hasn't played a game since Oct. 11, but TSN Director of Scouting Craig Button says he's seen enough over the last three years to separate him from the field.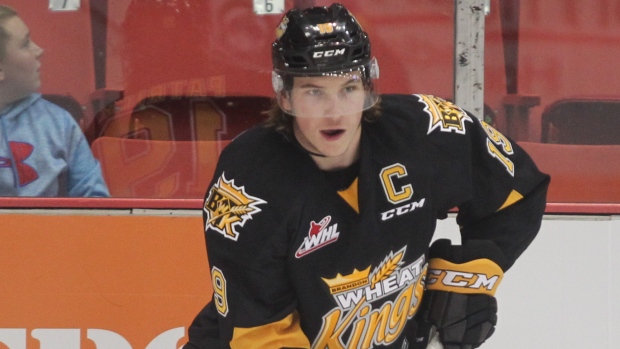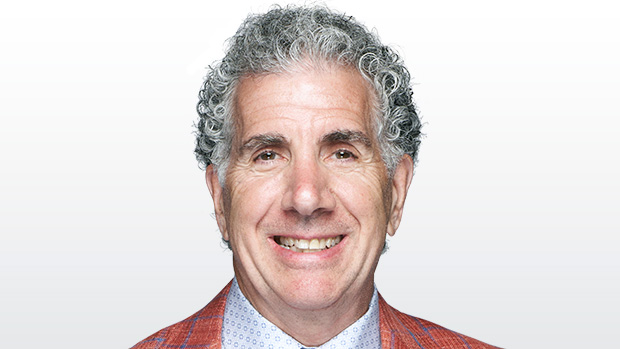 Brandon Wheat Kings' centre Nolan Patrick remains in the top spot on the January edition of Craig's List, despite not playing a game since Oct. 11 and only suiting up for six games so far in the 2016-17 season.
I've seen enough from Patrick, who missed a chance to make Team Canada for the world junior championship because of a groin injury, over the last three years to consider him the best overall prospect available in the 2017 NHL draft. His package of skill, smarts and size — in addition to his accomplishments in his first two years of junior and at the international level — separates him from the field. He is expected to return to the Wheat Kings' lineup this coming weekend.
While he's not in the same class as previous first-overall picks Connor McDavid and Auston Matthews, Patrick does project as a very good two-way number-one centre in the mould of Eric Staal.
Second on the list is Nico Hischier, who has been a dominant player in the QMJHL for the Halifax Mooseheads (26 goals and 54 points in 33 games) this season. He recently played for Switzerland at the world juniors as a 17-year-old, where he was the best skater at that age and one of the very best players in the entire tournament.
Hischier has a subtle excellence to his game that reminds me a lot of Buffalo Sabres' forward Sam Reinhart. He has excellent sense, quick hands and the ability to manoeuvre in tight spaces and beat defenders one-on-one. He competes hard and finds a way to produce when he has to deliver.
Swedish defenceman Timothy Liljegren is third on the list, despite struggling to get his legs underneath him this season. A bout of mononucleosis hampered his play early, but he remains the best defenceman available in this draft. After starting the season with Rogle in Sweden's top league, he will now play a level below in Timra to find his game and gain confidence. His ability to skate, contribute offensively and be a very good player defensively leaves no doubt in my mind about his NHL potential.
Dynamic Czech centre Martin Necas is fourth on the list. Necas, who plays centre for HC Kometa Brno of the Czech Extra League (six goals, seven assists in 30 games), has the competitive fire to make things happen. He refuses to be denied when he's faced with challenges and his game will only become that much better as he matures physically.
Fifth-ranked Gabe Vilardi of the Windsor Spitfires has missed games because of injury and an appendectomy this season, but he is a very good playmaking centre (14 goals, 17 assists in 22 games) with size. Right winger Owen Tippett of the Mississauga Steelheads is sixth on the list and looks to be the best pure goal scorer in this class (33 goals in 39 games). He has a shot that can overpower goalies, but also possesses a quick release that can surprise. It's a multi-dimensional weapon and combined with excellent skating ability and power in his game, he is a very difficult player to keep in check.
Cale Makar of the Brooks Bandits in the Alberta Junior Hockey League is one to watch in the months ahead. The dynamic offensive defenceman (43 points in 32 games) jumped 16 spots from our November rankings to land at 13. His style of play and approach to the game reminds me of Ottawa Senators captain Erik Karlsson. Like Karlsson at the same age, he is still growing, but his skill set is unique. Makar is a player many NHL teams may be hoping slides in the draft, but he's too good to end up very far down the board.
Craig's List - January
| RK | Player | Team | POS | HT | WT | GP | G | P |
| --- | --- | --- | --- | --- | --- | --- | --- | --- |
| 1 | Nolan Patrick | Brandon (WHL) | C | 6'2 ¾ | 198 | 6 | 4 | 9 |
| 2 | Nico Hischier | Halifax (QMJHL) | C | 6'0 ¾ | 176 | 33 | 26 | 54 |
| 3 | Timothy Liljegren | Timrå (SWE-Als) | D | 6'0 | 191 | 2 | 0 | 1 |
| 4 | Martin Necas | Brno (Czech) | C | 6'0 ½ | 167 | 30 | 6 | 13 |
| 5 | Gabe Vilardi | Windsor (OHL) | C | 6'3 | 201 | 22 | 14 | 31 |
| 6 | Owen Tippett | Mississuaga (OHL) | RW | 6'1½ | 202 | 39 | 33 | 52 |
| 7 | Ryan Poehling | St. Cloud St. (NCAA) | C | 6'2 ½ | 202 | 19 | 4 | 7 |
| 8 | Eeli Tolvanen | Sioux City (USHL) | RW | 5'10 ¼ | 170 | 23 | 16 | 27 |
| 9 | Lias Andersson | HV71 (SHL) | LW/RW/C | 5'11 ¼ | 198 | 24 | 5 | 9 |
| 10 | Casey Mittelstadt | Eden Prarie (USHS) | C | 6'0 ¼ | 194 | 13 | 10 | 25 |
| 11 | Michael Rasmussen | Tri-City (WHL) | C/LW | 6'5 ¾ | 215 | 44 | 29 | 48 |
| 12 | Kailer Yamamoto | Spokane (WHL) | RW | 5'7 ½ | 153 | 35 | 25 | 54 |
| 13 | Cale Makar | Brooks (AJHL) | D | 5'10 ¼ | 171 | 32 | 12 | 43 |
| 14 | Miro Heiskanen | HIFK (SM Liiga) | D | 6'0 | 170 | 25 | 3 | 7 |
| 15 | Elias Pettersson | Timrå (SWE-Als) | LW | 6'1 ¼ | 156 | 27 | 12 | 27 |
| 16 | Cody Glass | Portland (WHL) | C/RW | 6'1 ¾ | 180 | 40 | 20 | 53 |
| 17 | Nick Suzuki | Owen Sound (OHL) | RW | 5'10 ¾ | 187 | 40 | 22 | 52 |
| 18 | Shane Bowers | Waterloo (USHL) | C | 6'1 ¼ | 178 | 30 | 10 | 22 |
| 19 | Alexei Lipanov | Balashikha (MHL) | C | 6'0 | 165 | 17 | 3 | 7 |
| 20 | Matthew Strome | Hamilton (OHL) | LW | 6'3 ½ | 206 | 39 | 20 | 35 |
| 21 | Jusso Välimäki | Tri-City (WHL) | D | 6'1 ½ | 204 | 34 | 12 | 36 |
| 22 | U-P Luukkonen | HPK U20 (SM Jr Liiga) | G | 6'0 ¼ | 170 | 25 | | |
| 23 | Cal Foote | Kelowna (WHL) | D | 6'3 ½ | 213 | 42 | 3 | 30 |
| 24 | Nikita A. Popugaev | Prince George (WHL) | LW | 6'5 ½ | 204 | 42 | 23 | 53 |
| 25 | Klim Kostin | Moscow (KHL) | RW | 6'3 | 196 | 9 | 1 | 1 |
| 26 | Noel Hoefenmayer | Ottawa (OHL) | D | 6'0 ¼ | 191 | 34 | 7 | 21 |
| 27 | Grant Mismash | USA NTDP (USHL) | LW/C | 6'0 ¼ | 186 | 35 | 12 | 24 |
| 28 | Kristian Vesalainen | HPK (SM Liiga) | LW | 6'3 ¼ | 207 | 9 | 1 | 1 |
| 29 | Maxime Comtois | Victoriaville (QMJHL) | LW | 6'2 ¼ | 199 | 41 | 13 | 30 |
| 30 | Marcus Davidsson | Djurgårdens (SHL) | C | 6'0 | 191 | 29 | 5 | 8 |
| 31 | Nicholas Hague | Mississuaga (OHL) | D | 6'5 ½ | 206 | 38 | 14 | 31 |
| 32 | Pierre-Olivier Joseph | Charlottetown (QMJHL) | D | 6'2 | 160 | 38 | 4 | 27 |
| 33 | Conor Timmins | S.S. Marie (OHL) | D | 6'1 ¼ | 185 | 40 | 6 | 34 |
| 34 | Joni Ikonen | Frolunda (SWE J20) | C | 5'10 | 169 | 24 | 17 | 28 |
| 35 | Michael Dipietro | Windsor (OHL) | G | 6'0 | 196 | 29 | 2.26 | .918 |
| 36 | Kole Lind | Kelowna (WHL) | RW | 6'1 | 176 | 41 | 20 | 49 |
| 37 | Morgan Geekie | Tri-City (WHL) | C | 6'2 ¼ | 178 | 44 | 22 | 48 |
| 38 | Morgan Frost | S.S. Marie (OHL) | C | 5'10 ¾ | 170 | 40 | 13 | 38 |
| 39 | Nate Schnarr | Guelph (OHL) | C | 6'2 ¾ | 180 | 27 | 11 | 17 |
| 40 | Mason Shaw | Medicine Hat (WHL) | C/LW | 5'8 ½ | 180 | 41 | 13 | 61 |
| 41 | Isaac Ratcliffe | Guelph (OHL) | LW | 6'5 ½ | 196 | 40 | 18 | 35 |
| 42 | Jaret Anderson-Dolan | Spokane (WHL) | C | 5'10 ¾ | 180 | 41 | 20 | 38 |
| 43 | Aleksei Heponiemi | Swift Current (WHL) | C | 5'9 ¾ | 147 | 42 | 12 | 45 |
| 44 | Josh Norris | USA NTDP (USHL) | C | 6'1 ¼ | 192 | 32 | 11 | 24 |
| 45 | Henri Jokiharju | Portland (WHL) | D | 5'11 ¾ | 176 | 40 | 6 | 24 |
| 46 | Tyler Inamoto | USA NTDP (USHL) | D | 6'1 ½ | 194 | 28 | 2 | 6 |
| 47 | Jake Oettinger | Boston U (NCAA) | G | 6'4 | 203 | 16 | 1.94 | .930 |
| 48 | Antoine Crête-Belzile | B-Boisbriand (QMJHL) | D | 6'0 | 186 | 16 | 0 | 2 |
| 49 | Jake Leschyshyn | Regina (WHL) | C/LW | 5'10 ¾ | 184 | 38 | 15 | 34 |
| 50 | Cayden Primeau | Lincoln (USHL) | G | 6'2 ¾ | 177 | 18 | 3.12 | .894 |
| 51 | David Farrance | USA NTDP (USHL) | D | 5'10 ¾ | 189 | 35 | 5 | 20 |
| 52 | Robert Thomas | London (OHL) | C | 5'11 ½ | 185 | 38 | 12 | 36 |
| 53 | Jonas Rondbjerg | Växjö (SWE J20) | RW | 6'0 | 176 | 26 | 7 | 23 |
| 54 | Cale Fleury | Kootenay (WHL) | D | 6'1 ¼ | 212 | 42 | 7 | 25 |
| 55 | Maxim Zhukov | Green Bay (USHL) | G | 6'2 ½ | 188 | 18 | 2.19 | .911 |
| 56 | Alex Formenton | London (OHL) | LW | 6'1 | 162 | 38 | 11 | 23 |
| 57 | Evan Barratt | USA NTDP (USHL) | C | 5'11 ½ | 188 | 33 | 9 | 28 |
| 58 | Dylan Samberg | Hermantown (USHSW) | D | 6'3 | 190 | 12 | 6 | 13 |
| 59 | Nick Henry | Regina (WHL) | RW | 5'10 ¾ | 191 | 38 | 20 | 42 |
| 60 | Markus Phillips | Owen Sound (OHL) | D | 5'11 ¾ | 202 | 40 | 5 | 13 |
| 61 | Jason Robertson | Kingston (OHL) | LW | 6'1 ¾ | 192 | 39 | 18 | 38 |
| 62 | Joel Teasdale | B-Boisbriand (QMJHL) | C/LW | 5'11 ¼ | 190 | 33 | 11 | 23 |
| 63 | Ivan Kosorenkov | Victoriaville (QMJHL) | RW | 6'1 | 189 | | | |
| 64 | Urho Vaakanainen | Jyvaskala (SM Liiga) | D | 6'0 ½ | 185 | | | |
| 65 | Ian Scott | Prince Albert (WHL) | G | 6'3 ¼ | 174 | | | |
| 66 | Scott Reedy | USA NTDP (USHL) | C/RW | 6'1 ½ | 204 | | | |
| 67 | Antoine Morand | A-Bathurst (QMJHL) | C | 5'10 | 178 | | | |
| 68 | Maxime Fortier | Halifax (QMJHL) | RW | 5'10 | 182 | | | |
| 69 | Jarrett Tyszka | Seattle (WHL) | D | 6'2 ¼ | 190 | | | |
| 70 | Luke Martin | Michigan (NCAA) | D | 6'3 ¾ | 216 | | | |
| 71 | Stuart Skinner | Lethbridge (WHL) | G | 6'3 ½ | 209 | | | |
| 72 | Samuel Bucek | Shawinigan (QMJHL) | LW | 6'1 ½ | 215 | | | |
| 73 | Ivan Lodnia | Erie (OHL) | LW/C | 5'10 | 182 | | | |
| 74 | Mackenzie Entwistle | Hamilton (OHL) | C/RW | 6'2 ¾ | 180 | | | |
| 75 | Tyler Steenbergen | Swift Current (WHL) | LW | 5'10 | 188 | | | |
| 76 | Artyom Minulin | Swift Current (WHL) | D | 6'2 ¼ | 202 | | | |
| 77 | Clayton Phillips | Fargo (USHL) | D | 5'10 ½ | 170 | | | |
| 78 | Pavel Koltygin | Drummondville (QMJHL) | LW | 5'11 ½ | 195 | | | |
| 79 | Michael Anderson | Waterloo (USHL) | D | 5'11 ½ | 196 | | | |
| 80 | Ostap Safin | Sparta (CZE-Jr.) | RW | 6'4 ½ | 191 | | | |
| 81 | Eemeli Rasanen | Kingston (OHL) | D | 6'6 ¼ | 216 | | | |
| 82 | Paul Washe | Tri-City (WHL) | C | 6'1 | 191 | | | |
| 83 | Ian Mitchell | Spruce Grove (AJHL) | D | 5'11 | 171 | | | |
| 84 | Jacob Paquette | Kingston (OHL) | D | 6'2 ¾ | 207 | | | |
| 85 | Skyler McKenzie | Portland (WHL) | C | 5'7 ½ | 154 | | | |
| 86 | Tim Söderlund | Skellefteå (SHL) | RW/LW | 5'9 | 163 | | | |
| 87 | Nikita Anokhovsky | Yaroslavl Jr. (MHL) | C | 6'0 | 187 | | | |
| 88 | Austen Keating | Ottawa (OHL) | LW | 5'11 ½ | 170 | | | |
| 89 | Finn Evans | St. Michaels (OJHL) | RW | 6'2 | 177 | | | |
| 90 | Ivan Chekhovich | Baie Comeau (QMJHL) | LW | 5'10 | 177 | | | |
| 91 | Ben Mirageas | Bloomington (USHL) | D | 6'1 ¾ | 180 | | | |
| 92 | Zach Gallant | Peterborough (OHL) | C | 6'2 | 188 | | | |
| 93 | Jocktan Chainey | Halifax (QMJHL) | D | 6'0 | 198 | | | |
| 94 | Walter Flower | Halifax (QMJHL) | D | 6'1 | 178 | | | |
| 95 | Brayden Burke | Moose Jaw (WHL) | LW | 5'9 ¾ | 160 | | | |
| 96 | Greg Meireles | Kitchener (OHL) | C/RW | 5'9 ¾ | 172 | | | |
| 97 | Stelio Mattheos | Brandon (WHL) | C | 6'0 ¾ | 190 | | | |
| 98 | Maksim Sushko | Owen Sound (OHL) | RW | 5'11 ¾ | 181 | | | |
| 99 | Sebastian Walfridsson | MODO (SWE J20) | D | 6'0 ½ | 194 | | | |
| 100 | Rickard Hugg | Leksand (SWE J20) | C | 5'10 ½ | 179 | | | |
| 101 | Filip Chytil | Zlin (Cze-Jr.) | LW | 6'0 ½ | 178 | | | |
| 102 | Simon Stransky | Prince Albert (WHL) | LW | 5'11 | 185 | | | |
| 103 | Robin Salo | Vassan (SM Liiga) | D | 6'0 ¾ | 187 | | | |
| 104 | Sasha Chmelevski | Ottawa (OHL) | C | 5'11 ¼ | 191 | | | |
| 105 | Adam Ruzicka | Sarnia (OHL) | C | 6'3 ½ | 202 | | | |