Curry, Fuhr teeing it up against the pros
NBA star and NHL Hall of Famer bring attention to tournaments that would otherwise be almost neglected, Bob Weeks writes.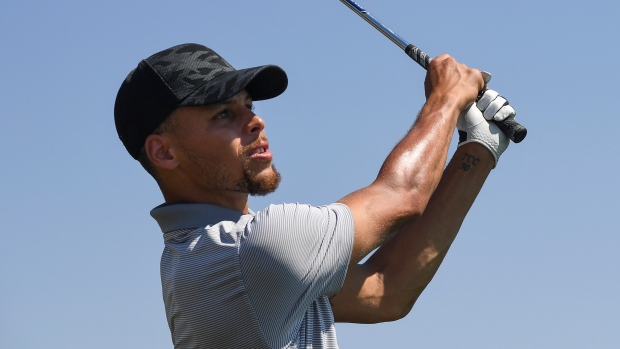 On Thursday, two players will tee off at their respective events hoping they can transfer success from one sport to another.
NBA star Steph Curry is playing the Web.com Tour in the Ellie Mae Classic in Hayward, Calif., while retired Stanley Cup champion Grant Fuhr will make another start on the Mackenzie Tour-PGA Tour Canada in Edmonton.
And to be blunt, the two have no chance to contend.
While both are talented golfers, they are no match for the professionals who make a living at the game. According to the Golf Channel, 23 athletes from other sports have played Web.com Tour events and they've all missed the cut, combining for a total of 339 strokes over par.
But that doesn't mean it isn't right for them to be playing. Their notoriety will bring some attention to the tournaments that would otherwise be almost neglected. It's a smart move by both events to give the two exemptions.
Fuhr is probably the better golfer of the two. The longtime Oiler, who will play in the Syncrude Oil Country Championship at the Windermere G&CC, has made four legitimate attempts to get through the Canadian circuit's qualifying school, the most recent coming in 2016. He was close a number of times but never quite got a passing grade.
By most measuring sticks, Fuhr, now 54, is an exceptional golfer who breaks par with ease. The personable Hall of Famer is a regular on the celebrity golf circuit. But this week, he's teeing off against some top young talent who have been playing all their lives to make it a career.
Fuhr actually has a career in golf these days, too. He's director of golf at Desert Dunes, in Desert Hot Springs, Calif., a course owned by Canadians, including world curling champion Kevin Martin. Still, he knows he's little more than an attention-grabber this week.
"We're a little old for playing with the young guys," Fuhr told the Edmonton Sun. "But at the same time it turns the competitive button on and makes it fun to try and see if you can compete."
That's what Curry is trying to do as well. He's also good on the links. The Northern California Golf Association website lists him as having a +0.1 handicap, meaning he's slightly better than a scratch.
It's good, but it won't be good enough compared to the pros he'll play against. (For the record, his father, Dell, is also a talented golfer who posted some low numbers on courses around Toronto during his days as a Raptor.)
Vegas oddsmakers have put the over-under for his score in any round at 79.5.
Curry is aware of how he stacks up against the rest of the field at the Web.com event. He told ESPN he'd be more than happy just to make the cut and has set some rather basic goals.
"First goal is just to get off the first tee on Thursday," he said admitting to some expected first-tee jitters. "If I can do that, I'll be off and running."
Curry has received some flak from his participation, with critics saying that he's taking the spot of a deserving golfer. Yet the Ellie Mae Classic (named for a software company, not the character on the Beverly Hillbillies), is getting lots of attention and will have more than expected media in attendance to witness the 6-foot-3 Curry play.
Is it worth it to give the Golden State Warriors guard an exemption? For sure. These tours can always use some attention and that's exactly what they're getting, even before the first ball has been struck.