D.A.: Kane will not be prosecuted on rape allegations
Citing a lack of proof, prosecutors in Western New York announced Chicago Blackhawks star Patrick Kane will not face charges for rape.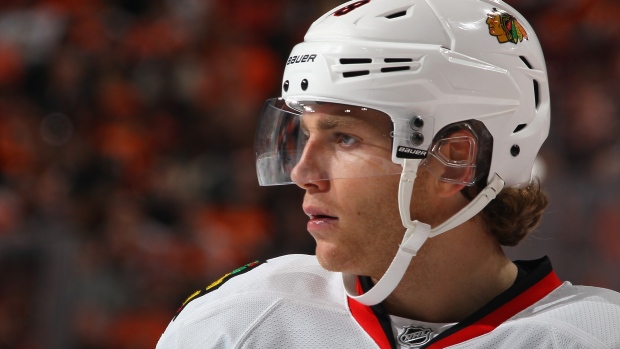 Citing a lack of proof, prosecutors in Western New York announced Chicago Blackhawks star Patrick Kane will not face charges for rape, effectively ending a three-month investigation that gripped the hockey world.
Erie County District Attorney Frank A. Sedita III said in a statement that a 21-year-old woman's claim that she was raped by Kane at his offseason home in August was "rife with reasonable doubt."
Kane, 26, was not charged with any crime throughout the process.
"I have repeatedly said that I did nothing wrong," Kane said in a statement, released Thursday through the Blackhawks. "I have respected the legal process and I am glad that this matter has now been closed and I will have nothing further to say going forward."
Kane's agent, Pat Brisson, of CAA Sports said "we knew all along that Patrick didn't do anything wrong."
"We are pleased with the results from the investigation," Brisson said. "It's finally concluded."
Sedita said the "exhaustive" investigation produced "significant material inconsistencies" in the woman's account compared to witnesses, that physical and forensic evidence tended to "contradict" the woman's claim, and DNA test results lent "no corroboration whatsoever" to the woman's claim she was penetrated by Kane.
Sedita also revealed Kane "exercised his right to remain silent" during the investigation, which prevented him from being questioned by prosecutors. According to Sedita, Kane's public comments were factored into the decision to not prosecute.
"He has made no known incriminating statements to any civilian," Sedita's statement read, "nor has he engaged in any conduct consistent with a consciousness of guilt."
Kane first stated his innocence during a bizarre press conference on Sept. 17 when the Blackhawks opened training camp at the University of Notre Dame, vowing to be absolved of any claims of wrongdoing. He repeatedly declined to answer questions posed by reporters, saying he "appreciated the question," but wanted to "keep it to hockey questions only."
The Blackhawks were blasted for not only allowing Kane to participate in camp during an active investigation, but for being tone-deaf to the situation as the press conference quickly morphed into talk about their recently captured third Stanley Cup in six seasons.
Even then, Blackhawks fans arrived at Notre Dame to show their support, with men and women, young and old wearing Kane's No. 88 jersey. Kane faced derisive chants of both "No Means No" and "She Said No" from hecklers in both Philadelphia and Brooklyn as Chicago made its way through the NHL.
"We respect the announcement today by the Erie County (N.Y.) District Attorney regarding Patrick Kane," the Blackhawks said in their own statement. "The Chicago Blackhawks organization has taken this matter very seriously, and has tried to navigate a very sensitive situation while continually respecting the legal proceedings. At this time we will have no further comment."
Kane led Chicago in both goals and assists and ranked third in the NHL in points through the first month of the season.
The District Attorney's decision to not prosecute Kane comes less than a week after a report in the Buffalo News surfaced that the woman decided she was no longer willing to participate in the criminal investigation. Sedita confirmed the accuser signed a "non-prosecution affidavit," in which she agreed to not participate "on my own free will and without any promises or compensation."
The Buffalo News reported the woman cited the "tremendous stress" the high-profile investigation caused her and her family as her reason for not continuing. The accuser's decision to withdraw charges alone "did not determine whether a criminal case will be terminated," according to Sedita.
Even with the District Attorney's Office declining to criminally prosecute Kane, the accuser may opt to file a civil claim against Kane for pain, suffering and emotional distress. A civil claim is something Sedita has suggested in the past might happen, thought it would also bring the case back into the public spotlight.
Kane may not be totally in the clear in the eyes of the NHL. The league may still discipline him for "conduct detrimental to the league," pending their own ongoing investigation.
"We intend to promptly review the information that may now be available to us," NHL deputy commissioner Bill Daly said in a statement. "We will have no further comment until we've completed that review."
Frank Seravalli can be reached at frank.seravalli@bellmedia.ca.