Canucks snap Panthers' 12-game winning streak
Daniel Sedin scored his second of the night on the power play at 2:21 of overtime as the Vancouver Canucks snapped the Florida Panthers' 12-game winning streak with a 3-2 victory on Monday night.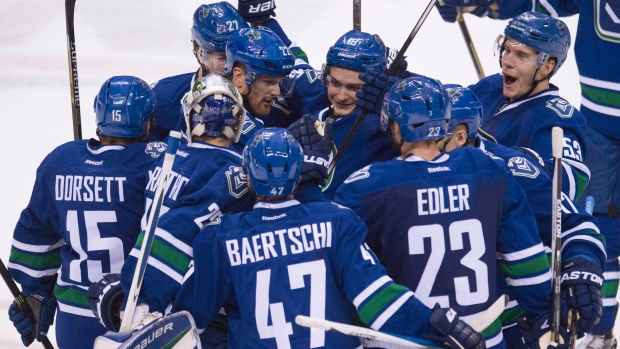 VANCOUVER -- The Florida Panthers' franchise-record 12-game winning streak ended with a bang, and a few punches.
Daniel Sedin ripped his second goal of the night off the crossbar and in past Roberto Luongo on the power play at 2:21 of overtime as Vancouver beat Florida 3-2 on Monday.
With the Canucks celebrating on the ice and the Panthers heading to their locker-room, the teams came together near the benches with a lot of pushing and shoving. Vancouver forward Derek Dorsett engaged backup goalie Al Montoya before players from both sides began throwing punches as officials tried to break up the scrum.
"One of their guys came over to our bench and tried to punch one of our guys," said Luongo. "You have 60 minutes to fight anybody on our team that's willing and able, but he wants to do it after the game."
Dorsett said that one of the Panthers yelled something that Henrik Sedin deemed "unacceptable."
"(The Sedins) don't get mad too often and they were pretty mad," said Dorsett. "I saw Montoya and (Florida defenceman Alex) Petrovic jawing with them and trying to squirt them with water so I skated over to intervene and Montoya took a cut at me so I took a cut at him."
Panthers head coach Gerard Gallant was yelling at Canucks assistant Glen Gulutzan during the melee, but the teams were eventually separated.
"You want to get in there and stick up for those guys," said Vancouver rookie forward Jake Virtanen, who had his team's other goal. "I don't really know what happened, I know there was a lot of guys in there."
The post-game spat somewhat overshadowed Daniel Sedin's winner on a great shot with Jaromir Jagr off in the box for hooking that tied Markus Naslund's franchise record for goals at 346.
"He was an idol growing up," Sedin said after scoring his 19th of the season. "He meant so much to us when we came into this league."
Jacob Markstrom
made 26 saves for Vancouver (17-16-10), which finished its season-high seven-game homestand 4-2-1.
Jussi Jokinen and Jonathan Huberdeau had the goals for the Panthers (26-12-5), who were looking to become just the ninth team in NHL history to win 13 straight games.
"We could have won this game 4-1, but sometimes the breaks, they don't go in your favour," said Luongo, who saw his personal nine-game winning streak stopped despite making 27 saves. "We had a bunch of breaks during the streak. A couple went against us tonight and we're on the wrong side of the score."
Trailing 2-1 in the third without much offence to speak of, Virtanen beat Luongo shortside to get the Canucks level with 2:38 left in regulation.
The rookie's second goal of the season came after Markstrom made a couple of great saves to keep his team in it, including a stop on Steven Kampfer on a 3-on-1 moments before the equalizer.
"They've been on quite a streak," said Canucks head coach Willie Desjardins. "I thought as a group we were hungry. We wanted to try and break their streak."
Down 2-0 after the first, the Canucks got one back at 5:41 of the second when Daniel Sedin finished off a nice passing play with his brother by whipping a backhand past Luongo.
Part of the trade that sent Luongo back to Florida from Vancouver in March 2014, Markstrom made a nice pad stop on Aleksander Barkov later in the period to keep the Canucks down by just one heading into the third.
The Panthers, who were coming off a 2-1 victory in Edmonton on Sunday, opened the scoring just 80 seconds into the first when Reilly Smith jumped on a poor Markstrom clearing attempt and fed Jokinen, who buried his sixth of the season.
Luongo spent parts of eight seasons in Vancouver and was serenaded with familiar "Luuuu" chants from the crowd periodically throughout the night, especially after great saves on Daniel Sedin, Bo Horvat, Emerson Etem and Jared McCann to keep his team in front.
The Panthers rewarded that strong play with 32.3 seconds left in the period when Huberdeau beat Markstrom upstairs off the rush to make it 2-0.
"We've been playing close games a little bit too much," said Huberdeau. "It kind of sucks the streak is done, but at least we got a point and are ready for the next game."
Notes: Panthers defenceman Aaron Ekblad missed the game with an upper-body injury after taking a hard hit from Oilers forward Matt Hendricks on Sunday. The NHL announced late Monday that Hendricks has been suspended three games. ... Etem made his debut after coming over in a trade with the New York Rangers on Friday. ... Markstrom made his eighth straight start in place of Ryan Miller, who dressed as Vancouver's backup for the second game in a row after missing six with a groin injury.