Datsyuk signs with SKA St. Petersburg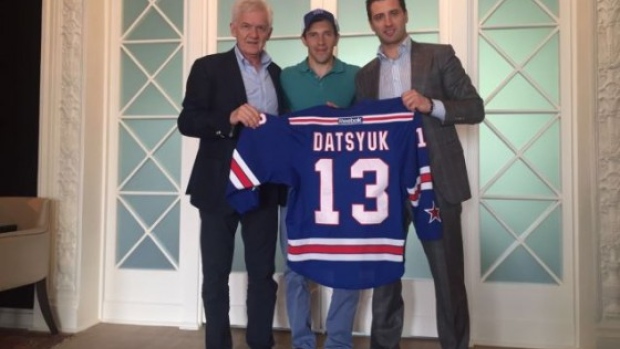 Pavel Datsyuk's National Hockey League career is officially over.
Nicknamed "The Magic Man," Datsyuk signed a two-year deal with Kontinental Hockey League club SKA St. Petersburg on Friday, ending 14 years in the NHL, all with the Detroit Red Wings.
Datsyuk, 37, announced his intentions to return to Russia and his family in the spring, following the Red Wings' elimination from the Stanley Cup playoffs at the hands of the Tampa Bay Lightning.
"It's not an easy decision," Datsyuk told The Detroit Free Press at the time. "It did not happen yesterday. I talk with my daughter all the time. I see how she misses me, how she misses my advice. … I want to come back and be closer."
Knowing that Datsyuk wouldn't be returning, the Wings traded the one year left on his contract and a cap hit of $5.75 million to the Arizona Coyotes last month.
Datsyuk's NHL career was a storied one. Twice a Stanley Cup champion 92002 and 2008), Datsyuk was named to four All-Star Games (2004, 2008, 2009 and 2012) and won the Frank J. Selke Trophy as the league's best defensive forward on three occasions (2008, 2009 and 2010). He also claimed the Lady Byng Trophy, given to the league's most gentlemanly player, four times (2006, 2007, 2008 and 2009).
In 953 career games, Datsyuk scored 314 goals and added 604 assists.
He will be eligible for induction into the Hockey Hall of Fame in the summer of 2019.