Dec 15: Edmonton Rush a closer group as coach Keenan's wife Wendy battles cancer
From the outside looking in, 2014 was close to a perfect season for the Edmonton Rush. But as TSN Radio 1260's Jason Gregor writes, the team was also dealing with a heartbreaking private reality.
Jason Gregor, TSN Radio 1260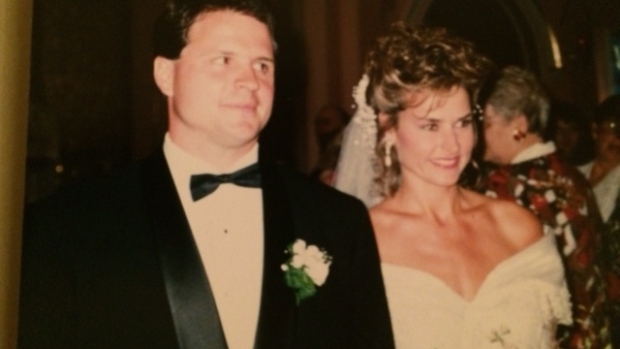 From the outside looking in, 2014 was close to a perfect season for the Edmonton Rush.
The long-suffering Rush won its first 14 games and finished the year with a remarkable 16-2 record, both new standards in the National Lacrosse League.
Derek Keenan became the NLL's first three-time winner of GM and Coach of the Year honours.
However, for all its success in the public eye, the Rush was dealing with a heartbreaking private reality.
On October 15, 2013, Wendy Keenan, Derek's wife, received a death sentence. At 50 years young, the mother of two children - then 19-year-old Ryan and 15-year-old Kianna - was diagnosed with Stage 4 pancreatic cancer and given only six months to live.
It was devastating news eventually shared with a scant few - among them the Rush players.
"It brought our team closer," says Rush captain Chris Corbeil. "We are a family and Wendy is part of that family. It gave us someone to play for. You aren't just doing this for yourself; we were doing it for Wendy, Derek and their family."
Wendy and Derek had spent 20 years in Whitby, Ont., nurturing a family foundation and were looking ahead to the "fun" years of middle age. The times where parents watch their children enter adulthood and enjoy more free time after two decades of putting children first.
But a few weeks before her 50th birthday, Wendy began to experience severe back pain, loss of appetite and weight loss. It didn't subside and she went to see her doctor. Testing revealed the worst.
"It was terminal," says Wendy. "No cure. No surgery because of the location of it, being on the head of the pancreas, not on the tail. It is a difficult disease. They call it the silent killer, because it usually isn't detected until the late stages."
Pancreatic cancer is one of the deadliest forms of cancer because it progresses stealthily and rapidly. Symptoms often remain absent until the disease has progressed to an advanced stage.
"It was a real hard and fast spiral down because she was so sick," Derek says, "but the recovery she made after her original diagnosis was amazing. There were a number of procedures she had to go through before she could receive treatment because she wasn't strong enough. Her liver was already being compromised by the cancer. It had spread to her liver and lymph nodes and they had to put in a couple of stints in her liver to get it functioning better just so she could start chemotherapy. That worked and she started chemo in November of 2013, and it's been basically every three weeks since then."
Wendy had to quit her job in the finance department of the Durham regional municipality and Derek decided to give up coaching so he could care for his soulmate.
"She talked me out of it," he says. "On the drive home from her diagnosis, one of the first things I said was that I wasn't going to coach the Rush. Right away, she said no. She said we need normalcy in our life and we need to live, and in our house lacrosse and hockey is a big part of that."
Wendy Nieuwendyk, like her future husband, grew up in a lacrosse family. All three of her brothers, Rick, Gil and future Hockey Hall of Famer Joe were outstanding lacrosse players, winning six Mann and Minto Cups between them. All three have been inducted to the Whitby Hall of Fame and Gil is in the Canadian Lacrosse Hall of Fame.
Derek decided to continue with the Rush on a week-to-week basis. The NLL is something of a nomad's league. Many coaches and players fly in for practices and games. For Keenan, games in Rochester, Buffalo and Toronto felt more like home games than matches in Edmonton. He didn't like leaving her alone for a few days, but Wendy insisted he keep coaching.
Keenan wanted to be honest with his team so he sat down with his leaders and explained Wendy's situation before the 2014 season.
"It was a huge inspiration," Corbeil says. "Everybody was aware of it during the year and especially when she came to the game in Toronto and in Edmonton. It wasn't something that was talked about frequently, but there were a few times when I was in the huddle prior to games, talking to the guys, and I would reference Wendy and how inspirational she is and how we should be playing for coach and his family."
Wendy's determination did inspire the players but they felt they needed to do more than simply win games and play hard.
"Jarrett Davis came up with the idea," explains Corbeil. "And everybody was in agreement it was the best way to use the money we had left over from the CBA."
Players don't play in the NLL to make money. They play for the love of the game and in this case they played for the love of a family member. The players pooled $7,500 and Bruce Urban, the owner, matched it and they presented $15,000 to Derek at the end of last season.
"Wendy had to quit work and we knew Derek was eventually going to have to take some time off himself," Corbeil says. "The Keenans needed it more than us."
Six months later Derek still gets choked up thinking about the moment the team presented him with the money.
Keenan says, "The generosity that Bruce, his wife Cindy, the front office staff, my coaching staff and that group of players displayed towards my family was incredible. I never dreamed of that. It's not something I thought about, or necessarily even needed, but it was just our guys being who they are."
Despite the draining treatments, Wendy has been determined to enjoy every moment. Nausea and fatigue won't stop her from enjoying life.
She and daughter Kianna went to New York City in August, something they had planned to do since she was a little girl. Wendy traveled with her best friend to the Cayman Islands in September and she attended many of Ryan's junior lacrosse games this summer.
Wendy has kept battling. Her trip to the hospital became part of her routine. She did have one stretch during the summer where she went five weeks between treatments. It was one of the small victories.
However, on Nov. 3, some 13 months after Wendy's initial diagnosis, it became evident the treatments weren't working any longer.
Derek sighs deeply, "It worked for 13 months, but the cancer has spread more into her liver and taken over her bile ducts, so consequently things aren't moving around as they should and she is starting to develop jaundice.
This new treatment can hopefully stabilize things and get us through the next little bit of time and see what happens. She went in for a procedure on (November) 18th to move one of the stints around in her liver to hopefully get things moving around better. All of this is just water off her back now. She has been through so much.
"Pain control is a big part of it. That is the frustrating thing about the whole disease. Pancreatic cancer, if not for Steve Jobs or Patrick Swayze getting it, you'd never hear about it."
Derek has taken a leave of absence from his job with the city of Oshawa, where he manages a civic recreation complex, and is stepping away from the Rush for the 2015 season, which begins Jan. 3 in Buffalo. He needs to be by Wendy's side full-time now.
"It will be a challenge this year," Corbeil says. "There is no question Derek is the leader of this group. He is well respected and he provides a lot of guidance and a certain calmness to things."
Even though Keenan won't attend practice or games, he will be involved. He doesn't have a choice.
"Wendy said to me last week that I still have to be part of it," explains Derek. "I'm just not going to be there until further notice. I think she wants me to stay involved, just so she can too."
While Wendy refuses to give in to cancer, her brothers are wary of her opponent.
Gil says, "I'm scared. I'm absolutely terrified for her and what may happen. I'm inspired by how she is battling this."
"It is a helpless feeling for us," says younger brother Joe. "You just pray and hope that she is able to have good days. It has been a grind, because the chemo has been so hard on her for so long and she hasn't been able to have many good days. But her upbeat attitude despite all of that is truly remarkable."
Rick, the oldest, has a natural urge to protect his younger siblings, especially Wendy.
"She is stronger than the three brothers for sure," he added. "She has always been the one that spoke up for the family, spoke up for what was right and she has more guts than all of us and she has carried that through her fight with cancer. At first, I told her she had to fight it and she could beat it and I tried to boost her spirits. I think there always is hope, there are always miracles, but as it gets closer and the doctors are saying it is coming close to an end, you have to accept it. I've gotten to a stage where I'm accepting it. Wendy and I have talked about life and about her seeing our mom..."
Rick starts to tear up. Their mother Joanne passed away from ovarian cancer in 1996.
Wendy and Derek are embracing the present more than fearing the future. Christmas is less than two weeks away and the extended family will celebrate the gift of having Wendy among them.
"In terms of the terminal cancer I think we have dealt with it both ways," Wendy says. "We have focused on living day-to-day and looking forward to the next goal, but at the same time we have been able to plan for what we are told is inevitable. This is not easy, but at the same time it has led to many powerful and emotional moments.
"We both want to be remembered for how we lived, not how we died."
You can make a donation to Pancreatic Cancer Canada here.
Jason Gregor appears weekdays 2-6 pm on TSN 1260 Edmonton. Follow him @jasongregor on Twitter.