Despite success, Boeser not ready to buy into All-Star game hype
The way his first full season in the National Hockey League is going, it's possible that Vancouver Canucks rookie scoring sensation Brock Boeser could lead the league in goals by next month's All-Star break.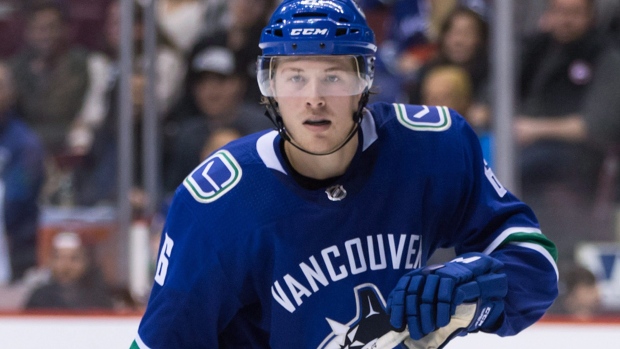 VANCOUVER – The way his first full season in the National Hockey League is going, it's possible that Vancouver Canucks rookie scoring sensation Brock Boeser could lead the league in goals by next month's All-Star break. However, Boeser isn't ready to concede that he'll be in Tampa Bay for the All-Star festivities when the best players in the league gather for the annual mid-season showcase.
With each of the 31 teams represented and Boeser far and away the best Canuck so far this season, it's a no-brainer that the 20-year-old will fly his club's colours at this year's event. Even if each organization didn't require a roster spot, Boeser deserves to be in the game – and on that sort of stage – based on the season he's having. After scoring yet again in Thursday's 5-2 win over Chicago and adding three assists for good measure, Boeser is tied for fourth in NHL goal-scoring with 21 on the season. He is tied for 15th in overall league scoring and has a two-point lead on budding New York Islanders star Mathew Barzal in the league's rookie scoring race. Beyond Barzal, Boeser is six points clear of the rest of the field in the rookie scoring derby.
Any way you slice it, Boeser is already a star in his first full season in the NHL and his inclusion in the All-Star weekend should simply further announce his arrival on the scene.
But humble to the core, Boeser speaks in 'ifs' and 'maybes' when asked if he's allowed his mind to wander to a place where he'll be in the presence of the game's greats during the final weekend in January (26th to 28th) which is now less than a month away.
"I don't know for sure yet," he says, trying to downplay what would be a remarkable accomplishment. "Honestly, I didn't think about it before the year because I obviously I didn't know how the year was going to go. If I get chosen, it would be an honour but I'm not really worried about that. I'm more concerned with our team's play and helping us pick things up and take a step in the right direction."
Boeser does that on a nightly basis and Thursday's four-point performance against the Blackhawks was just the latest on a long list of impressive performances. He has now scored in four straight games and eight of his last 10. Since Nov. 1, he leads all goal-scorers in the NHL with 18.
And as he continues to put pucks in the net, Boeser is starting to add an element of playmaking to his game as well. A no-look pass from behind the net to linemate Thomas Vanek on the Canucks fourth goal of the night against the Hawks was indication of both the skill level Boeser possesses and the confidence with which he's playing these days.
He admits, though, he may need to bolster that confidence when the time comes to walk through the dressing room doors on All-Star weekend. Facing off against the best names in the game is one thing for Boeser. Mingling with them and considering himself their peer is another.
"If that happens, I'd be the quietest one in the room for sure," he says with a smile. "I'd just be the guy sitting there listening to everyone and laughing at their jokes. I'm not the one to talk a lot around people like that."
That's all right because Boeser is letting his actions speak for themselves this season. Growing up in Minnesota, a young Boeser was drawn to slick Slovak Marian Gaborik during his time with the Wild and always admired Pavel Datsyuk from afar.
While those players won't be part of the All-Star festivities, so many other big names will be. Thursday night he faced-off for the first time against the Hawks' dynamic duo of Patrick Kane and Jonathan Toews and he looks forward to testing his skills against players on that level – even if it's just for fun in the league's 3-on-3 All-Star format.
"When you watch guys like Kane and Toews – growing up I watched them – I've never met them," he says. "So it would be pretty cool to play with them and see how good they really are."
Fans around the league probably wouldn't mind settling in to watch Boeser take part in the shooting accuracy event in the Saturday night skills competition. He's already blown shots past the best goaltenders in the world and you figure the targets guarding the four corners of the net wouldn't stand a chance.
While Boeser's Canucks teammates may be making plans for a quick getaway during All-Star weekend, the rookie better be making travel plans of his own. He'll be front and centre when the best players in the NHL gather in Tampa next month and rightly so. It'll be Brock Boeser's first All-Star appearance – and quite likely the first of many.