Doctors advise Ray not to play rest of season
Doctors have advised Toronto Argonauts veteran quarterback Ricky Ray not to play the rest of the season after suffering a serious neck injury Saturday against the Calgary Stampeders.
Dave Naylor, TSN Football Insider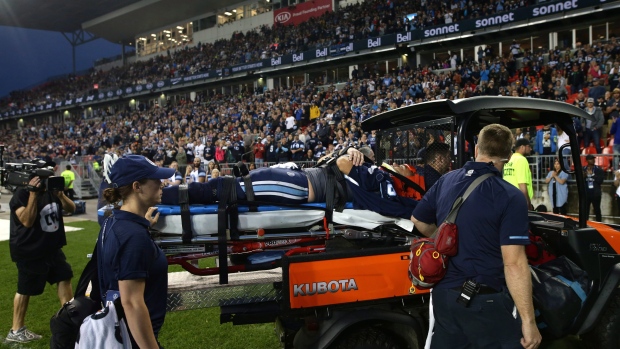 Ricky Ray's season with the Toronto Argonauts may be done.
But before that becomes official, the club would like the quarterback to have access to all of the results from the various examinations and tests he's undergone since suffering a serious neck injury Saturday against the Calgary Stampeders.
Here is what we know:
On Monday night, the Argonauts announced that Ray had been released from hospital and that he would be out for a "significant time" which, given that Ray is 38 and considered retirement at the end of last season, put a large shadow of doubt over whether he would ever play again.
On Wednesday, Justin Dunk of 3Downnation.com reported that Ray was "expected to miss the rest of the 2018 season."
It is believed that information surfaced after Ray was advised not to play this season by some of the doctors involved with his injury – information that may have been shared with some of his teammates.
However, there had been no formal discussions between the Argos and Ray over whether his season was over.
The Argonauts believe a final determination about Ray's status shouldn't take place until all the medical information from all of the specialists involved has been gathered and presented to the quarterback.
All that said, no one, including the Argonauts, will be surprised if Ray never plays again and that Saturday was in fact the end of his great career.