Doughty on next contract: I want to win Cups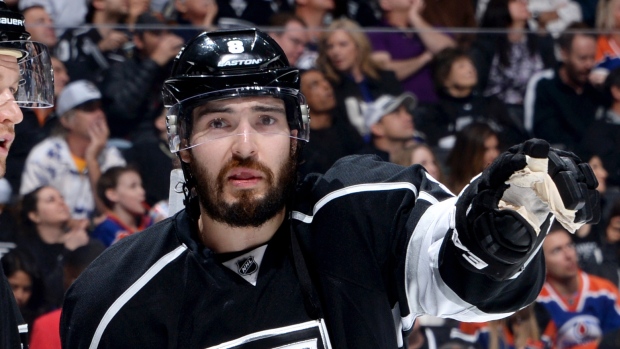 Drew Doughty owns two Stanley Cups with the Los Angeles Kings, but he's also missed the playoffs with the team in two of the last three seasons.
The three-time all-star has two seasons remaining on his contract with the Kings and said the team will have to be a contender from him to consider an extension in Hollywood.
"I'd love to re-sign in L.A. But if our team isn't going in the right direction …," Doughty told Matt Larkin of The Hockey News. "I want to win Cups. I don't give a (expletive) where I play. I just want to win Cups, and that's the bottom line."
Doughty, who entered the league as the second overall pick of the 2008 NHL Draft, reached the playoffs in five of his first six seasons with the Kings – winning the Stanley Cup in 2012 and 2014. However, the Kings have reached the playoffs just once since, exiting in the first round of the 2016 postseason at the hands of the San Jose Sharks.
The Kings fired both head coach Darryl Sutter and general manager Dean Lombardi after last season, promoting John Stevens behind the bench and Rob Blake to the general manager role. Doughty said he believes the team needed the change to move forward.
"Dean and Darryl were great for the organization and great for me as a player," Doughty said. "I love them so much. They're awesome. At the same time, it was necessary to make a change.
"Darryl's an awesome coach. He taught me a lot of things as well. But if there is a problem with the team, or if you had a problem with Darryl, you'd be intimidated to go knock on his door and say, 'Hey Darryl, I don't like this,' or 'I don't like that.' "
Doughty said Kings, who he'll be eligible to sign an extension with on July 1, 2018, will always be his "first love" as an organization.
The London, Ont., native said earlier this off-season he enjoys flying under the radar in L.A. and that would make him consider avoiding the Toronto Maple Leafs as a destination.
Doughty carries a cap hit of $7 million on his current contract. He will turn 28 in December.