Doughty on Tkachuk: 'He's a pretty dirty player, that kid'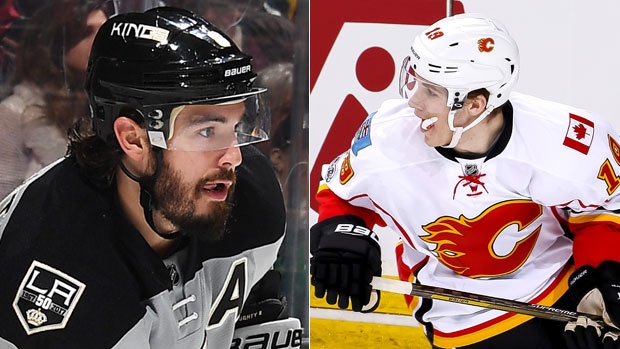 It doesn't appear Drew Doughty is a fan of Calgary Flames rookie forward Matthew Tkachuk.
The Los Angeles Kings veteran defenceman called out Tkachuk following a questionable hit in Sunday night's game at the Scotiabank Saddledome.
"He's a pretty dirty player, that kid," Doughty told Fox Sports' Jon Rosen. "To be a rookie and play like that is a little surprising. I don't know exactly what happened because I got hit in the head, but I thought he elbowed me. I can't tell you for sure, so I'm not going to say if I think anything should happen, but whatever it was, it hurt pretty bad, and it's going to hurt for a little bit."
The incident occurred late in the first period behind the Kings' net when Tkachuk's arm appeared to make contact with Doughty's head as the puck was coming around the net.
Tkachuk got a two minute penalty for roughing on the play. He is slated to have a hearing with the NHL Department of Player Safety on Monday.
The 19-year-old, who was selected sixth overall this summer, has 13 goals and 33 assists alongside 96 penalty minutes in 2016-17.
The red-hot Flames went on to win the game 5-2.