Dreger Report: The relentless drive of Casey O'Brien
TSN Hockey Insider Darren Dreger profiles the Yorkton Terriers head coach and general manager who hasn't let a hearing impairment stop him from thriving in the sport he loves.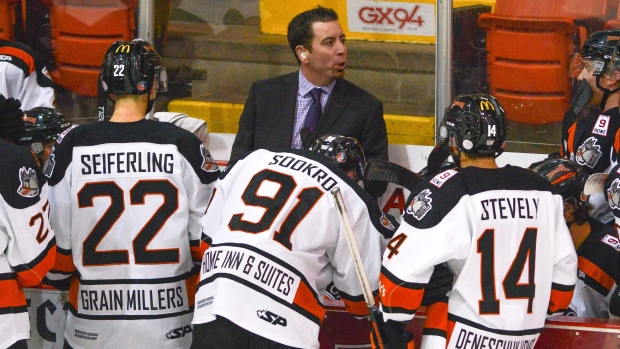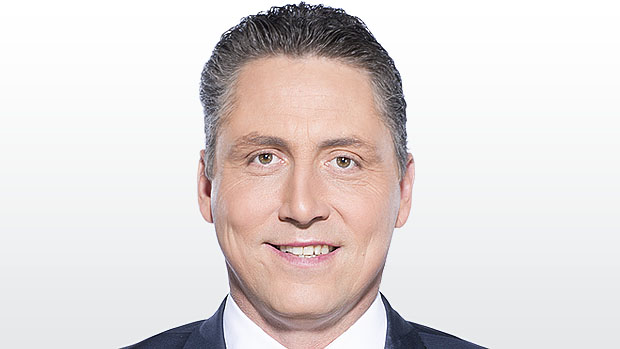 Fred and John Barrett's National Hockey League careers have long since passed, but their story and the story of Yorkton Terriers head coach and general manager Casey O'Brien are uniquely connected.
The Barrett brothers grew up on a family farm just south of Ottawa near Leitrim, Ont. Fred, a second-round draft pick of the Minnesota North Stars, played 730 NHL games, while John played 488 games with Detroit, Washington, and Minnesota.
The family operated a dairy farm until the late seventies when the cattle were sold and the focus shifted to growing hay for horses. Today, John still maintains a small piece of land to grow soybeans. John and Fred worked hard, on and off the ice, and did what they could to give back, either coaching minor hockey or scraping around with their children and other neighbourhood kids on the pond.
The pond was a special place to the Barrett brothers and their circle of friends, which included the O'Brien family, who lived on a farm across the road.
Casey was among the kids fortunate to enjoy the experience and recalls spending a lot of time playing on the Barrett pond. The pond usually froze a month or so before the Rideau Canal, so it was a popular spot. John fondly remembers spending time with Casey clearing the pond, playing hockey, and coaching him in minor hockey.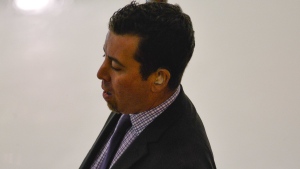 "Casey loved to play. I never saw a kid who loved the game more than he did," he said. "When we would drive home from games, Casey always wanted to talk hockey. If we lost the game, Casey wanted to know why we lost. He was very into the game and very, very easy to coach. He picked up on things so quickly and naturally."
Casey's hockey circle in his childhood days included his father Larry, a longtime Jr. B coach with the South Ottawa Canadians, and his great uncle Bert O'Brien, who spent many years as an assistant coach to the legendary Brian Kilrea on the Ottawa 67's bench. Casey is also still very close with Marty Johnston, a nephew to the Barrett brothers and the current head coach for the men's varsity hockey program at Carleton University in Ottawa.
Casey played minor hockey in Leitrim before moving up to the Gloucester Rangers Minor Hockey Association. He stuck with the game he loved, playing several years of Jr. A and B before spending five years at the University of Guelph with the CIS Gryphons from 2001-2006. From Guelph, Casey made the leap to pro hockey, playing two seasons in Norway with the Kongsvinger Knights in the Norwegian Division 1 league.
While impressive, his playing resume mirrors many of those whose passion for hockey takes them down a winding path into coaching and management. Such is the case for Casey, who is in his sixth season with the Terriers and his first as head coach and GM of the Saskatchewan Junior Hockey League club. Impressive, but not extraordinary. However, there's a twist in Casey's story that illustrates his ability to overcome adversity and achieve goals.
Casey was born deaf.
Now 37, he and his wife, Laura have a two-year-old son who also loves hockey. Casey is enjoying life and openly talks about the difficulties he faced as a player where the sounds of the game, which play such a significant role in developing instincts and, ultimately, execution, for the most part weren't there for him.
"As a player there were more challenges I faced than I do as a coach. The biggest one was hearing your teammates and coaches on the ice. I had to survive at the higher levels as most times I had to play without my hearing aids due to them breaking down from sweat," Casey told the Dreger Report.
"I relied on vision and playmaking skills to make good decisions. I was a very vocal guy as a player and made everyone know where I was or when they had pressure on them."
Hockey has always been a huge part of Casey's life. His parents, Larry and Debbie, worked hard to keep him in the mainstream hockey system. Their commitment, along with Casey's insatiable appetite to develop led to a number of accomplishments, including national recognition as a member of the Canadian Deaflympics team five times.
As a player, he could naturally feel the tone of the game. His other senses would help him understand what was happening on the ice and on the bench with his teammates.
As a coach, a sharp staff and technology keep him in tune with the subtler aspects of the sport.
"Hearing will always be a challenge in a fast-paced environment, especially in sports," Casey said. "My main challenge is not hearing everything. I rely on my assistant coaches to get a feel for the mood or what is being said on the bench or hearing things on the ice. With the improved technology and advancement in hearing aids I pick up a lot of things better now than ever."
Casey learned to skate before he could talk and his will to compete and succeed helped him overcome the many obstacles his hearing impairment threw his way over the years. He said his two-year stint in Norway, where he also coached Kongsvinger's junior and U16 team, was perhaps his toughest challenge as a player.
"There was also a language barrier when I played in Norway," he said. "It was an unbelievable experience though. It also helped me learn how to communicate to my players through a language barrier by giving them visual instructions and demonstrations to learn my drills and systems as a coach."
Communication is a very important part of his coaching style and philosophy. By traditional standards, it's unusual for a high-level head coach to be as actively involved in every practice as Casey is, but he does it for more than just getting a message across to his players.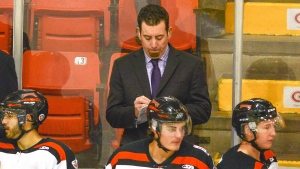 "I am very hands-on. I try to keep my skills up as I still enjoy playing," he said. "I am very involved in my practices, whether it is jumping in the reps or demonstrating. It's another way to keep in shape a bit, something I have to maintain as I was also born with a liver disease that requires for me to stay in good shape.
"I believe that young players show a lot more respect towards coaches who can teach and explain drills well but also be able to do what they are expected to do as players. When I first started coaching at 17 years old with the minor atom team, I would do every drill with the kids — even the skating drills. It only made me a better player when I was still playing. So I have maintained those habits 20 years later."
The Terriers sit third in the Saskatchewan Junior Hockey League's Viterra Division and Casey's focus is on helping his team advance in the standings. Coaching is in his blood and, like all junior hockey coaches, he hopes for bigger opportunities in the future. Right now he's happy being in charge and looking forward to the hockey challenges ahead.
"I would love to coach as long as I can and move up to higher levels in the future," he said. "For the time being, this is my first time since coaching in Norway that I get to run my own team, so I want to develop myself as the leader here in Yorkton and implement my own program and make the Terriers contenders again after a few rebuilding seasons following our 2014 RBC National Championship.
"I am a very competitive guy and I love to win."
Those are two ingredients every successful coach and player share.
CTV Yorkton's Ashley Field recently did a story on Casey, who you can see is a very energetic and demonstrative coach:
'Tis the season...
A heavy and deep blanket of snow has thrown a huge wrench into my pond preparations. The snow acts as an insulator, so even with the cold snap we've experienced in southern Ontario, a weekend check on the thickness of the ice ended with me soaking my foot while carefully testing the ice near shore.
For those of you with a pond or nearby lake, be careful and make absolutely certain the ice conditions are safe.
I tweeted several backyard rink pictures over the weekend and will post the annual gallery in Friday's Dreger Report. You can tweet your most recent pictures to @TSNHockey with the hashtag #TSNBackyardRink.