Ducks sign Gibson to 8-year extension
Goalie John Gibson has agreed to an eight-year, $51.2 million contract extension with the Anaheim Ducks. The team announced the deal Saturday. Gibson is signed through the 2026-27 season.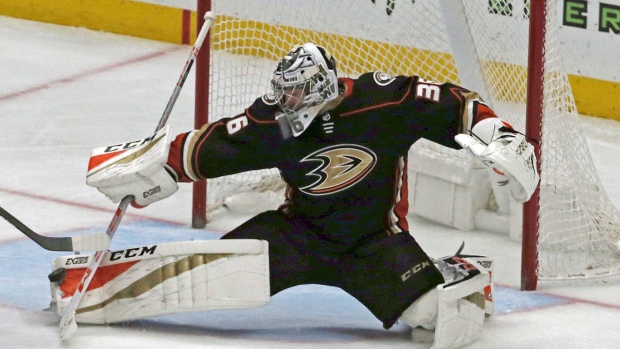 NAHEIM, Calif. — John Gibson has grown up with the Anaheim Ducks, and they want the goalie guarding their net for many years to come.
Gibson agreed to an eight-year, $51.2 million extension with the Ducks on Saturday, keeping him with the club through the 2026-27 season.
Gibson debuted with Anaheim as a precocious 20-year-old in 2014, and he survived a few bumpy stretches to become a standout starter for a perennial playoff team. The former second-round draft pick set career highs last season with 31 victories and a .926 save percentage while playing in 60 games.
"I believe in John Gibson, as does everyone in the organization," Ducks general manager Bob Murray said. "This is obviously a major commitment by the club, but one we feel strongly about. John is equally committed to being a Duck. He is only now entering the prime of his career, and we are all confident his best is yet to come."
Gibson has the highest career save percentage among any goalie to appear in at least 150 NHL games since 1955-56. His .923 mark narrowly tops Ken Dryden (.922), Dominik Hasek (.922) and Tuukka Rask (.922).
Gibson was due to be a restricted free agent next summer after making $2.3 million in the upcoming season. The Pittsburgh native's new contract has an average annual value of $6.4 million, putting him among the top-earning goalies in the league.
Gibson wasn't available to discuss his new contract Saturday because he was also getting married.
"I'm excited to be a part of this organization for the long term," Gibson said in a statement from the team. "Staying with the Ducks was always my preference, and I couldn't be happier. Living in the Orange County community with the great support of our fans, I can't think of a better place to play. It's great to be a part of the future of this team moving forward and hopefully bring a Stanley Cup back to Anaheim."
The 25-year-old Gibson also has appeared in 26 playoff games over four post-season campaigns with the Ducks. He made his NHL playoff debut during the 2014 post-season, likely before he was fully ready — and the Los Angeles Kings beat him twice while rallying from a 3-2 series deficit to win the rivals' second-round showdown on the way to their second Stanley Cup title in three years.
Shrugging off that disappointment, Gibson kept up his steady development. He largely served as Frederik Andersen's backup the following season while the Ducks reached the Western Conference finals, but he shared the Jennings Trophy with Andersen in 2016 as the goalies for the team with the NHL's fewest goals allowed.
Gibson became the Ducks' unquestioned starter shortly after getting that award when Andersen was traded to Toronto instead of being given a long-term deal in Anaheim. The Ducks could trade Andersen because they were confident they had an elite goalie in Gibson — and he has proven Murray correct.
Gibson backstopped Anaheim to the conference finals again in 2017, posting a .918 save percentage in the playoffs. After the goalie's standout work last season even while the Ducks' five-year run as Pacific Division champions ended, Murray and owner Henry Samueli decided Gibson had earned a long-term commitment.
Gibson's contract is the second lengthy deal handed out this summer by the Ducks. Forward Adam Henrique got a five-year, $29.1 million extension through the 2023-24 season last month.