Edmonds: Shutouts pile up for Jets goaltending tandem
The Winnipeg Jets have a renewed commitment this season to better defence, and early returns are showing much better results. As Paul Edmonds of TSN Radio 1290 reports, the Jets displayed defensive precision twice on a recent road trip and then carried it into the start of a short two-game home stand. The result was a franchise record for most consecutive shutout minutes.
Paul Edmonds, TSN Radio 1290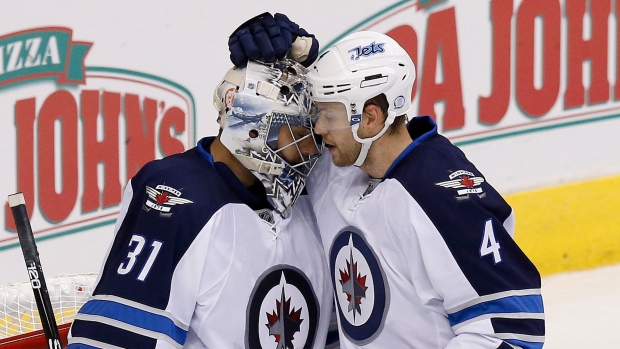 Hockey teams are always looking to improve their defensive game. They constantly work on it at practice, talk about improvements publically and strive for flawless execution in games.
Obviously in the National Hockey League sound defensive play is a perpetual work in progress with the chance of actually attaining perfection a fallacy. Those teams that do push the closest to that line though are usually rewarded with a better record and thus a coveted spot in the standings.
But periodically defensive excellence is achieved in a game. And that result is illustrated in the form of a shutout.
For the Winnipeg Jets, a team striving to improve its defensive play under head coach Paul Maurice, this measure of defensive precision happened twice on a recent road trip and then carried into the start of a short two-game home stand.
After posting back-to-back shutout wins in New York (1-0 SO) and Chicago (1-0), the Jets returned home poised to rewrite a chapter in the franchise's record book. And it didn't take long for the club to put pen to paper.
Entering Tuesday's tilt with Nashville, the Jets needed just a little more than a full period to establish a new franchise record for consecutive scoreless minutes.
The previous mark of 155:55 was set in 2005 when the club was based in Atlanta. On Tuesday, when the Jets held the Predators off the scoresheet for the first period and a portion of the second, the club bested the old mark by nearly six minutes to 161:17. The scoreless streak did come to an end when Predators' rookie sensation Filip Forsberg ended the stretch with a second period goal.
"It's been a big focus," said Maurice of his team's defensive philosophy this season. "But it's not defence first; it's defence at the right time. We're not playing perfect hockey by any means. We have lots of room to improve. But our reaction to bad things that happen is much better right now than it was. "(The new scoreless streak) is really a goaltender record. They were that good."
In all, the Jets used both goaltenders during the shutout streak, including Michael Hutchinson, who recorded his first career NHL shutout against the Blackhawks with a 33-save performance.
"(The shutout) is definitely something really special (in my career)," said Hutchinson, 24, whose numbers dramatically improved after the performance from a 4.50 GAA and .864 save percentage to 1.80 and .945, respectively.
"It will be something I'll remember for the rest of my playing career. Just being in Chicago makes it special (too) and something I'm going to look back on."
Meanwhile, Ondrej Pavelec was equally impressive a night earlier in New York when he turned aside all 38 Rangers shots.
It was the third time in franchise history that back-to-back shutouts were recorded, but a first for the Winnipeg Jets. Previously, Michael Garnett posted consecutive shutouts in 2005 and then Kari Lehtonen did it again the following season. Both were members of the Atlanta Thrashers at the time.
Last year, the Jets recorded just three shutouts all season. Former netminder Al Montoya (now with Florida) had two of them and Pavelec the other. But now already with two as a team, it might suggest the Jets are a more committed group to team defence and scoring against them and their goalies is getting tougher.
That may be true. Time will tell. And so will more shutouts.
--
On a personal note, I'm thrilled to have been able to visit Nassau Veterans Memorial Coliseum on Long Island last month for the final time.
As you may know the New York Islanders are playing their final season in their original home this year before moving to Brooklyn for 2015-16 and the new Barclay's Center.
Last month during the Jets final visit to the building, I couldn't help but walk around the arena before the team's 4-3 win over the Islanders and wonder with amazement about the historical importance the building possesses for hockey in the area.
For obvious reasons like age (it opened in 1972), lack of luxury suites, in-house revenue streams and overall building amenities, the Coliseum can no long be considered an NHL arena. I understand that. But seeing all the championship banners and retired numbers from that dynastic Islanders era of the early 1980s hanging in the rafters was special for me and likely for any hockey fan that was alive to experience that run.
In all, the building oozes history and tradition and the electricity inside it generates a great atmosphere, even though the Islanders only drew 11,508 when the Jets started a four-game trip there at the end of October.
Next year it's on to Brooklyn and a new age for Islanders hockey, although I wonder how many true Islanders fans will make the 40-minute train ride and incur the additional travel cost of public transportation to support the team in the now-trendy New York City borough?
NOTES: Entering Saturday's game in Ottawa, the Jets have killed off 18 straight penalties, including five on Thursday night against the vaunted power play of the Pittsburgh Penguins. The team's PK is third-best in the league at 89.3 percent, including a league-best mark of 92.6 percent on the road...Veteran centre Bryan Little played his 500th game on Thursday against Pittsburgh. So far, he is the only Jets' player to record a power-play, shorthanded and game-winning goal this season...Until their win on Long Island, the Jets had played before eight straight sellout crowds to start the season. Winnipeg has sold out each of its seven games at home...Did you know the Islanders are still paying salaries to goaltender Rick DiPietro and forward Alexei Yashin? Both players have been bought out of their contracts, but are still owed money from the team in deferred monies. However, those payments no longer apply to the Islanders' salary cap. DiPietro officially retired after the 2012-13 season, while Yashin hasn't been seen with an NHL team since 2006-07.