Sixers' Embiid to miss game vs. Raptors
Philadelphia 76ers centre Joel Embiid said he has not been cleared to play back-to-back games and does not expect to be in the lineup Saturday at Toronto. Embiid was in the starting lineup for the home opener Friday night against Boston.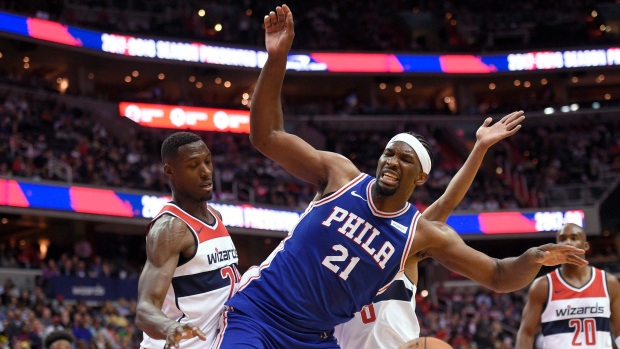 Philadelphia 76ers centre Joel Embiid has not been cleared to play back-to-back games and will not play Saturday at Toronto.
Embiid had 11 points and 14 rebounds in 28 minutes for the Sixers in their 102-92 loss to Boston on Friday night. He missed all six 3-point attempts.
Embiid, the wildly talented and oft-injured 7-foot centre, has yet to play in a full set of back-to-back games over his brief NBA career. Embiid missed his first two seasons because of surgeries on his right foot and played only 31 games last year before he was shut down after surgery on his left knee.
"We have a plan in place and we're going to follow it," Embiid said.
The Sixers kept Embiid on a tight minutes restriction last season. Embiid was told his minutes in the season opener this week at Washington would be limited to the teens, but instead he had 18 points and 13 rebounds in 27 minutes.
He said he expected to eventually play in both ends of one of Philadelphia's 14 sets of consecutive games (down from 18 last year).
"I just want to feel like an NBA player," Embiid said. "I feel like I'm not an NBA player because I can't play back-to-back."
Embiid is certainly paid like an NBA player — more like, an NBA superstar. Embiid, the No. 3 overall pick of the 2014 draft, signed a $148 million, five-year contract extension in the preseason.
There's little cause-and-effect in Embiid's situation; if he sits out one game, he doesn't get to play more minutes in the other.
"It doesn't work like that," Embiid said. "It's about how my body feels on the court. If I'm tired, I've got to get out."
Embiid hasn't complained much about his use, saying, "there's a plan in place and that's what we're going to follow."
Does the former Kansas star feel ready to go in two straight?
"I think I do," he said. "But in the NBA, I never played back-to-back. I can't really say."
"It's a fluid thing," coach Brett Brown said. "It is a range more than it is a rigid number. I think we're going to have this conversation for a while."
Brown said he does not have final say in deciding Embiid's minutes total. Brown said before Embiid spoke that Saturday's decision was not yet decided. The Sixers hired C. Daniel Medina Leal away from Spanish soccer team FC Barcelona and put him in charge of athlete care.
The Sixers have made Embiid the centerpiece of a lengthy rebuilding effort dubbed "The Process," and fan enthusiasm leading into the opener was as high as it has been since the Allen Iverson era.
The Wells Fargo Center was sold out and fans tailgated in the parking lot hours before tipoff, giving it a Philadelphia Eagles feel.
"I was like, what is this? Is this a football game," Embiid asked, laughing. "We've got something going. We've got to keep on going and win some games."
Philly won't win many without Embiid.
Embiid's career has been riddled with injuries dating to his college career at Kansas and all three seasons with the Sixers. Embiid played only 31 games last season and had minor surgery in March to repair a torn meniscus in his knee. He averaged 20.2 points and 7.8 rebounds last season.
"I want to get in there and jump in the stands and dive for every loose ball," Embiid said.
___
More NBA basketball: https://apnews.com/tag/NBAbasketball