Everything you need to know about the men's curling season
Check out TSN.ca's preview of the men's season with the top storylines to keep an eye out for, predictions from our curling experts, the best shots from last year and key dates to circle on your calendar.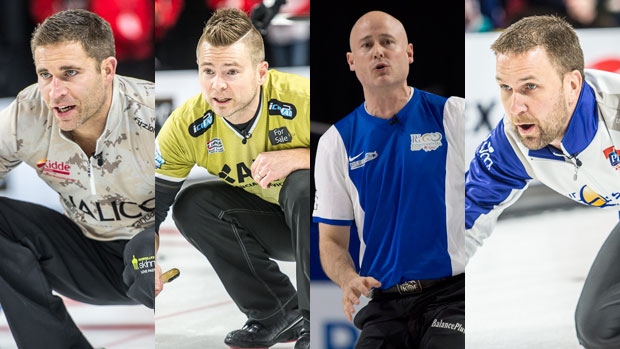 The 2016-17 curling season is upon us. Check out TSN.ca's preview of the men's season with the top storylines to keep an eye out for, predictions from our curling experts, the best shots from last year and key dates to circle on your calendar.
Top Storylines
What should we expect from the new-look teams?
A new season of curling brings a handful of new-look teams. Most of the movement this off-season came after Team Pat Simmons, winners of two national championships, decided to part ways. Lead Nolan Thiessen and second Carter Rycroft chose to step away from curling for the 2016-17 season, leaving Simmons and third John Morris on the open market.
The 37-year-old Morris, an Olympic, world and Brier champion, reunited with Jim Cotter in British Columbia. Morris and Cotter found some success in the one and only year they played together back in 2013-14, losing in the finals of the Canadian Olympic Trials as well as the Brier. Morris will call the shots, but Cotter will throw skips stones just as they did three years ago. It will be interesting to see how the Winnipeg native handles the responsibilities of calling a game once again. Morris skipped Team Canada to start the 2015 Brier, but the rink struggled mightily, leading to a lineup change halfway through the week. Simmons took the reigns as Morris played vice. The new-look rink would lose just once more after the shakeup en route to their defence of the Canadian championship. However, the Morris/Cotter tandem worked once already, so there's a good chance it could work again. Expect this team to be at the Brier this season.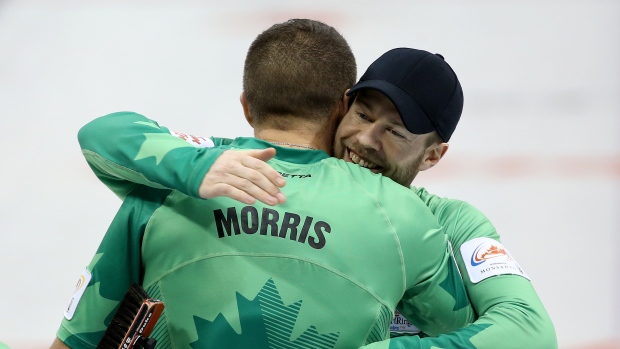 Simmons, on the other hand, decided to go an unfamiliar route. The 41-year-old joined forces with 24-year-old skip Brendan Bottcher out of Edmonton. Simmons brings a lot of experience to the young foursome, which also includes second Bradley Thiessen and lead Karrick Martin. Team Bottcher has been a solid team on the World Curling Tour over the past few years, winning a handful of events, but the addition of Simmons could bring them to a whole new level. They won't have to face Canadian and world champ Kevin Koe at the Alberta Playdowns (automatic qualification), so a Brier appearance is a real possibility. Calgary's Charley Thomas should give them some good competition in the western province.
Two-time Canadian junior champ Matt Dunstone is making the leap to the big leagues this year and will skip third Alex Forrest, second Ian McMillan and lead Connor Njegovan. Keep an eye on the 21-year-old native of Winnipeg in 2016-17.
Veteran curler Glenn Howard added second David Mathers, formerly of the Adam Casey rink, to his team this summer as Wayne Middaugh is still recovering from a broken leg. As a result, Richard Hart is back throwing vice stones for the Ontario foursome. It's fair to say the 54-year-old Howard is in the twilight of his career, but will still be in the mix at big events.
Casey is giving up skip duties this year to play with Shaun Meachem in Saskatchewan, giving Steve Laycock some competition in the Prairie province.
For a complete list of the new-look rinks, click HERE.
Olympic Trials Qualification Heats Up
By the end of 2016-17, seven of the nine spots for the Canadian Olympic Trials (Dec. 2-10, 2017 in Ottawa) will be determined. The last two spots will be secured at the 2017 Pre-Trials in Summerside, PEI from Nov. 6-12, 2017.
Kevin Koe actually qualified twice last year thanks to wins at the Canada Cup and Brier. His second spot will be replaced at the end of the season when the Canadian Team Rankings System (CTRS) points are finalized.
Teams can qualify for the Olympic Trials this year with wins at the Canada Cup and Brier, as well as placing high on the CTRS. Along with Team Koe, Brad Gushue, Mike McEwen, Reid Carruthers and John Epping all finished in the top five on the CTRS last year, giving them a leg up on qualification.
For a complete list of the 2015-16 CTRS rankings, click HERE.
For a detailed description of the qualification process for the 2017 Tim Hortons Roar of the Rings Canadian Curling Trials, click HERE.
Qualification for the Canadian Mixed Doubles Olympic Trials (Jan. 2-7, 2018) will also ramp up this season. You can check out all of that information right HERE.
Can Brad Gushue finally win his first Brier in his hometown?
Wouldn't it be something if Brad Gushue could win his first career Brier in his hometown of St. John's? That dream could be become reality for the 36-year-old as the Canadian championship is making its return to Newfoundland and Labrador for the first time since 1972.
Gushue has had a very successful curling career, winning Olympic gold in 2006 as well as a ton of money on Tour (a career high $194,051 last season), but the Brier title still eludes him. His foursome could have represented Team Canada at the 2017 Brier if not for a heartbreaking loss to Alberta's Koe in the final at last year's championship in Ottawa. He also settled for silver at the 2007 Brier in Hamilton, bronze in 2011 in London and a disappointing fourth-place finish at the 2015 championship in Calgary where he lost all three playoffs games after finishing 9-2 in the round robin.
Will Gushue's fortune change in 2017?
Assuming he doesn't get upset at Newfoundland Playdowns (he's won it 13 of the last 14 years, missing 2006 because of Olympics), Gushue will once again be a favourite to win it all and will likely have most (if not all) of the fans at Mile One Centre behind him. Gushue will have to make sure he's healthy first as he's currently on the sidelines with a hip/groin injury, but is hopeful it won't keep him out for too long.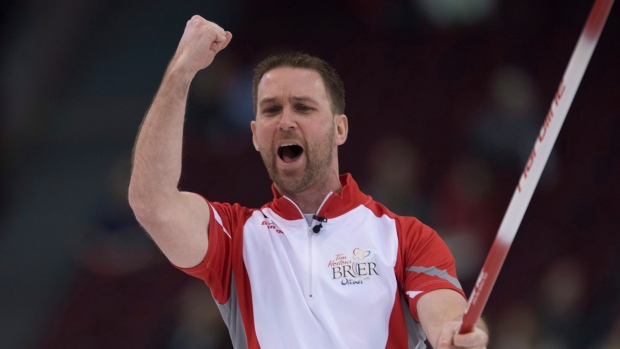 The Brier's return to St. John's all started with a tweet by Gushue back in 2013. During the Brier in Edmonton, it was announced that Kamloops, B.C., would be the hosts the following season.
"If Kamloops can hold the Brier, why not St. John's?" Gushue tweeted.
A committee was created in St. John's, a bid was placed and the rest is history. Gushue attributes the Brier going back to smaller venues (Mile One Centre seats 6,000) as the reason why it all worked out.
"Ten years ago I never would have thought this was possible because every Brier was in Calgary, Edmonton Winnipeg, Saskatoon — places where you're going to get 15,000 to 18,000 people," Gushue stated in a Bob Weeks article last summer. "I still think they're going to go to those places, but the way they have it financially structured now it makes it possible to do it [in smaller places]. We have to put up a bit of a guarantee to help compensate for the loss of those 4,000 or 5,000 seats."
There has already been a ton of interest for tickets and with the hometown favourite likely in the thick of things, the 2017 Canadian championship should be one for the history books.
The Dominance of Kevin Koe
The Calgary foursome of skip Koe, third Marc Kennedy, second Brett Laing and lead Ben Hebert really found their stride in their second season together last year.
Team Koe won the Canada Cup, Brier (in one of the most talented fields in its history) and world championship, along with a couple victories on the World Curling Tour — good enough for the number one spot on the CTRS. They also became the first rink to qualify for the 2017 Canadian Olympic Trials.
They'll be in St. John's representing Team Canada in March as they attempt to defend their national title.
Considering their experience and proven success together, Team Koe look as though they have what it takes to become one of curling's greatest teams. When it's all said and done, Koe's crew could be spoken in the same breath as the rinks led by Randy Ferby, Kevin Martin and Glenn Howard of year's past.
Battle of Manitoba
Manitoba has always been one of the most competitive provinces – both on the men's and women's sides. This year should be no different.
Winnipeg's Mike McEwen and Reid Carruthers are regular contenders in every event they play in and will battle it out this year once again. McEwen, 36, won out at provincials to qualify for his first Brier last year, but Carruthers beat him out on the WCT money list, winning two events including the season-ending Champions Cup on the Grand Slam circuit.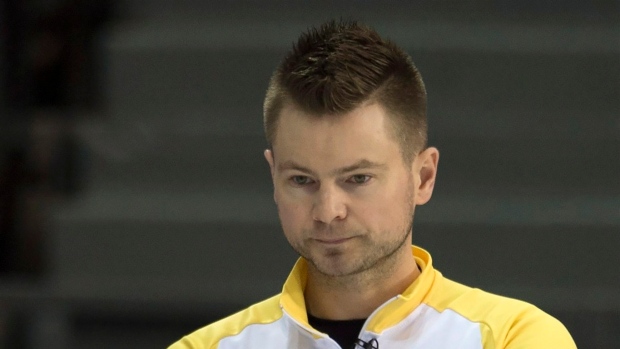 Carruthers' rink is coming back for their third campaign together, while McEwen's squad is entering their 11th straight, the longest streak in curling today.
They'll be the favourites in the Prairie province, but don't forget young gun Matt Dunstone who'll be a regular on Tour this season after finishing a very successful junior career. The 21-year-old actually lost to McEwen in the Manitoba final in 2016.
The battle for curling supremacy in Manitoba just got more intense and it should be fun to watch in 2016-17.
Broom Wars
For the first time in a long time, curling had a bit of controversy on its hands in 2015-16, and it had to do with sweeping.
New broom materials and innovative sweeping techniques were making the rocks do funky things that hadn't been seen before. This led to the theory that the thrower's skill level was being made less important since the sweepers could adjust the speed and path of the rock at such a rapid rate.
Some teams felt it was hurting the integrity of the game while others said they weren't breaking the rules. Something needed to be done in order to figure out a resolution.
Some of the top curling minds in the world met at a curling club in Kemptville, Ont., in late May for a Sweeping Summit to discuss these issues and find some answers.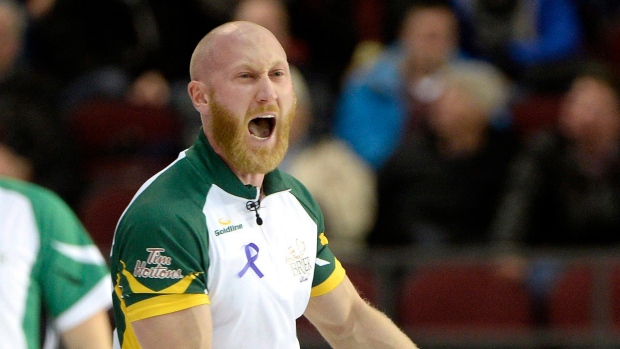 Then in September, during the World Curling Federation's Annual General Assembly in Stockholm, Sweden, a list of new rules were approved and will go in effect this season. All brush heads will now have a uniform fabric (material, weave, coating and colour). See below for a detailed description of the new rules and punishments if they are broken.
It will be interesting to see how these new regulations will affect gameplay during this season.
Sweeping Rules R7 (a): The sweeping motion can be in any direction (it need not cover the entire width of the stone), deposits no debris in front of a moving stone, and finishes to either side of the stone.
Uniform / Equipment C3 (e): Each player must declare his or her approved sweeping device at the start of a game, and only that player can use that sweeping device for sweeping during the game.
Uniform / Equipment C3 (f): A player may not change their brush head during a game, unless the Chief Umpire grants special permission.
Uniform / Equipment C3 (g): If an alternate player comes into a game, they must use the brush head of the player they are replacing.
Rule C3(h): All Field of Play equipment used at WCF competitions must meet WCF Equipment Standards as defined and published on the WCF Website. Reasons for equipment being considered non-approved include, but not restricted to: damage to the ice surface, non-conformance with existing rules or standards (i.e. – electronic communication devices), performance testing results that give an unfair advantage, failing to register equipment with the WCF office by the deadline date.
Rule C3 (i): The penalty for using equipment in WCF competitions which does not conform to standards for Competition Equipment established by the WCF: (i) First team offence during a competition – the player is disqualified from the competition and the team forfeits the game. (ii) Second team offence during a competition – the team is disqualified from the competition and all players are not permitted to play in WCF competitions for a 12-month period.
Courtesy of the World Curling Federation
For Curling Canada's revised Moratorium on brush heads and sweeping, click HERE.
Top Shots from Last Season
The 2015-16 season was filled with great moments and beautiful shots. Take a break from the preview and check out the best of the best from last year.
TSN's Curling Experts Make their Picks
What do Vic Rauter, Cheryl Bernard, Russ Howard, Bob Weeks and Cathy Gauthier think will happen this year? Take a look at their predictions for the national championship, money leaders and Olympic Trials qualifiers. For an in-depth look at their selections and what they're most excited to see this season, click HERE.
Bold Predictions
Brier
Money Leader
Trials Qualifiers (Koe in)
Vic Rauter
Gushue
Edin
Gushue, McEwen, Jacobs, Dunstone, Bottcher,

Carruthers

Russ Howard
Jacobs
Koe
Gushue, McEwen,

Carruthers, Jacobs, Morris, Howard

Cheryl Bernard
Koe
Jacobs
Jacobs, Gushue, McEwen, Carruthers, Epping, Laycock
Bob Weeks
Jacobs
McEwen
Gushue, Jacobs, Carruthers, McEwen, Epping, Kean
Cathy Gauthier
Gushue
Koe
McEwen, Gushue, Jacobs, Epping, Morris, Carruthers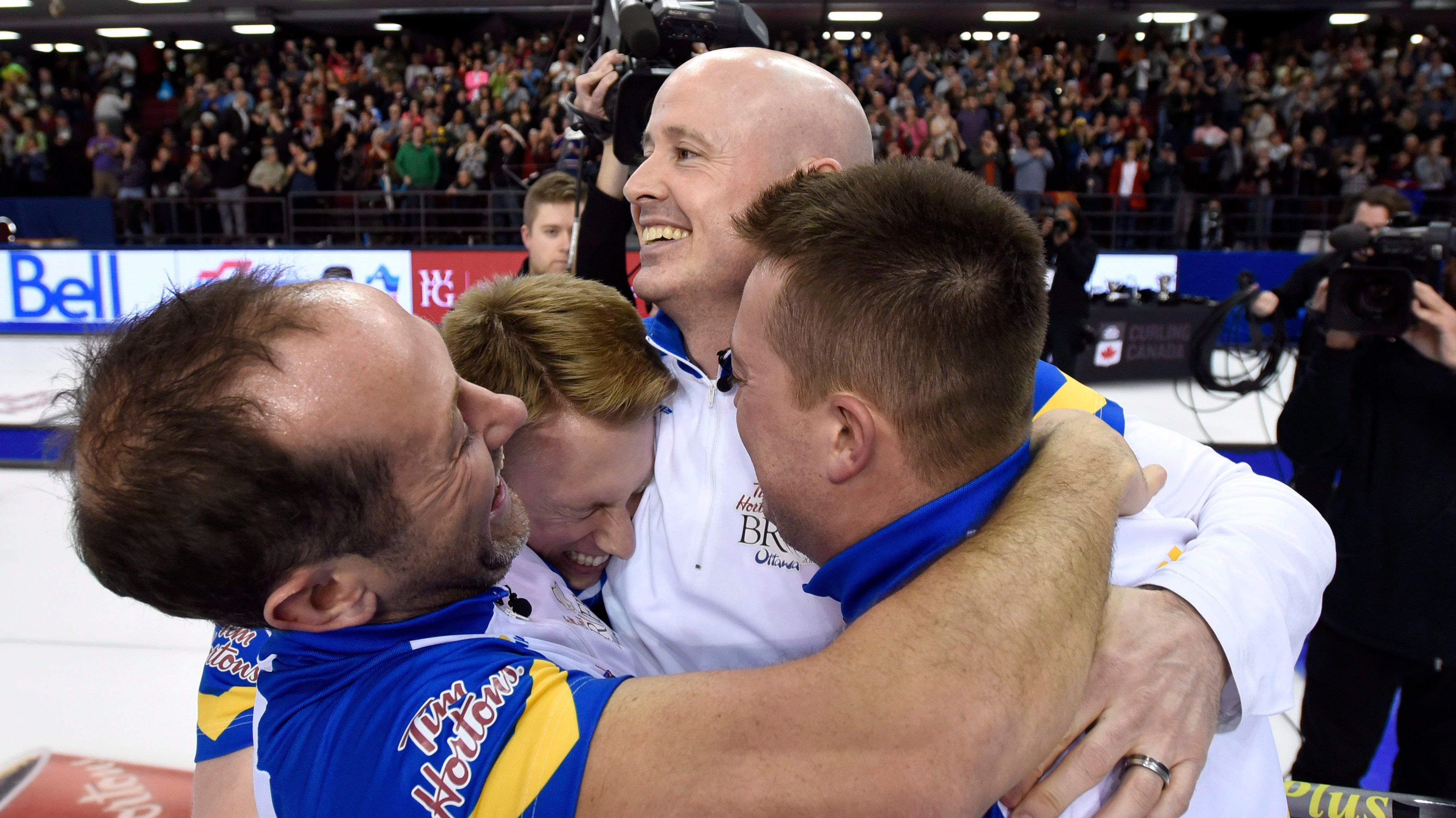 Who will win the 2016 Brier?
Key Dates
Home Hardware Canada Cup from Brandon, MB - Nov. 30 to Dec. 4
World Financial Group Continental Cup from Las Vegas, NV - Jan 12-15
Tim Hortons Brier from St. John's, NL - Mar 4-12
Ford World Men's Curling Championships from Edmonton, AB - Apr 1-9
For the complete Season of Champions schedule, click HERE.
For the complete World Curling Tour schedule, click HERE.