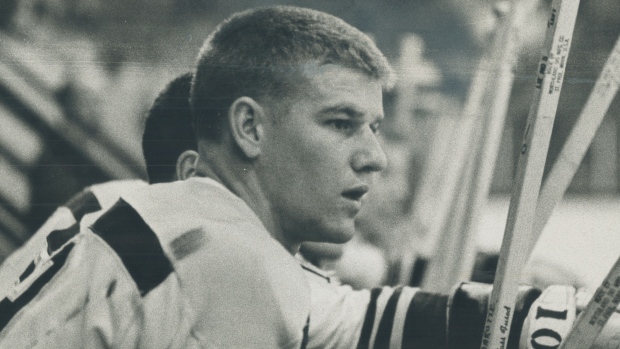 From Oct. 20, 2016: This week marks the golden anniversary of Bobby Orr playing his first NHL regular-season game - earning one assist in the Boston Bruins' 6-2 win over the Detroit Red Wings on Oct. 19, 1966. Hockey, or at the very least the position of defenceman, has never been quite the same since.
As the Bruins prepare to honour that milestone in Thursday's home opener in Boston, TSN Hockey Insider Bob McKenzie had the privilege of sitting down for an interview with Boston's No. 4 to reminisce about the earliest days of his career and compare it to what today's young NHL stars are going through.
Here are a few segments from this special interview that stood out, with clips of the extended interview below that are viewable worldwide.
Orr on his first game - against Gordie Howe and the Red Wings
"The thing I remember most vividly is watching my pretty pass as I went around the net and next thing I knew I was (down) on the ice. Gordie wanted to let 'the kid' know that he's still the man (laughing)...I took a bit of a run at him later and he just shook his head (laughing).
"He's always been my favourite and to play against him in my first league game was obviously a big thrill. I can remember as a kid, he was doing a signing in Parry Sound up there and I remember standing in line and getting his autograph. And I was lucky enough to go fishing with him. He said, "You wanna be a hockey player?" And I said, "Yeah, I really want to play in the NHL." He said, "Well, if you get to the NHL, make sure you watch my elbows."
Orr on being bold and confident on the ice, but a shy kid off the ice
"I was never a big press guy, still not (laughing). I know you guys have a job to do and everything, but in the beginning I was very shy and I didn't like talking.
"When I was on the ice, I was in my comfort zone. That's where I wanted to be - the game, the practices, the life - I never got tired of that. It never tired me. It was my dream - I was fulfilling a dream and that's all I really thought about.
"If you look at Connor McDavid - when he's on the ice, he's in heaven. This is where he wants to be, this is where he wants to perform. Young Matthews - he'll be the same way. You look at Sid - when Sid's on the ice, that's his happiest time. For those great players, that's where they want to be. Practice isn't tough, life isn't tough, the games aren't tough because they have so much fun and there's such a great passion and love for the game."
On relating to what another teenage phenom - McDavid - is going through
"Well, I could understand what he's going through. I didn't go through what he's gone through. We're very lucky in the NHL right now to have the McDavids, the Matthews and the Ekblads. We've got some wonderful, wonderful young players in our game today. I don't know in a while if we've had that many top players - young kids - come along at 18 and 19 and stepping right in and being stars in our game. For the league, it's wonderful. The coverage these kids get today is incredible - how they drag them around the country leading up to the draft. I'm not sure I could have...I know I couldn't have done it. There's no way I could have played and gone through what these kids are going through. These kids are being looked at, picked at, people are looking for problems. Think about what these kids are going through. They're 18 and 19-years-old and they play at that level? My God, it's unbelievable.