Flyers goalies feeling the heat after slow start
As TSN Hockey Insider Pierre LeBrun writes, Philly's favorite pastime is back in vogue again. Local media and fans have pumped new fuel into a narrative as old as time in those parts - calling the Philadelphia Flyers goaltending into question.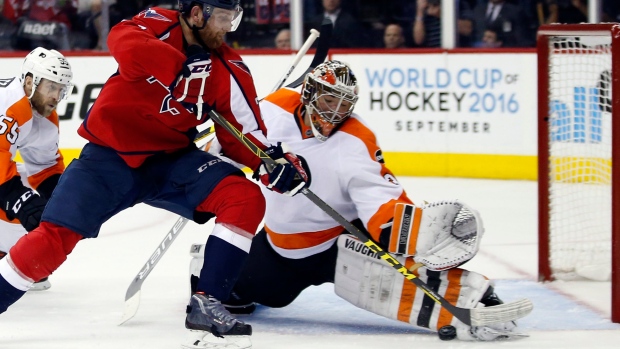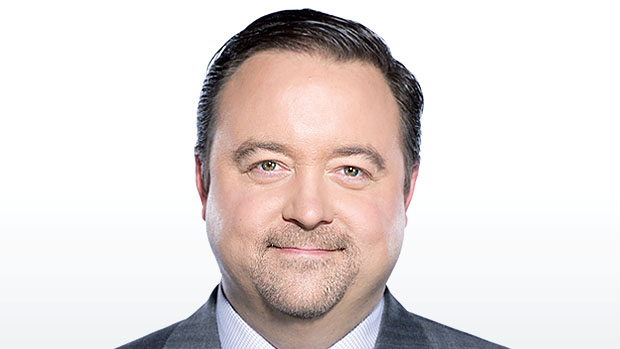 Philly's favorite pastime is back in vogue again. Local media and fans have pumped new fuel into a narrative as old as time in those parts - calling the Philadelphia Flyers goaltending into question.
Last season, Steve Mason and Michal Neuvirth were arguably the strength of the team. Now, with the Flyers tied for 30th in the NHL in goals against, they're feeling the heat.
Of course, it's a little more complicated than that. But the familiar refrain is simple.
"I think that if you asked Mase or Neuvy right now if they've played at the top of their games, they'd say no," Flyers GM Ron Hextall, himself one of the franchise's iconic netminders, told ESPN.com before Friday's game in Toronto. "We have full confidence that both of them will get to the top of their games and give us real good goaltending. Quite honestly, the last thing I was worried about going into this season was our goaltending. And, as I sit here today, I feel the same way. I feel very strongly about both guys.''
Mason, who has been a steady presence in the Flyers' net since coming over from the Columbus Blue Jackets in 2012-13, sports a .880 save percentage after posting a .918 last season. He smiled and shrugged on Friday when I brought up the "What's wrong with the Flyers goaltending'' narrative.
"When people see the start of the year -- and it hasn't been great, I'll be the first one to admit that -- they hit the panic button. You just have to laugh it off," Mason said. "People are always going to have negative things to say about you. [Given] the amount of work that I put into getting comfortable with my game again and getting back to where I have confidence in it, I'm not going to let a handful of games sidetrack that at all.
"You just focus on being better. It's pretty simple. It hasn't been good enough. You put the work in and try to build off solid performances.''
Neuvirth was terrific last season, with a .924 save percentage. He currently sits at .859 and is now out four to six weeks with a lower body injury, which he suffered on Saturday night.
"I want to build on last year, but I also know what happened, happened," Neuvirth said Friday. "This is a new year and a new opportunity.''
It's obvious that they both need to be better, but a little help from their friends would be nice too. The Flyers' defensive miscues at times this season have exacerbated things.
"No question,'' said Hextall, when asked if the defensive lapses have had an effect. "And that's the thing, you want to narrow it down to just the goalies, that's one thing. But if you want to look at turnovers, and just a couple of times a game, the real blatant turnovers, or the blatant, poor defensive plays, they've ended up in our net. It magnifies it because the goalies didn't make the save but we've had errors in our end that led to some of those goals. It's not just the goalies.''
Hextall is doing a bang-up job of rebuilding his roster. He has two impressive teenagers in his lineup this season -- Ivan Provorov and Travis Konecny -- a year after seeing Shayne Gostisbehere contend for the Calder Trophy.
But as one Eastern Conference scout who has seen the Flyers a couple of times this season pointed out, youth in the lineup can also translate, at times, into defensive lapses.
"Now you bring in Provorov, that's a big jump for a young kid to be relied on and responsible in your own end," the scout said. "There's no doubt he's one heck of a prospect. Then you look at Gostisbehere. His thing is playing with the puck in the offensive zone. They've got some really gifted offensive D-men. But sometimes it's hard when you're an offensive D-man, and you're not big and strong and you're playing in our own end longer than you'd like. A lot of times the puck can end up in the back of your net.''
The Toronto Maple Leafs prevailed on Friday night in a wild, 6-3 affair in which defense wasn't exactly a priority at times. I asked Leafs head coach Mike Babcock after his team's Friday morning skate about drawing parallels between his team and the Flyers in terms of the challenge of youth and finding that defensive structure.
"If you're the coach who has given up the most goals in the league like he is, and I am -- I mean, you have to have a look right there,'' Babcock said pointing at himself. The Leafs rank 28th in the league in goals against. "So, why can we go from where we were with less talent (but better defensively last year) to where we are with more talent? Well, you don't take care of the puck. Not enough details defensively. As a young player you learn in this league very quickly. No. 1 you don't like a lot of dashes (minuses) beside your name, you just don't. It hurts your feelings. So you want to get rid of that. The second thing is, you know that when it's going in your net all the time it's not going in the other net. So you're playing in the wrong zone. That's the work zone. The speed zone is the neutral zone and the fun zone is the one you want to play in. You better learn how to play without it (the puck) so you can spend more time in the fun zone.''
Bingo.
I also wonder how much it's weighing on both goalies they will be unrestricted free agents next July 1. There have been absolutely no contract talks with either guy, as Hextall wants to see how this plays out for a while before making any decisions.
"Both guys are pros, they both know they're going to be employed next year,'' said Hextall, downplaying whatever impact the expiring deals may have on both of his goalies. "There's no reason to make any decisions right now. We're going to see where it goes. There's a possibility we sign both guys. I wouldn't be opposed to it. I like both guys. But in the end, why not get as much information as you can before you make a decision?"
Mason isn't going to pretend it's ideal, however.
"Would it be nice to have a contract past this year and have that kind of security? Absolutely," said Mason. "But I understand the situation right now, that Neuvy and I are both up. I'm sure he wants to be here, as do I. This is where I learned to love hockey again, where I'm comfortable, love the guys on the team, love where I live. It's definitely something to work toward, and hopefully it works out in my favor in the end.''
Neuvirth is equally philosophical. "I would love to stay with the Flyers. But, you know, it's a business," says Neuwirth. "I'm just worrying about what I can control.''
Hanging over all of it is the Las Vegas expansion draft. As it stands now, the only Flyers goalie who could to be exposed next June is third-year AHLer Anthony Stolarz, a second-round pick in 2012 by the Flyers. Philadelphia might rather expose someone else, which would mean trading or signing for another goalie.
Plus, there's the matter of what to do with Mason and Neuvirth past this year.
"This could go a number of ways, and I don't have that figured out yet,'' Hextall said when asked about the Vegas factor.
His current goalies are dwelling on what might happen next summer. "It's definitely going to cause some movement, I'm sure of it, around the league. I just hope my bags won't be packing,'' said Mason with a smile.
"Who knows?'' said Neuvirth. "I just worry about the next game.''