Flyers' Pronger hired to work for NHL's Player Safety Department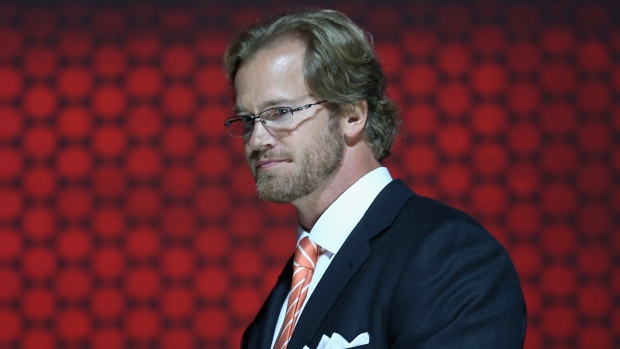 Former Philadelphia Flyers captain Chris Pronger was hired on by the NHL Department of Player Safety on Thursday.
As TSN Hockey Insider Bob McKenzie reported on Wednesday, the process of getting Pronger into the office required his status as an active NHLer being addressed.
Pronger - who has not played an NHL game since the 2011-12 season - remains on Philadelphia's long-term injured reserve. He has not formally retired.
Since Pronger was over the age of 35 when he signed his last contract with the Flyers - which is worth an average annual value of $4.9 million through the end of the 2016-17 season - his annual average would go against the Flyers' salary cap obligations. This situation has been avoided over the past two-plus seasons by virtue of the injured reserve.
NHLPA spokesperson Jonathan Weatherdon told McKenzie on Wednesday that "the league contacted the NHLPA about this matter yesterday and our discussions with them are ongoing. We are working to get this matter resolved in a timely manner."
NHL Commisioner Gary Bettman said Wednesday he had no problem with Pronger working with the Department of Player Safety despite his ties to the Flyers.
The official reason Pronger has remained on the injured reserve is post-concussion syndrome, though the big defenceman also underwent knee surgery in Nov. of 2011. That surgery came nine days after what currently stands as Pronger's final NHL game: Nov. 19, 2011 in Winnipeg against the Jets.
One of the dominant blueliners of his era, Pronger has scored 157 goals and 541 assists in 1,167 career NHL games with the Flyers, Anaheim Ducks, Edmonton Oilers, St. Louis Blues and Hartford Whalers. He won a Stanley Cup with the Ducks in 2007 and his individual accolades include a Hart Trophy as the NHL's Most Valuable Player and the James Norris Memorial Trophy as the league's top defenceman while with the Blues in 2000.
He has represented Canada on numerous occasions internationally, winning an Olympic gold medal at the 2002 Salt Lake City Games and another at the 2010 Vancouver Games. He also won World Junior gold in 1993 and a World Championship gold in 1997.