Foligno, Hartnell lead Jackets past Flyers
Nick Foligno scored twice, Scott Hartnell had a goal and two assists, and the Columbus Blue Jackets beat the Philadelphia Flyers 4-1 on Saturday night.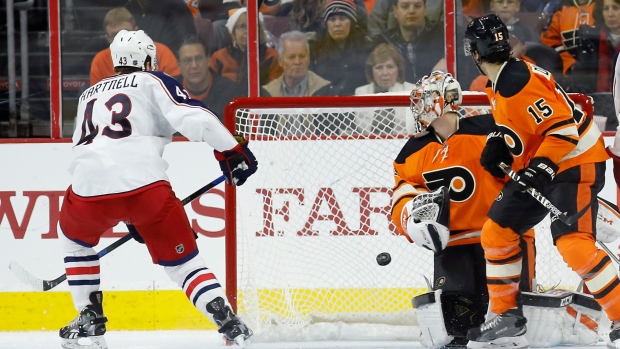 PHILADELPHIA - Scott Hartnell and the Columbus Blue Jackets got the message.
A day after Hartnell was benched and the effort of his teammates was questioned by their coach, Columbus responded with one of its best games of the season.
Nick Foligno scored twice, Hartnell had a goal and two assists, and the Blue Jackets beat the Philadelphia Flyers 4-1 on Saturday night.
Jack Johnson also scored for Columbus, which ended a three-game losing streak.
Philadelphia had won four in a row. Michael Raffl scored for the Flyers, and Steve Mason made 30 saves.
Columbus coach John Tortorella questioned his players' effort following Friday's 2-1 shootout loss at home against Florida.
"It's a big difference in the game from last night to tonight," Foligno said. "That has to be the standard and it will be the standard."
Hartnell was a healthy scratch against the Panthers after taking a bad penalty in Tuesday's loss to Montreal. He responded with a solid performance against the Flyers.
"I definitely wanted to have a positive impact on the game and wanted to send a positive message that I don't want to be embarrassed like that again obviously," Hartnell said.
Said Foligno: "(Tortorella) is very serious about the standard he is setting here, and Hartnell handled it like a pro. When you sit him out, it sends a shock wave through the room. Message received."
The Blue Jackets scored two goals in the each of the first two periods.
Foligno kicked it off when he beat Mason from the right circle with 11:05 left in the first period. Alexander Wennberg set up the score with a cross-ice pass from the left boards to a wide-open Foligno, who one-timed it over Mason's blocker. Hartnell also got an assist on the play.
Johnson scored a fluke goal with 6:27 left in the first. He threw the puck at the net from the blue line. It deflected off the stick of Flyers centre Scott Laughton and fluttered in the air before falling between Mason's legs.
Tortorella loved the first period.
"They weren't too happy about how they played last night," he said. "Not much was said. They took it upon themselves to get a quick start. It was probably one of our most complete games. It's a good answer after a bad performance last night."
The Flyers got a goal back 3:19 into the second period when Raffl tapped the puck home from just in front of the crease after a perfect cross-ice pass from Brayden Schenn.
Foligno netted his second of the game, on assists from Hartnell and goalie Sergei Bobrovsky, 4 1/2 minutes later when he beat Mason high to the blocker side.
And Hartnell made it 4-1 when he scored a power-play goal with 4:43 left in the period after redirecting Wennberg's pass. It was the first power-play goal in 10 games for Columbus, which entered with an 0-for-23 skid on the man-advantage.
Tortorella was glad to see Hartnell's response from his benching.
"Sometimes it's not a bad thing to sit and watch for a little bit," he said. "And he certainly answered tonight."
Bobrovsky made 27 saves, including a great skate stop on Matt Read with 14:11 remaining.
The Flyers, who won 4-3 at New Jersey on Friday, weren't happy with their play.
"We just got away from it tonight in every area of the game," coach Dave Hakstol said. "We've been successful through everybody going at a high level through 60 minutes, and we didn't do it, bottom line."
NOTES: The Flyers activated R.J. Umberger and Ryan White from injured reserve and sent C Nick Cousins and RW Colin McDonald to Lehigh Valley of the AHL. Umberger (lower body) and White (upper body) hadn't played since mid-November. ... Bobrovsky and Hartnell are former Flyers. Hartnell played 517 games with Philadelphia while Bobrovsky appeared in 83. ... Philadelphia last won five straight games from March 15-22, 2014. ... Flyers D Radko Gudas served the second game of his three-game suspension for an illegal check in Tuesday's win at Ottawa. ... The game was the first of four meetings between the teams. The next one is Dec. 19 in Columbus.