Goalie interference, emergency goalies, 3-on-3 OT on tap for GMs meeting
Goaltending topics and three-on-three overtime will be at the forefront of discussions when NHL general managers gather Monday in Boca Raton, Fla., for their annual March meeting.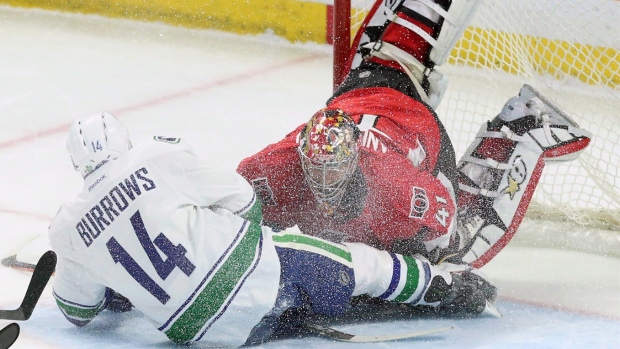 Goaltending topics and three-on-three overtime will be at the forefront of discussions when NHL general managers gather Monday in Boca Raton, Fla., for their annual March meeting.
Video review of goaltender interference has been a subject of conversation for some time, and it'll get a closer look now that the league has been able to catalogue different instances.
"We have to do with goalie interference, in my opinion, something similar to how we use our instant replays," David Poile of the Nashville Predators said in a telephone interview. "It's just an area that's really been difficult to call for the officials."
Due to different interpretations, Poile called it a "very complicated issue." Rule 69 spells out what goaltender interference is but issues such as incidental contact and what actually impacts a goalie's ability to make a save make the black-and-white letter of the law seem like shades of grey.
If GMs can reach a consensus regarding how to enforce goaltender interference across the board, replay review could be done by referees with monitors in penalty boxes or the situation room in Toronto.
Injuries to the Florida Panthers' Roberto Luongo and Al Montoya during a game against the Toronto Maple Leafs on March 3 and the ensuing chaos also made emergency goaltender protocol a hot topic. While the game was delayed significantly with both goalies out, goaltending coach Robb Tallas and forwards Scottie Upshall and Derek MacKenzie were all ready to strap on the pads and play.
Though that didn't happen and Luongo returned from the hospital to re-enter the game, the NHL may try to streamline the process of determining emergency goaltenders in the event a similar situation pops up.
"The league has to come up with some kind of a plan so that it can be as equal as possible," Poile said. "It's a needle in a haystack situation but every once in a while you're going to have it. We have to talk this out to see what the right thing is to do here."
NHL rules state any available goaltender can suit up if the first two are incapacitated. One option is to have each team designate an emergency goalie for every game, just in case.
An issue that's far more prevalent is the number of shootouts: 145 in 1,030 games this season (14.08 per cent). With an interest in reducing shootouts, GMs last year recommended switching ends for overtime and this time could give more thought to three-on-three play.
Using three minutes of four-on-four and then after the next whistle three-on-three until a seven-minute period is over, the American Hockey League has reduced total shootouts by 10 per cent and 40 per cent for games that go to overtime. Through Saturday, just 51 of 912 AHL games (5.6 per cent) have gone to a shootout.
"Everybody that's seen it at the American Hockey League has raved about it," Arizona Coyotes GM Don Maloney said last month. "It's pretty amazing. My biggest beef, I don't want the games to be any longer.
"We have to entertain our fans. But there seems to be some positive momentum to at least having (a discussion)."
Detroit Red Wings GM Ken Holland has supported three-on-three overtime for some time now. Poile said right now he'd be in favour of it but is going into the three-day meeting with an open mind.
"I really want to listen to what everybody has to say," Poile said. "I could be influenced with what other people have to say and statistics and what have you.
"I think it'll be a very interesting discussion."
Any rule changes GMs recommend must go to the joint NHL/NHL Players' Association competition committee and the board of governors before being approved.
---
Follow @SWhyno on Twitter