Golden Knights name Gallant head coach
The Vegas Golden Knights have named Gerard Gallant their first-ever head coach. Gallant, 53, amassed a 152-141-4-31 record over six seasons with the Jackets and Panthers. He led the Panthers to an Atlantic Division title a season ago, but was dimissed in late November after a slow start.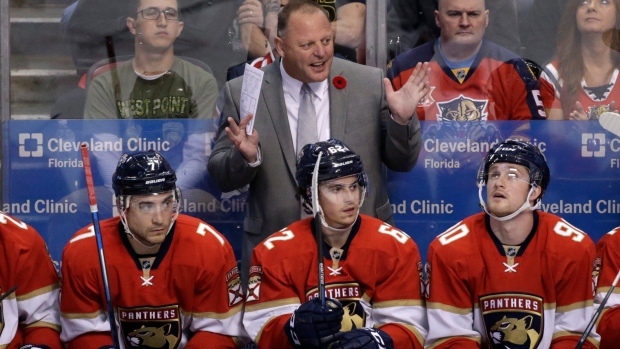 LAS VEGAS — Kicked off the bus by the Florida Panthers in November, Gerard Gallant has packed his bags for Las Vegas to take over as the first coach of the NHL expansion Golden Knights.
"I interviewed in mid-January and when I got the interview I felt real comfortable coming in here. I interviewed for a day and a half, and it was an unbelievable experience. When I left, this was the job I wanted," Gallant said Thursday at his introductory news conference.
General manager George McPhee cited Gallant's experience and past success in announcing the hiring following what he called an extensive search of candidates.
"I know how he coaches, I know all about his reputation. He has an outstanding reputation and knows how to get the best out of players," McPhee said. "He is an experienced coach, has had success at multiple levels and has a great reputation amongst the players who have played for him. Experienced coaches are usually better with their second team. That was our goal."
Gallant joins the Golden Knights some five months after being unceremoniously fired by the Panthers immediately following a 3-2 loss to the Hurricanes at Carolina. Gallant's luggage was removed from the team bus outside the arena and he eventually had to take a taxi while the Panthers left him behind to continue their road trip to Chicago.
The abrupt firing came after the Panthers got off to an 11-10-1 start, and a year after Gallant was a coach-of-the-year finalist in just his second season in Florida. In 2015-16, the Panthers set a franchise record with 47 wins and 103 points to finish first in the Atlantic Division and secure their second playoff berth in 15 seasons.
Now Gallant heads from the South Florida beaches to the Las Vegas desert, where the Golden Knights prepare to open their inaugural season in October.
"When you get fired you're down in the dumps a little bit and all of a sudden you get an interview and you're excited again," Gallant said. "I was very hopeful this day was going to happen. To get the call a couple of days ago and say, 'You're going to be the new coach' was a good experience for me."
The next step for Vegas will be adding its first 30 players through the expansion draft in June.
McPhee made it clear that the brass will build the team, and Gallant will coach the players being brought in.
"We'll provide the players and Gerard coaches them," McPhee said. "We're not going to tell him how to coach, and I'm sure he's not going to tell us how to find players."
And that includes future Hall of Famer Jaromir Jagr, whom Gallant established a good relationship with in Florida, and who will be a free agent on July 1.
"Jaromir is an unbelievable hockey player, he's an unbelievable person. He's 45, he says he wants to play 'til he's 50 and he's a character person," Gallant said. "Who knows what's going to happen down the road. You need 23 guys, you need a team — it's not about two or three players."
Gallant was a standout left wing as a player, primarily for the Detroit Red Wings — scoring at least 34 goals in four straight seasons from 1986 through 1990 and finishing his NHL career with 211 goals in 615 games. He later was a head coach in Columbus and an assistant in Montreal, among other stops.
He also coached in the Quebec Major Junior Hockey League, where he oversaw the St. John (New Brunswick) Sea Dogs as they won consecutive league titles in 2011 and '12, and a Memorial Cup championship in 2011.
___
AP freelancer W.G. Ramirez contributed to this report.