Hammond's run continues as Sens beat Jets
Rookie goaltender Andrew Hammond made 35 saves and Kyle Turris had a goal and assist as the Ottawa Senators upset the Winnipeg Jets 3-1 on Wednesday. Bobby Ryan and Erik Condra also found the back of the net for Ottawa (28-23-11). Jets defenceman Dustin Byfuglien left the game in the second period after suffering an upper body injury.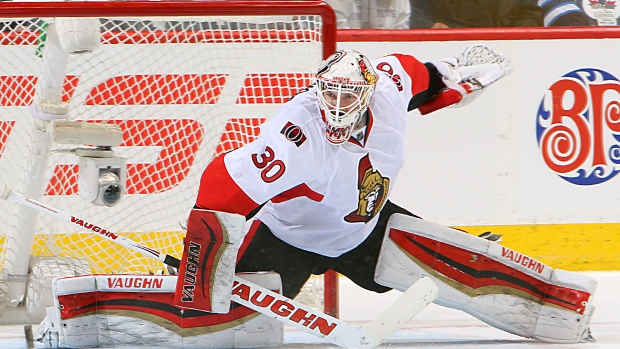 WINNIPEG - Andrew Hammond added the Winnipeg Jets to his list of fallen foes.
The rookie Ottawa goaltender made 35 saves and Kyle Turris had a goal and assist as the Senators upset the Jets 3-1 on Wednesday.
The victory ended a five-game road trip for the Senators (28-23-11), who went 4-0-1 away from home and are 8-1-2 in their last 11 games.
"Unbelievable road trip," Turris said. "Hammy's standing on his head for us. I can't even explain how well he's playing. It's unbelievable."
Bobby Ryan and Erik Condra found the back of the net within a three-minute span in the second period for the Senators, who were coming off a 3-2 shootout loss the night before in Minnesota.
Hammond is 6-0-1 since his first NHL start Feb. 18. The 27-year-old netminder was called up from Binghamton of the American Hockey League because of injuries to starter Craig Anderson and backup Robin Lehner.
The B.C. native was starting his seventh straight game because Anderson isn't quite ready to return from a hand issue.
"I don't know. It's tough to explain," Hammond said of his productive run.
"It's hard work from everyone on the team and, obviously, we have that special feeling now and I feel like it's carrying over game to game where it doesn't matter the team we're playing, we feel like we can hang in there and play and be successful."
Even the Jets had praise for the netminder on the other side of the ice.
Michael Frolik was the only one to beat Hammond early in the third period after the Sens had mounted a 3-0 lead.
"He kind of saw a lot of pucks, but he played unbelievable today," Frolik said. "Hopefully, we've got to learn from it and go for the next one."
The Senators are battling for a playoff berth, with their 67 points putting them four points out of a wild-card spot in the Eastern Conference.
Rookie goalie Michael Hutchinson got the nod for his fifth straight start for Winnipeg (32-21-12), but was replaced by Ondrej Pavelec with 8:06 left in the second period after Condra's goal made it 3-0 for the Sens.
Hutchinson had stopped 14 of the 17 shots he faced. Pavelec only had to stop three shots in relief.
"I thought we played offensively really well," said Hutchinson, who recorded his first regulation loss in nine starts (5-1-3).
"We had a lot of chances and ran into a hot goalie tonight."
Winnipeg defenceman Dustin Byfuglien also left the ice after Condra's goal and didn't return because of what the team called an upper-body injury. He appeared to be favouring his right arm during Condra's scoring play.
The loss ended a four-game homestand for the Jets (2-1-1).
Turris scored the only goal of the first period, his 16th goal of the season, with a sharp-angle, high shot that beat Hutchinson at 4:59.
Hammond made 15 saves in the opening frame, including a stellar one after he quickly moved back into position and stretched out his right pad to deny an Andrew Ladd shot.
"Saves like that can be momentum builders," Hammond said.
Ryan's 17th of the season was scored on the power play at 9:07, while Condra made it 3-0 at 11:54 with another one-timer that sent Hutchinson to the bench.
"It's always tough to get pulled in a game," Hutchinson said. "That's one part of goaltending that isn't too much fun, but it happens and I just have to forget about it and be ready for the next game."
Frolik solved Hammond when defenceman Tyler Myers made a backhand pass across the front of the net to Frolik for his 14th of the season at 5:46 of the third. Newly acquired forward Lee Stempniak picked up an assist in his Jets debut.
Ottawa begins a three-game homestand Friday against Buffalo. Winnipeg heads out for a four-game road trip, starting Saturday in Nashville.