Harden fires back at McHale: 'He's a clown'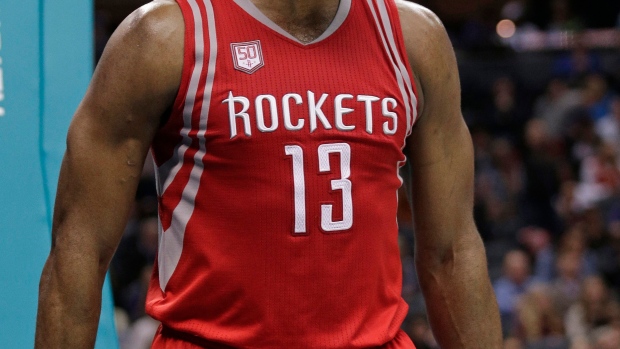 Houston Rockets star James Harden didn't take kindly to the criticism handed to him by his former coach with the Rockets and Hall of Fame player, Kevin McHale, recently.
"He's a clown, honestly," Harden told the media Saturday after the Rockets' open practice at the Toyota Center. "I did anything and everything he asked me to do. I've tried to lead this team every day since I stepped foot here in Houston. To go on air and just downplay my name, when honestly he's never taught me anything to be a leader....
"...But I've done a great job. The organization, my coaches, you can ask any of those guys how I've worked extremely hard every single day to better [myself], obviously as a basketball player, but be a leader as well. To go on air and downplay my name like that, it just shows his character. I usually don't go back and forth on social media with anybody or with interviews, but I'm going to stand up for myself, and there it is. But you just don't go and do that. It shows what type of person he is."
McHale, currently an analyst for TNT, aired out his former player while appearing on NBA TV's Open Court.
"James is not a leader," McHale said. "He tried being a leader last year, tried doing that stuff. I think Chris Paul is going to help him just kind of get back into just being able to hoop and play and stuff like that."
McHale coached the Rockets from 2011 to 2015, but was fired after a 4-7 start to the 2015-16 season. The Hall of Famer believes teammates simply don't view Harden, one of the premier scorers in the league as some they should follow.
"On every team, you have to have somebody that when they say something, people listen," McHale said, turning to Charles Barkley. "Look, if James tells you, 'Chuck, you got to play better D.' You listening to him? You got to be kidding me. I lived through it, believe me. Everybody in the locker room did this [McHale put his hand on his forehead]. Every time he mentioned defence, everybody would put their head down, like you got to be kidding me."
Harden, 28, was the third overall pick of the 2009 draft, and has been selected as an All-Star the past five seasons. He signed a four-year contract extension in the off-season that could reportedly be worth as much as $228 million.