Hey Kobe, will you be my friend?
Few people have had the relationship and access with Kobe Bryant that TSN's Cabbie Richards had. Cabbie looks back at some memorable moments with the Lakers star who plays his final NBA game tonight.
Cabbie Richards, TSN Personality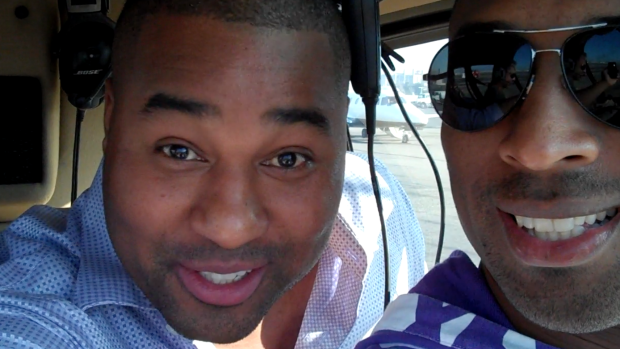 "It's what we don't see that's truly frightening." -Steven Spielberg
Sharks are fascinating. Their imposing speed and size make them scary, but those impressive physical attributes are compounded by a fear of the unknown. They dwell in the darkness, then fire straight up out of the depths, breaching the water to the height of an NBA player. They're complex and misunderstood. Steven Spielberg's transcendent 1975 film Jaws fills me with fear even now, and the shark is barely in it. The movie stokes our paranoia, because it's what we don't see that's truly frightening. Standing on land, far from harm's way, sharks dominate our list of fears. They remind me of Kobe Bryant.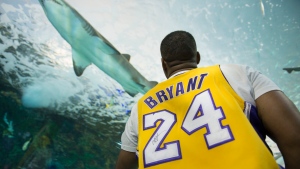 Kobe is one of the fiercest competitors in the history of the NBA. By all accounts, his work ethic is psychotic. In a recent Reddit AMA, Chris Bosh and Dwyane Wade remembered seeing Kobe return from a workout at 8 a.m., as they were getting breakfast at a Team USA mini-camp. This was 10 days after the Lakers lost the 2008 NBA championship. He was drenched from a three-hour, full workout that started at the crack of dawn. It's what we don't see that's truly frightening.
Muhammad Ali and Howard Cosell, Michael Jordan and Ahmad Rashad, Kobe Bryant and Cabbie. Yeah, that last one doesn't pass the smell test. It reeks of desperation and awkwardness. Five of those men are icons. One is an idiot. To some in Canada, starting back in 2006, my relationship with Kobe changed the country's perception of one of the greatest competitors, scorers and leaders in the history of basketball.
He was uncommonly unguarded, honest and funny. There was no chest pounding, no venomous stares, no bitterness in our exchanges, but certainly weirdness, misdirection and props. I brought him pillows, CDs, plaid pyjamas, a key to my house, an Oscar, a ring and dozens of would be hugs. He blocked them all like he was Dikembe Mutombo. For years, I lobbied to stay in his guest house. Once, he gave me an address.
Kobe: "I'll tell you what. I'll give you an address, you can stay. One two five one Compton Boulevard."
Me: "Compton. Okay."
Kobe: "You know where Compton's at right?"
Me: "Yeah, I know where Compton is."
Kobe: "Just go down there and ask for me. Go to that address right there. If that address don't work, just ask anybody on the street where Kobe live and they'll tell you where I live."
Me: "What time are you going to be home? Cause I'll show up when you show up."
Kobe: "I'll be home around 1 a.m. That'll work good for you."
It turned out to be a Seventh Day Adventist Church in Compton. Kobe wasn't home.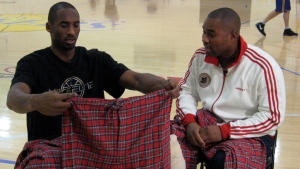 Almost every time Kobe Bryant's sees my doughy face, conversation goes as follows:
Kobe: What's up Cabster?
Cabbie: Hi Bean!
Kobe: You made it across the border?
Cabbie: Yeah, your president gave me a pardon.
Kobe: Are you here to pitch me two of your hair-brained ideas?
Cabbie: Yes.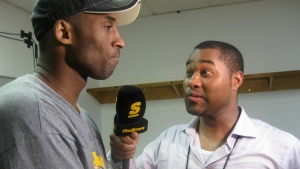 I have pitched Kobe many failed ideas:
1. A fake investor attempting to buy one of Kobe's mansions. His wife, Vanessa, wasn't having that.
2. An interview in a zero gravity chamber, to which Kobe said, "You think the man that signs my cheques wants me messing around in there?" My response: "Kobe, we're not actually flying to space!" I have to get better at counter-arguments.
3. Dinner with Drake, to which Kobe said "that kind of conversation, I wouldn't want recorded." I offered to do it without recording - just three closest homies hanging out - but Kobe is all business.
One pitch that did get off the ground was in September of 2009. I was hosting an event with Kobe and Carmelo Anthony facing off in NBA 2K10 (Kobe won the game, by the way - his psychotic work ethic even extends to video games). Afterward, I suggested a helicopter ride.
The idea was to use our entire Cabbie on the Street budget - back at The Score - to rent a huge chopper and go for a ride. Kobe agreed. I felt like a little kid who just got proof that Santa Claus was real. Dumbfounded, I turned to Jerry Sawyer, Kobe's manager at the time, and asked, "Jerry did you hear that? Kobe agreed to do the helicopter!" Then I turned to Alison Bogli, senior manager of public relations for the Lakers, and blurted "Alison, did you hear that? Kobe agreed to do the helicopter?!" They smiled. They knew something I didn't. KOBE BRYANT HAD HIS OWN HELICOPTER!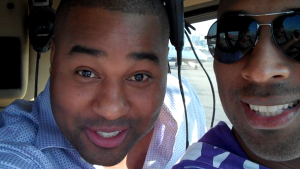 Four months later, we raced to John Wayne Airport in Santa Ana, Calif., for 9 a.m. to meet him, my camera man Jason MacLellan and my trusty producer Dave Krikst. Michael, our pilot walked us out to a small red chopper, a Robinson R44 Raven. It's the size of a Prius, but the cost of two Ferraris (not one as Kobe stated in the piece). Moments later, Kobe was carted out on a golf cart and we piled inside.
In 20 minutes, we flew to LAX (from Santa Ana), then drove five minutes to the Lakers practice facility in El Segundo. On game days, Kobe would drive from his home to the same Santa Ana airport, be flown on larger helicopter to downtown L.A., land on top of a building, and be taken to the game by a driver. He's like James Bond in sweatpants. On that night, he drained a game-winning three-pointer over Wade to beat the Miami Heat. Later that season, he'd win his fifth title.
Kobe's legacy begins and ends in two distinct basketball eras: the Jordan Era and the LeBron Era. He respects both men deeply, but in head-to-head competition he tried to assert his dominance. Back in 2003 at All-Star Weekend in Atlanta, a friend was working for NBA Entertainment. He mic'd the players and recorded their conversations during the game for use in the broadcast as a special montage of sound bites (most often seen on ABC's NBA broadcasts). Tucked in behind a section of stands, I crouched by a cart the size of a large speaker and moved my headphone's jack from plug to plug like a 1950's telephone switch operator. I listened to Michael Jordan for about 20 minutes, creeping like a younger brother hiding under a bed while his older brother is playing "house" with his girlfriend Nadine. (Big shout out to Nadine! You taught me so much.) Jordan was fouled by Kobe around midcourt and their conversation let me peer behind the curtain of their competitive relationship. I heard this live and it blew my mind.
It was the master and the student. Two of the greatest sharks swimming in the ocean of the NBA.
The most revealing moment was off the top and many believe it was the fuel for Kobe's nuclear reactor of competitiveness.
Michael: "Hey, you only got three now, I got six [titles]. I would get that foul. You only got three now."
That playful jab was a bruising reminder of Michael's place on basketball's Mount Rushmore. At that point, Kobe stood under the four faces with a backpack of industrial size chisels and the anger of the Incredible Hulk. (By the way, the NBA Mount Rushmore at the time was Michael, Bill, Magic and Wilt)
Ten years later, at the 2013 All-Star Weekend in Houston, Sprite staged an event called the Uncontainable Game, featuring amateur basketball players from around the world. Kobe and LeBron James were the honourary coaches. I hosted the event and was given an exclusive few minutes with Kobe and LeBron for an interview. For six months leading up to the event, my producer Dave and I pitched 25-30 ideas to Sprite about what this interview was going to be. There were more restrictions than Mr. Perfect's baby blue one piece. Again, peering behind the curtain of their competitive relationship, I learned that any idea pitting Kobe versus LeBron was off the table. Neither man wanted to lose to the other in any way, even in a pretend exhibition game. The coolest idea that was shot down was building a custom Sprite vending machine with "pop a shot" or some type of arcade game. Nope. I had rolls of quarters ready to spend too. So, we came up with this.
One day Kobe followed me on Twitter. Seeing the notification pop up on my phone was paralyzing. It reminded me of the time the hottest senior at my high school stopping me in the hall to ask a question and responding by urinating down my own leg. For 45 seconds.
Later that year, Kobe challenged me to write "Dave Chappelle Show type sh*t" after I pitched him a couple more "hair-brained" ideas. My head exploded. Dave Chappelle and Neal Brennan created brilliance in their limited two-and-a-half-year run of Chappelle's Show on Comedy Central.
I tried to make the situation clear to Kobe: "Dave Chappelle is a genius. I'm a fat reporter from Toronto." Kobe chuckled.
In January this year, I bumped into Kobe at the Lakers practice facility. That makes it sound more coincidental than it was — I was loitering in the foyer hoping to run into him. "Cabster!" he said, putting a hand on my shoulder. "I'll mess with you tomorrow." I took this as a sign to start a long conversation. (I'm not good at reading signs.) Since he announced his retirement, Kobe has become one of the most sought-after interviews in sports. He was big before, but he was almost impossible to reach now. I had to take my chance when I could. Kobe interrupted me: "You coming to the game tomorrow?" I was. "I'll mess with you for five minutes at five o'clock."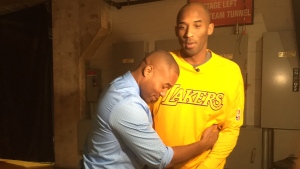 The next day at 5 p.m., I paced in the Staples Center tunnel that leads to the court. Kobe emerged at 5:50. I tossed 16 mints in my mouth, since part of the interview I prepared involved hugging the future Hall of Famer as many times as he'd allow. Turns out, it's one time.
Alison Bogli from the Lakers approached 10 minutes later to tell me he's only granted a handful of one-on-one interviews this year. Whoa. I'm one of them. This news felt like hitting a game-winning shot.
Fast forward to All-Star Weekend in Toronto this past February. Moments after the Western Conference win and Russell Westbrook is awarded the game's most valuable player, I slithered my way onto the court to speak with Kobe. High off the fumes of victory and a massive ovation from the Toronto crowd, he turned to see a recognizably annoying face. Mine. His spirits were so high that he allowed for an unprecedented 25- second hug. I thanked him for allowing 10 years of the strangest, most uncomfortable interviews. Like a gentleman, he gave me one of the greatest compliments of my career: "You're at the beginning of what you're going to be."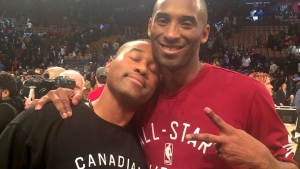 Whoa.
Soaring from the words from one of the greatest competitors and champions ever. My confidence was at an all-time high. I took my phone out and swiped up to unlock the screen.
Me: "Let's stay in touch, man. What's your number?"
Kobe: "It's still the same Cabster: 1-800-never-ever-call-me-ever."
He'll probably have more time to hang out once he's retired.