Holloway's UFC 222 withdrawal a teachable moment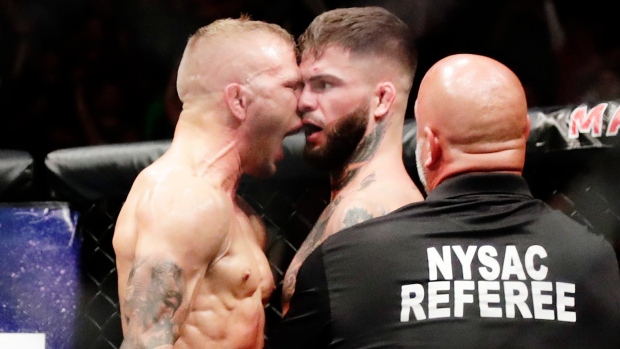 When the poster for UFC 222 was released advertising a co-main event of Andrei Arlovski versus Stefan Struve, my first thought was the UFC had better pray that nothing happened to the main event featuring featherweight champion Max Holloway and challenger Frankie Edgar.
On Saturday came word that Holloway was out of the fight because of a leg injury.
The UFC is now seeking a replacement bout. With bantamweight champion T.J. Dillashaw publicly turning down a rematch with Cody Garbrandt, whom he defeated to capture the title in November, there are few championship options to consider.
The situation exposes a major problem in booking a UFC pay-per-view event: It's risky to rely on a championship fight to headline without having an established main event-calibre backup plan.
Consider UFC 221 this weekend. The UFC has implemented an interim middleweight title because injured champion Robert Whittaker was forced to pull out of the card, which is taking place in his home country of Australia.
The main event features former middleweight champion Luke Rockhold and former interim title challenger Yoel Romero. It's an extremely high-level fight and both competitors are championship-calibre.
However, the UFC has to be on pins and needles leading up to this week's weigh-ins because if anything goes wrong with the main event, the entire card is in serious peril. The co-main event is an intriguing one between New Zealander Mark Hunt and heavyweight prospect Curtis Blaydes, but it doesn't have the clout to headline a pay-per-view.
The remainder of the card has solid fights featuring mostly Australian talent that would otherwise be reserved for a UFC Fight Night card taking place in that locale.
It's a problem that needs to be addressed. If the UFC booked every pay-per-view with the mentality that the main event could be scrapped at any time – a harsh reality of booking any combat sports event – it would have the security blanket needed to avoid the sort of issue facing UFC 222.
To the credit of the UFC, under the Endeavor umbrella they've been willing to get very creative in their approach to matchmaking.
Some like it while others hate it, but the idea of Nate Diaz challenging Tyron Woodley for the welterweight title that was tossed around late last year was brilliant from a marketing standpoint. The meritocracy would have been thrown out the window, but don't ever forget that the UFC is a promotional vehicle. Its bottom line is its bottom line.
That's why when Edgar recently sent out a tweet that he would fight anyone at any weight class in order to save UFC 222 and Garbrandt responded that he was up for the challenge there was an immediate dopamine release that made me want to see that fight.
Imagine Edgar, a former lightweight champion who has been competing at featherweight, against the former bantamweight champion Garbrandt, who has competed at featherweight in the past. It's brilliant!
If Edgar loses to Garbrandt, perhaps Garbrandt decides to move up to featherweight and sets up a fight with Holloway. If Garbrandt loses, it shouldn't affect his standing at bantamweight. You have two marketable stars that could produce a main event that is more intriguing than many title possibilities.
The term "superfight" is often thrown around, but I like to think of Edgar versus Garbrandt as a dream fight. What would happen if two high-level fighters from different weight class faced off for the sole purpose of entertainment and drawing power?
These are the sorts of fights that should be looked at as pay-per-view headliners more often. Some other examples of fights that fit the bill are Jose Aldo versus Eddie Alvarez or Chris Weidman versus Alexander Gustafsson. These fights don't make a lot of sense from a meritocracy standpoint, but with Aldo having lost to Holloway twice and a title shot not on the horizon for Alvarez, Weidman or Gustafsson, why not toy with the idea?
Putting together a pay-per-view-calibre card is easier said than done, but there is value in fights that create intrigue over championship fights. An example is UFC 218, which reportedly sold 230,000 pay-per-views. Hypothetically, if you replaced the title fight between Aldo and Holloway with Eddie Alvarez and Justin Gaethje as the main event and advertise a potential five-round fight rather than its original three rounds, I don't think the buyrate suffers much, if at all – especially with the strong undercard that the event had in place. A title fight does not necessarily need to be the foundation of all pay-per-view events.
Another key to saving cards that are in peril is to schedule another high-level fight between contenders in the same division as the headliners. UFC 222 didn't have a single featherweight fight on the card outside of the Holloway versus Edgar main event and UFC 221 doesn't have a ranked middleweight on the undercard. If disaster strikes, a backup plan is essential.
UFC 177 and UFC 209 are good examples. Title challengers Renan Barao and Khabib Nurmagomedov had to pull out of UFC 177 and UFC 209 respectively due to medical emergencies as a result of cutting weight. UFC 177 ended up being headlined by Dillashaw defending his title against Joe Soto who happened to be on the card and was making his promotional debut. UFC 209 did not have a ranked lightweight on the card that would warrant a shot at the interim championship and the main event was scrapped altogether.
UFC 209 had a second championship fight to fall back on, which certainly helped keep the card's viability intact, but headlining with Dillashaw and Soto and going ahead with the pay-per-view with, at the time, a lacklustre main card, was not a good look.
UFC 222 can still be salvaged with the right mix of creativity and availability. Title fights are great, but they don't need to headline events over a dream fight like Garbrandt versus Edgar. In fact, I think that the UFC could stand to headline pay-per-views with non-title fights with title fights on the undercard.
Going back to UFC 218, if you polled fans about which fight they were most looking forward to, I'd venture a guess that both Gaethje versus Alvarez or Francis Ngannou versus Alistair Overeem would have been more anticipated than the rematch between Holloway and Aldo, so why not make one of those fights the main event?
Ultimately, the UFC knows what sells and what doesn't. In this Endeavor era, where the promotion looks to be getting creative with fights, there is an opportunity to think outside the box to create intriguing possibilities ­– whether or not there is a championship belt on the line.