UFC Notebook: Holloway out of UFC 222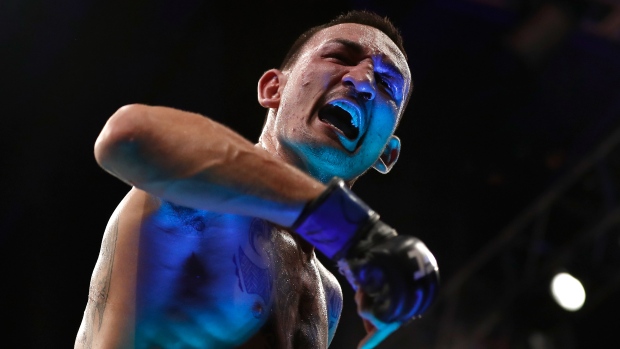 Holloway withdraws from UFC 222 main event
UFC 222, which takes place on March 3 at T-Mobile Arena in Las Vegas, suffered a massive blow on Saturday when featherweight champion Max Holloway was forced to withdraw from the event due to injury.
The UFC has yet to announce a replacement for the main event, but signs seem to indicate that Holloway's scheduled opponent Frankie Edgar will still compete.
"Here we go again, definitely disappointed but fate wasn't having it," Edgar wrote on Instagram. "I wish Max a speedy recovery but the show must go on. See you all in Vegas March 3rd!"
If Edgar does compete on the card, it could either be an interim championship fight or title eliminator fight against third-ranked Brian Ortega.
This is the second time that a fight between Holloway and Edgar has been canceled, as the two were scheduled to meet at UFC 218 in December, but Edgar was forced to withdraw with an injury of his own.
If Edgar is to face Ortega, it is certainly a risky proposition for him as it could cost him his final opportunity to become a two-division UFC champion, as the former lightweight champion has had two opportunities to become a featherweight champion.
---
Dillashaw rejects UFC 222 main event rematch with Garbrandt
A fight that several outlets reported was close to signed as a replacement for Holloway versus Edgar was a bantamweight championship rematch between T.J. Dillashaw and Cody Garbrandt.
Garbrandt took to social media to make the proposed fight public and call out Dillashaw and his coach, Duane Ludwig, in an attempt to pressure them into signing the bout agreement.
Dillashaw, however, has reportedly been in talks to fight Demetrious Johnson at UFC 226 and recently became a first-time father and declined the fight.
"It took me two years to get a title shot back, now they want me to defend it on four weeks notice?" Dillashaw said to ESPN's Brett Okamoto. I have a five-week old son. I'm not training. My camp is in California and I'm in Denver right now… I told the UFC I'm not doing it. I'm shooting for the [Demetrious Johnson flyweight] fight in July."
---
Machida beats Anders by split decision
Former UFC light heavyweight champion Lyoto Machida earned his first win in over three years when he defeated middleweight prospect Eryk Anders by split decision (48-47, 47-48, 49-46) in front of his countrymen.
The fight was a back and forth affair where Anders landed more damaging strikes, but was outstruck by Machida.
After the win, Machida used his time on the microphone to call out former middleweight champion Michael Bisping, who is currently weighing his retirement options.
---
Shevchenko mauls opponent
In the co-main event in Belem, former UFC bantamweight title challenger Valentina Shevchenko made her flyweight debut and did so in devastating fashion.
Shevchenko outlanded her opponent Priscila Cachoeira 230-3 in a dominant victory capped by a second round rear naked choke submission.
With the lopsided victory, Shevchenko will almost be certainly the first contender for the women's flyweight title currently held by Nicco Montano.
Referee Mario Yamasaki drew the ire of many for not stopping the fight when it likely should have been stopped on multiple occasions.
Among those who criticized Yamasaki was UFC president Dana White.
"Priscilla Cachoeira, you showed so much heart and toughness in that fight," White wrote on Instagram. "I'm honored to have you fight in the UFC. Unfortunately the ref is there to protect you and Mario DID NOT do that. This isn't his first disgusting performance in the octagon. Another unfortunate thing is that i can't do anything about I️t only the Brazilian commission can and i am hoping after this scary, incompetent showing he hopefully will never set foot in that Octagon again. Strikes landed was 230-3."
---
Attendance and bonuses
UFC Fight Night at Arena Guilherme Paraense in Belem, Brazil drew 10,144 attendees for an undisclosed gate.
The UFC awarded their performance bonuses to middleweights Thiago Santos and Anthony Smith for their great fight that kicked off the main card and to Shevchenko and bantamweight Iuri Alcantara for their submission and TKO victories respectively. The four fighters earned an additional $50,000 on top of their purses.
---
Werdum vs. Volkov to headline UFC Fight Night in London
UFC Fight Night in London, England has finally found its main event. Former heavyweight champion Fabricio Werdum will face Alexander Volkov at the O2 Arena on March 17th.
Werdum has won two in a row and Volkov is unbeaten in the UFC.
The winner of this fight will improve their position in the heavyweight title picture, which is ripe for the taking with champion Stipe Miocic defending the title against light heavyweight champion Daniel Cormier at UFC 226 in July.
The event in London is sold out.