Hoping to find a Holm on Canucks' blueline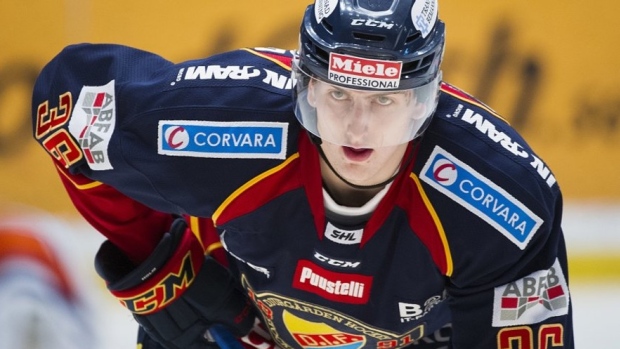 VANCOUVER – He's hardly your typical rookie. In fact, a compelling case can be made that defenceman Philip Holm isn't a rookie at all. At 25 (he'll turn 26 in December), the Stockholm native has landed in Vancouver hoping his experience playing professionally back home in Sweden gives him an edge as he takes his first crack at making a National Hockey League roster.
Signed to a one-year, $925,000 free-agent deal in May, Holm took part in his first on-ice session of Canucks training camp Wednesday at Rogers Arena. He couldn't have asked for a better way to ease the transition to North American hockey as he found himself paired with veteran Chris Tanev. Holm spent last season with Vaxjo of the Swedish Elite League after six years in the Djurgardens system.
To be sure, the 6-foot-1, 190-pound left shot is a wild card at Canucks camp as he tries to find his game on the smaller North American ice. He is one of 22 defencemen currently on the training camp roster. With returnees Tanev, Alex Edler, Ben Hutton, Troy Stecher and Eric Gudbranson pencilled in for spots and off-season newcomers Michael Del Zotto and Patrick Wiercioch added to the mix, where Holm slots in is anybody's guess at this point. Even he isn't sure where he fits, but Holm is eager to put his best foot forward in camp and the preseason hoping to prove he belongs on an NHL roster.
"I think this was the right time," Holm says of making the jump now rather than earlier in his career. "I've been playing for a few years in pro hockey in Sweden and I felt this was the right time for me to take a chance and hopefully get the chance to play in the NHL. I had a good meeting with (Canucks general manager) Jim Benning, and even though I talked to a couple of other teams … I got the feeling from the start with the way the team is going that this was the right move for me, so it felt good from the start."
Holm arrived in town 10 days ago and took part in informal skates with his new teammates last week to make the transition easier on both the personal and professional levels. He admits the adjustment to the smaller ice surfaces in North America will present challenges, but he's excited to get camp started and begin the process of finding out if he can play at this level.
Described as a safe and steady defenceman, Holm knows his best strategy is to keep things simple in his first week in camp. So, don't look for him to be racing up ice trying to make things happen offensively. Although he contends, there is more offence to his game that some may expect and the statistics from Vaxjo back him up. Holm had four goals and 21 points in 52 games in the SEL last season, earning an invitation as the only defenceman from the domestic league to represent Sweden at the World Hockey Championship in Paris and Cologne last spring.
"That was one of the things Vancouver saw in me was that I could use my skating and contribute more in the offensive zone, but I still think my main game is to play good defensively and just focus on that and we'll see it how it goes on offence," he explains. "I always try to put high expectations on myself. I just try to play my game and we'll see how it goes. My goal is to play in the NHL. So that's what I'm going with."
Canucks head coach Travis Green readily admits he doesn't know much about the newcomer, but kept an eye on Holm during the first workouts of camp. He was hardly ready to render any sort of verdict after just one practice, but figures if Holm was able to stand out in Sweden, he should be able to have success here. And he believes strongly that the years of experience he brings with him should serve Holm well in his attempt to make the hockey club.
"It's an advantage and it's no secret that it's a good league," Green says. "I've only seen him in games on TV and our scouts like him. He looks like he's a good skater. Today he looked like a good, heads-up player. But it's way too early to say what I've seen in Holm yet after one practice. I'm going off what our scouts and management have told me and I know they're excited about him and they're high on him."
While he didn't know Holm prior to his arrival in town, Henrik Sedin has heard favourable reports on his prospective new teammate. And having represented Sweden at the highest level, the Canucks captain knows it's no easy feat to earn a spot on the world championship team.
"I don't know more than I've read in the Swedish newspapers and watched last year in the world championship, but if you're the only guy from the Swedish Elite League that made it to the world championship last year, apart from NHL defencemen, you're good," Sedin says. "What I've seen so far, he's going to fight for a spot, for sure. He's going to be a surprise to a lot of people."
Holm could get the opportunity to start turning heads as early as this weekend when the Canucks open the preseason in Los Angeles on Saturday and at home to the expansion Vegas Golden Knights on Sunday. By then, he will have had a handful of practices to adjust to the dimensions of NHL rinks. Until last week, that was something he had only experienced as a teenager.
If he's going to make it in the NHL, Holm knows he has to adjust quickly because time and space will be precious commodities on the smaller surfaces. As the speed of the game increases, it means less time for defencemen to process the action and so good, smart decisions with the puck are essential.
"When I was a bit younger, I had a couple of tournaments on small ice and everything is a bit higher paced," he says. "Everything goes faster. You have to be quick out there, know what you want to do with the puck. You definitely feel the guys on you faster, so you don't have a lot of time to handle the puck. You have to deliver the pass earlier. I think it's easier to come from the big ice to the smaller ice rather than the other way, so we'll see how it goes."
There are many intriguing stories at Canucks camp this year and, without question, Philip Holm is one of them. By the weekend, we'll start to see if he's using his experience in professional hockey in Sweden to good use as he embarks on his journey to life in the NHL. He's getting a later start than most, but hoping it's the right time for him to make the move.