Hornets get Williams from T-Wolves
The Charlotte Hornets have acquired veteran point guard Mo Williams from the Minnesota Timberwolves for guard Gary Neal. The Hornets will also get shooting guard Troy Daniels and will send a second-round pick to the Timberwolves. The deal was announced on Tuesday.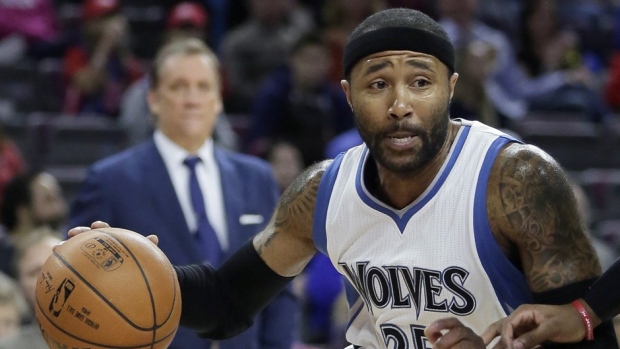 CHARLOTTE, N.C. - The Charlotte Hornets bolstered their roster Tuesday for a playoff push by acquiring guard Mo Williams from the Minnesota Timberwolves for guard Gary Neal.
The Hornets will also get shooting guard Troy Daniels. They will send a 2019 second-round pick to the Timberwolves.
The 32-year-old Williams is averaging 12.2 points and 6.4 assists per game in 41 games, including 19 starts for the injured Ricky Rubio. He is second on the team shooting 34.7 per cent from 3-point range. Williams, now in his 12th NBA season, was named Western Conference Player of the Week last month after scoring a career-high 52 points on Jan. 13 at Indiana.
He will give the Hornets a reliable replacement for Kemba Walker, who remains out at least another month while recovering from knee surgery. Brian Roberts has been filling in as the starting at point guard for the Hornets with mixed results.
Charlotte started the day 22-29 and tied with Miami for seventh in the Eastern Conference, but the Hornets surrendered double-digit leads in losses to Philadelphia and Indiana. Team officials said Williams will not arrive in time to participate in Tuesday night's game against the Detroit Pistons.
"When Kemba went out with an injury and had surgery, one that we looked actively for was a high level point guard that could give us some needed depth," general manager Rich Cho said. "We're thrilled to have Mo in the fold. He gives us a lot of experience. He gives us scoring. He gives us a lot of leadership. We're just really excited to add Mo."
Williams is on expiring contract, while Daniels is set to earn $947,276 next season.
Williams has played in 750 career games with six teams — Utah, Milwaukee, Cleveland, Portland, Minnesota and the Los Angeles Clippers. He is averaging 13.3 points, 5.0 assists and 2.8 rebounds in 29.7 minutes for his career, while shooting 43.6 per cent from the field for his career, including 38.2 per cent from beyond the 3-point arc.
Coach Steve Clifford said the move will allow the Hornets to rest the overworked Roberts and allow Lance Stephenson to move back to playing shooting guard. Stephenson and Neal had been splitting time as a backup point guard.
"We need to get guys back to the positions they're most comfortable playing. So this gives us another quality guy there who can play the point," Clifford said.
Williams thanked the Timberwolves on Twitter on Tuesday: "I really enjoyed my time here. My teammates and coaches all the way up to the owner was fantastic. I really appreciate it #goodluckinthefuture"
Daniels is in his second NBA season, having played in 41 career games for Houston and Minnesota and averages 3.4 points on 35.8 per cent shooting from the field. He began this season in Houston before being traded to Minnesota on Dec. 19 as part of a three-team deal.
The 30-year-old Neal is a score-first guard averaging 9.9 points per game this season. Neal was acquired last February by the Hornets in a trade with Milwaukee. Neal played in 43 games this season for the Hornets, averaging 9.6 points, 2.2 rebounds and 1.9 assists in 21.7 minutes.
"This was a difficult decision because of what Mo brought to our team and the impact he had on our young guys," Wolves head coach Flip Saunders said. "As a coach, you wanted to keep him because of his professionalism and understanding of what you wanted out of him as a player. ... On the other side, we knew we were moving in a different direction with our youth so we felt it was in our best interest to make the deal."
___
AP Basketball Writer Jon Krawczynski in Minneapolis contributed to this report.